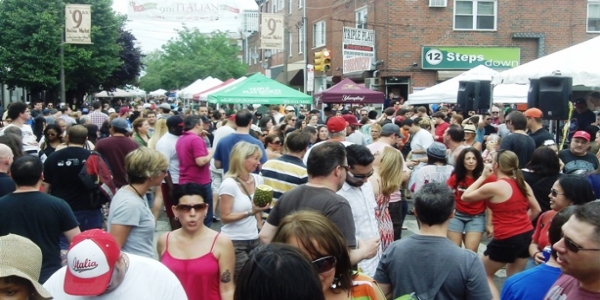 'Authentic Italian Culture in South Philadelphia'
Food, Food and more Food! The Italian Market is the nation's oldest continuously operating outdoor market. The city's biggest block party will take place on May 20 and 21, which runs along South 9th Street, from Fitzwater to Federal Streets. The festival will go live from 11 am to 6 pm on both days.
Just like St. Patrick's Day, when everyone is Irish for a day, this festival is when everyone becomes Italian for the 2-day weekend event in South Philly. But the Italian Market is not just Italian anymore. It has become a melting pot of international cultures and cuisines.
When entering the market area, there will be great sights and aromas filling your senses. The streets will be lined with vendors offering Italian delicacies, live music on stages at three specific locations, games and crafts for the kids and much more. In addition, many restaurants will extend their table service to the sidewalk so you can dine while enjoying the festival atmosphere.
There will be specialty butchered meats, cheeses, gift and cookware shops, vendors selling specially prepared foods, stands with fresh sausage and peppers, roast pork sandwiches, an infinite array of pastries and so much more.
The 9th Street Italian Market Festival, rain or shine, is one event in Philadelphia not to miss. Bring the family to experience the fun and excitement of delicious foods, to watch the Procession of Saints on Sunday (Click Here for more info), family games, live music and much more.  The most important thing, just make sure to bring your appetite with you!
9th Street Italian Market Festival
Location
9th Street & Washington Avenue (along S. 9th Street between Fitzwater & Federal Streets) Philadelphia, PA 19147
Dates & Times
May 20 & 21, 2017  |  11:00 am – 6:00 pm both days  |  rain or shine
Web Site
Jeff Belonger has been in the mortgage industry for 19+ years and now wants to do something different. With his experience of blogging and social media, Jeff wants to share all of what Philadelphia has to offer, so he created MyPhillyAlive.com. At MyPhillyAlive, we want to share the excitement that the City of Philadelphia resonates. Sharing the passion within, from the people of Philadelphia. At MyPhillyAlive, we'll be talking about Philadelphia restaurants, fun bars, the city night life, the history of Philadelphia, Philly attractions & events, the arts, sports, and much more. We want people to add their experiences regarding Philadelphia, even if they are from out of town, which can be done on our Facebook fan page as well. www.facebook.com/MyPhillyAlive At the end of the day, we want to be different from the many Philadelphia sites. We want our site to be easy to navigate, while at the same time, we want you to not only find the hot spots, the best things to do in Philadelphia; but those hidden gems within the city. Thanks...
More Posts - Website - Twitter - Facebook - LinkedIn