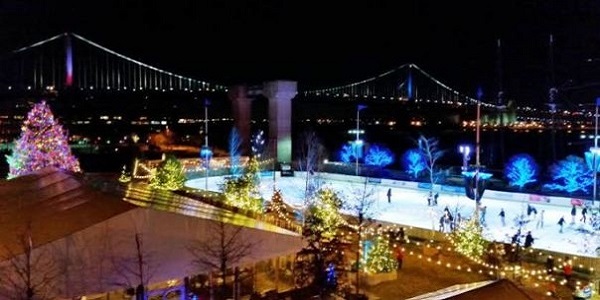 'A Winter Wonderland at Penn's Landing'
One has to love this time of year, from Thanksgiving to New Year's Day. Come celebrate 25 years of ice skating this winter at Penn's Landing's Blue Cross RiverRink on the Delaware River. The waterfront rink area is being transformed into an exhilarating winter wonderland.
The Blue Cross RiverRink Winterferst, known previously as the Waterfront Winterfest, opens right after Thanksgiving Day on Friday, November 24 and will continue until March 4, 2018.
This pop-up holiday village will offer a beautifully lit landscape featuring a majestic holiday tree, outdoor seating area with fire pits, cozy warming cabins, the Franklin Fountain Confectionery Cabin, the Kids Lodge with arcade games, and a chalet-inspired Lodge with food and beverages from Garces and Chickie's and Pete's.
The Layout
The grounds will be designed by David Fierabend of Groundswell Design Group, the same architecture firm that has created the Spruce Street Harbor Park and previously the PHS Pop-Up Garden on Broad Street. All of this taking place right outside the Olympic-size Blue Cross RiverRink that overlooks the Delaware River.
Surrounding the rink will be a winter garden and forest. Using locally sourced shipping containers covered with a huge warming tent, hundreds of holiday trees and shrubs, woodchips, fire pits, rustic furniture, market lights and pallets, David Fierabend will have created an immersive holiday landscape that compliments the majestic views of the Delaware River and Ben Franklin Bridge.
The Lodge
The pop-up tent, which will be known as The Lodge, will feature indoor space consisting of two cozy, ski chalet-style heated tents with comfy couches, indoor fireplaces, rustic decorations, and a wraparound porch complete with rockers and heat lamps. The Lodge will serve food and drink daily in the spirit of the season, brought to you by Garces Events executive chef Adam DeLosso.
New this year are the addition of five winter warming cottages – three-sided, furnished cabins that will be available for rent or on a first-come first-serve basis. Each cottage will have its own unique décor, complete with electric fireplaces, infrared heating, antler chandeliers, warm armchairs, and loveseats. A boardwalk in front will connect the fire pit area to the cottages and the Lodge. 
Special Events
The Blue Cross RiverRink Winterfest plans on being a sensational wintertime destination for the family and anyone else that would want to relive their childhood. So come on over and enjoy yourself!
Blue Cross RiverRink Winterfest at Penn's Landing
Location
Penn's Landing at Delaware River Waterfront
101 South Columbus Boulevard
Philadelphia, PA
Dates
November 24, 2017 – March 4, 2018  |  Including Holidays
Times
Hours will vary during months  |  Full Schedule Click Here
Cost
Free Admission  |  Pay-As-You-Go  |  Admission $3  |  Skate Rental $10  |  Skating Costs > Blue Cross RiverRink 
Web Site
Jeff Belonger has been in the mortgage industry for 19+ years and now wants to do something different. With his experience of blogging and social media, Jeff wants to share all of what Philadelphia has to offer, so he created MyPhillyAlive.com. At MyPhillyAlive, we want to share the excitement that the City of Philadelphia resonates. Sharing the passion within, from the people of Philadelphia. At MyPhillyAlive, we'll be talking about Philadelphia restaurants, fun bars, the city night life, the history of Philadelphia, Philly attractions & events, the arts, sports, and much more. We want people to add their experiences regarding Philadelphia, even if they are from out of town, which can be done on our Facebook fan page as well. www.facebook.com/MyPhillyAlive At the end of the day, we want to be different from the many Philadelphia sites. We want our site to be easy to navigate, while at the same time, we want you to not only find the hot spots, the best things to do in Philadelphia; but those hidden gems within the city. Thanks...
More Posts - Website - Twitter - Facebook - LinkedIn