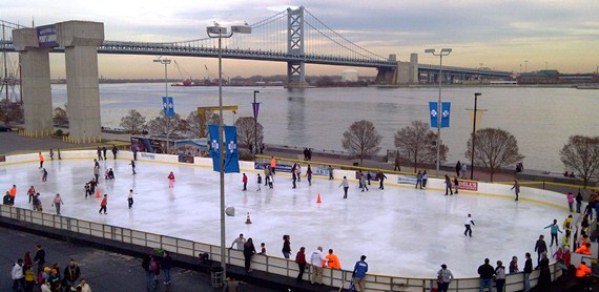 'Enjoy the Outdoors at Philly's Ice Skating Rink'
There are so many things to do in Philadelphia around the holidays. Do you like ice skating? You should check out the Blue Cross River Rink down at Penn's Landing.
The Blue Cross River Rink is celebrating its 20th anniversary with many different activities for the young and the old. To celebrate it's platinum anniversary, this Penn's Landing area will be turned into a Waterfront Winterfest. For 37 days, the Waterfront will host a pop-holiday village. There will be a seasonal garden of pine trees, 500-person warming tent with American style beer garden and food, an hourly holiday light show called Bright Lights and much more.
The Grand Opening for the 2013-14 season is on Friday, November 29 starting at 11 am on Friday.  There will be a special concert held, hosted by  Q102. Zendaya and Midnight Red will play FREE starting at 11:30 am.
The Olympic-sized public ice rink offers skating sessions, skating lessons, parties, private functions, pond hockey, season-long special events, as well as skate rentals and sharpening. The rink complex features a heated facility, viewing areas, private party rooms, video game room, and public restrooms.
So what are you waiting for. Lace up those skates for some enjoyable ice skating in Philly. Come with friends, family, or even have a party at the rink.
Special Events:
Opening Day, November 29, 2013
Christmas Tree Lighting, December 6, 2013 at the Waterfront Winterfest
TWO Parties on Ice, December 31, 2013
SugarHouse Casino New Year's Eve Fireworks at 6PM and Midnight, December 31, 2013
Did you know?
The Blue Cross River Rink is the only public skating facility in the region to offer sled skating sessions for the physically and developmentally challenged that allow every child to experience the fun and excitement of ice skating at the Blue Cross River Rink.
Location
South Columbus Blvd at Chestnut St
Philadelphia, PA
Hours
November 29, 2013 – March 2, 2014  |  7 days a week  |  Times vary depending on the month – Hours of Operation
Cost
Admission – $3  |  $10 skate rental  |  On main page, free coupon link
SPECIAL: Admission is free from Monday – Thursday before 5 pm  |  December 2 – December 19
Phone
(215) 925-7465
Web Site
Blue Cross River Rink at Penn's Landing
View Larger Map
Jeff Belonger has been in the mortgage industry for 19+ years and now wants to do something different. With his experience of blogging and social media, Jeff wants to share all of what Philadelphia has to offer, so he created MyPhillyAlive.com. At MyPhillyAlive, we want to share the excitement that the City of Philadelphia resonates. Sharing the passion within, from the people of Philadelphia. At MyPhillyAlive, we'll be talking about Philadelphia restaurants, fun bars, the city night life, the history of Philadelphia, Philly attractions & events, the arts, sports, and much more. We want people to add their experiences regarding Philadelphia, even if they are from out of town, which can be done on our Facebook fan page as well. www.facebook.com/MyPhillyAlive At the end of the day, we want to be different from the many Philadelphia sites. We want our site to be easy to navigate, while at the same time, we want you to not only find the hot spots, the best things to do in Philadelphia; but those hidden gems within the city. Thanks...
More Posts - Website - Twitter - Facebook - LinkedIn