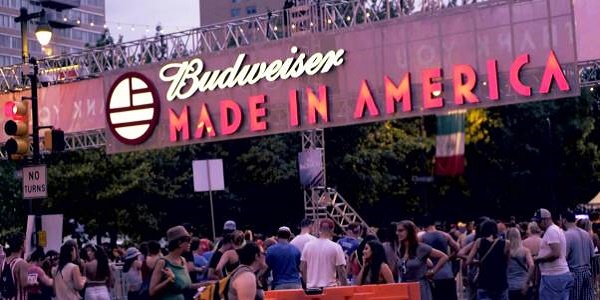 'Come Party with Jay-Z, J. Cole & The Chainsmokers on the Parkway'
The Budweiser Made in America Music Festival will be hitting the Benjamin Franklin Parkway Labor Day Weekend September 2 and 3. Come experience a weekend of live music and fun with performances by the best of the best in hip-hop, alternative music, EDM and R&B.
Budweiser Made in America Festival Experience & Atmosphere
The Labor Day Weekend 2-day event will feature headliners Jay-Z, J. Cole and The Chainsmokers. The giant outdoor setting will host a little over 35 musical acts on three stages strategically placed on the Parkway.
During the two day event, there will be such acts like Kaskade, Little Dragon, Solange, Marshmello, Migos, Run the Jewels, Cardi B and many others.
There will be one giant electronic-dance tent, many stations for filtered water for those that get thirsty, and many food trucks for both gourmet foods and festival type foods. There will even be ATM's and cell phone charging stations throughout festival site.
This 2-day event will attract more than 40,000 people. Will you be one of the faces in the movie? Key reminder is that Made in America is a ticketed event and will not be open to the public for free. The festival will be surrounded by two eight-foot fences, sectioning off a large area for concert goers.
Street Closures & Parkway Attractions
There will be street closures that have already begun and continue through Monday, September 4, reopening on Tuesday, September 5. If visiting the Philadelphia Museum of Art, visitors will be required to enter through the West entrance of the building.
All museums and attractions located along Benjamin Franklin Parkway will remain open during both days except for the Rodin Museum. All will operate during their normal business hours on September 3 and 4.
Click here for street closures
Actual Map of the stages  |  Click here
Location
The Benjamin Franklin Parkway Philadelphia, PA
Dates
September 2 & 3, 2017
Tickets
Tickets  |  Two-day  |  Click here
Frequently Asked Questions
What's allowed, not allowed, etc  | Click FAQ
Web Site
Jeff Belonger has been in the mortgage industry for 19+ years and now wants to do something different. With his experience of blogging and social media, Jeff wants to share all of what Philadelphia has to offer, so he created MyPhillyAlive.com. At MyPhillyAlive, we want to share the excitement that the City of Philadelphia resonates. Sharing the passion within, from the people of Philadelphia. At MyPhillyAlive, we'll be talking about Philadelphia restaurants, fun bars, the city night life, the history of Philadelphia, Philly attractions & events, the arts, sports, and much more. We want people to add their experiences regarding Philadelphia, even if they are from out of town, which can be done on our Facebook fan page as well. www.facebook.com/MyPhillyAlive At the end of the day, we want to be different from the many Philadelphia sites. We want our site to be easy to navigate, while at the same time, we want you to not only find the hot spots, the best things to do in Philadelphia; but those hidden gems within the city. Thanks...
More Posts - Website - Twitter - Facebook - LinkedIn