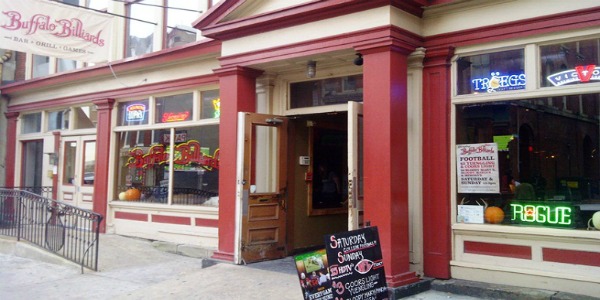 Buffalo Billiards – Sports Bars in Philadelphia
'An Old City Philadelphia Sports Bar'
Buffalo Billiards is a sports Bar located in the Old City section of Philadelphia. This establishment is more than your typical pool hall – billiards hall..
Buffalo Billiards  Experience & Atmosphere
Buffalo Billiards is set up as a sports bar, but it has more than its 17 televisions to entertain you. The bar has two floors with two full bars, is very roomy, and is filled with pool tables, dartboards, shuffleboards, and a few other games which are listed below. My favorite game is the shuffleboard, which is also called quoits, considering that you roll quoits down a sandy-wooden table top.
Buffalo Billiards makes you feel at home with their comfortable seats and couches, especially upstairs, acting more like a lounge. There are also wall-mounted animal heads to go with the open-space of the establishment.
Want a good beer? You can always find a good beer here on tap. 12 draft lines are dedicated to all american/local craft beers and roughly 15 different bottles. Plus their bar food is good, nothing fancy, just the basics like burgers, mozzarella sticks, chicken fingers, etc.
Buffalo Billiards are like many sports bars in Philadelphia that understand that you need to have space, that you are able to walk around freely, while being able to see their many tv's from many different view points. And if you want something else to do other than watching a game, you don't have to leave, because you have your many choices of
Buffalo Billiards Extras
Happy Hour  |  Monday – Friday  |  6:00 pm – 8:00 pm
17 HDTV's
8 Brunswick pool tables
4 shuffle board tables
5 dart boards
skee-ball  |  foosball  | Big Buck Hunter  |  Golden Tee
Can entertain parties of 60 – 600 people
Location
118 Chestnut St
Philadelphia,PA 19106
Hours
Monday – Friday  |  4:00 pm – 2:00 am
Saturday & Sunday  |  12:00 pm – 2:00 am
Phone
(215) 574-7665
Web Site
Related Articles About Sports Bars in Philadelphia
inside pictures courtesy of Buffalo Billiards
Jeff Belonger has been in the mortgage industry for 19+ years and now wants to do something different. With his experience of blogging and social media, Jeff wants to share all of what Philadelphia has to offer, so he created MyPhillyAlive.com. At MyPhillyAlive, we want to share the excitement that the City of Philadelphia resonates. Sharing the passion within, from the people of Philadelphia. At MyPhillyAlive, we'll be talking about Philadelphia restaurants, fun bars, the city night life, the history of Philadelphia, Philly attractions & events, the arts, sports, and much more. We want people to add their experiences regarding Philadelphia, even if they are from out of town, which can be done on our Facebook fan page as well. www.facebook.com/MyPhillyAlive At the end of the day, we want to be different from the many Philadelphia sites. We want our site to be easy to navigate, while at the same time, we want you to not only find the hot spots, the best things to do in Philadelphia; but those hidden gems within the city. Thanks...
More Posts - Website - Twitter - Facebook - LinkedIn