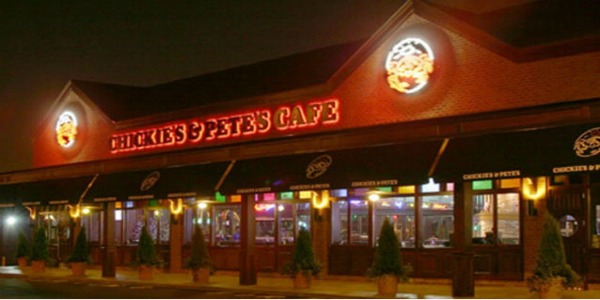 Chickie's & Pete's in South Philly – Sports Bars in Philadelphia
'Voted Best North American Sports Bar by ESPN in 2011′
Chickie's & Pete's is a sports bar and restaurant whose prime locations are in South Philly and Northeast Philadelphia. Each establishment is different than the other, but the main focal point are the many televisions to watch your games and good food.
Chickie's & Pete's Experience & Atmosphere
Chickie's & Pete's is more than just a sports bar in Philadelphia, but an experience about all sports in Philadelphia. At times you will have live broadcasts, see sports celebrities, and enjoy their signature crab fries.
There are 11 locations to cover both Philadelphia and New Jersey, and this doesn't include the 7 stadium locations, to include Lincoln Financial Field, Citizens Bank Park, and Wells Fargo Center.
News Alert! Chickie's & Pete's will be located in the Philly MarketPlace at the XFINITY Live sports complex that opens March 30. ~ Click Here ~
Chickie's and Pete's South Philly location opened in 2003 and is conveniently located within walking distance to the South Philadelphia Sports Complex. The 24,000 square foot cafe features huge bars and three large 14' x 10' flat screens. There are also three private rooms to handle any special occasion, small or large.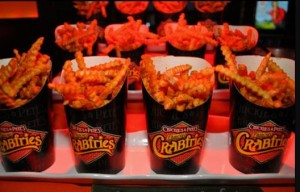 Feeling hungry and thirsty? You can try year-round favorites like Chickie's & Pete's old bay-doused crab fries and meaty buffalo wings. There is also a good selection of other types of seafood and sandwiches. And don't forget the 16 different beers on tap.
You want more? Pete's newest concept, PLAY2, made its debut at the South Philly establishment in 2009. PLAY2 is the world's first interactive sports bar to where you don't just watch sports on TV, but that you become the sport.
There are 18 amusement pod entertainment centers/suites (4 to 20 people each) stacked 2 high that create a mezzanine, allowing customers to completely create their own interactive entertainment experience. You can simply watch the game you want on your 60″ HDTV or you can get involved. How about play golf with Tiger Woods. Score in a three-point shoot out. Bowl a strike. Beat Mario in a race. You can compete with your friends or take it to another level by competing against other pods, as onlookers watch your fun live via video screens networked throughout. See what all the excitement is regarding PLAY2 Interactive Sport Bar  ~ Click Here ~
Chickie's & Pete's seems like the ultimate sports bar in Philadelphia, which is a good reason why ESPN named it best sports bar in all of North America in 2011. Sure, everyone has their own opinion and specific likes/dislikes, but be the judge yourself. With so many sports bars in Philadelphia, you won't go wrong.
Chickie's & Pete's Extras
Chickie's & Pete's voted 2011 Best North American Sports Bar by ESPN – Click Here
Chickie's & Pete's voted 2012 Best Sports Bar in Philadelphia and 2012 runner-up for best wings by Philadelphia on DrinkPhilly – Click Here
 15 passenger "Taxi Cab" that shuttles fans back and forth to the sports complex to their South Philly location  |  complimentary
 Planning to catch a big game, you'll want to arrive at least an hour before
Location
South Philly (opened in 2003)
1526 Packer Ave
Philadelphia, PA 19145
Northeast Philly (opened in 1999)
11000 Roosevelt Blvd
Philadelphia Pennsylvania 19116
Hours
11:00 am – 2:00 am  |  Both locations – South Philly & Roosevelt Blvd
Phone
(215) 218-0500 (South Philly)
(215) 856-9890 (Roosevelt Blvd)
Web Site
Related Articles About Sports Bars in Philadelphia
some pictures courtesy of Chickie's & Pete's

View Larger Map
Jeff Belonger has been in the mortgage industry for 19+ years and now wants to do something different. With his experience of blogging and social media, Jeff wants to share all of what Philadelphia has to offer, so he created MyPhillyAlive.com. At MyPhillyAlive, we want to share the excitement that the City of Philadelphia resonates. Sharing the passion within, from the people of Philadelphia. At MyPhillyAlive, we'll be talking about Philadelphia restaurants, fun bars, the city night life, the history of Philadelphia, Philly attractions & events, the arts, sports, and much more. We want people to add their experiences regarding Philadelphia, even if they are from out of town, which can be done on our Facebook fan page as well. www.facebook.com/MyPhillyAlive At the end of the day, we want to be different from the many Philadelphia sites. We want our site to be easy to navigate, while at the same time, we want you to not only find the hot spots, the best things to do in Philadelphia; but those hidden gems within the city. Thanks...
More Posts - Website - Twitter - Facebook - LinkedIn