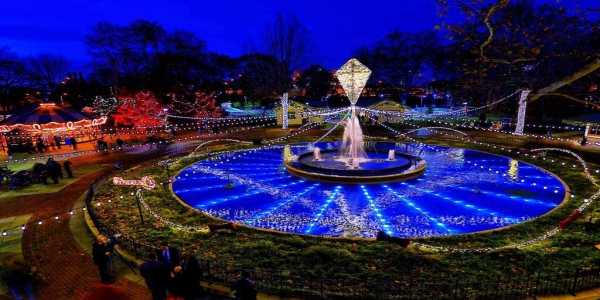 'Magical Holiday Enchantment for Kids of All Ages' 
Lights take over Franklin Square during this festive 2017 holiday season!
The Electrical Spectacle Holiday Light Show at Franklin Square, November 9 to December 31, is one holiday attraction for the whole family to enjoy and not miss. This holiday light show features a dazzling display of more than 50,000 lights that have been designed specifically for this popular public space.
This free attraction features a 10-foot-tall kite made of lights that sparkle and spread down a custom 250-foot kite string and hundreds of feet of holiday garlands, which will cover the Square. As you watch this colorful light display, you'll hear lively holiday music which is provided by our own, The Philly Pops.
Weather permitting, these lights are set to dazzle you eight times daily, every 30 minutes, between 4:30 to 8:00 pm Sunday through Thursday and until 9:00 pm Fridays and Saturdays. You can experience two different seven-minute shows that will alternate throughout each evening.
The holiday light show isn't the only attraction at Franklin Square. The kids can ride the carousel, play Philly-themed mini golf, dine on seasonal fare from some of Philly's best food trucks and enjoy local beers daily from 4:00 to 8:00 pm and until 9 pm on Friday's and Saturday's.
Bonus: A volunteer from the audience will be selected to "ignite" the 4:30 pm show each day.
Lightning Bolt Holiday Express
Take a ride on Franklin Square's Lightning Bolt Holiday Express, a fun train ride around the square on Saturdays and Sundays from November 11 thru December 31, plus November 9 and 24 from 4:30 pm – 7:30 pm (no train on Saturday, December 24). Tickets for this ride cost $5 for adults and $4 for children.
FREE Selfie Photos – There will be visits from Santa on Saturdays from November 25 through December 23 from 5:30 – 7:30 pm for photos, along with holiday music and special activities.. You'll also be able to enjoy horse-drawn carriage rides.
Franklin Square Holiday Festival
Franklin Square will be open from November 9 to December 31 Sunday thru Thursday 4 pm – 8 pm and Fridays and Saturdays 4 pm to 9 pm. Here you can enjoy the Holiday Light Show, food, music, food trucks, Santa, rides, mini golf, and much more.
2017 Electrical Spectacle Holiday Light Show at Franklin Square
Location
Franklin Square
200 N 6th St (6th & Race Streets)
Philadelphia, PA 19176
Dates
November 9 – December 31, 2017
Closed Thanksgiving Day & Christmas Day
Hours
Monday – Thursday  |  4:30 pm – 8:00 pm  |  Alternating shows every 30 minutes
Friday & Saturday  |  4:30 pm – 9:00 pm  |  Alternating shows every 30 minutes
Web Site
Photo by Jeff Fusco for Historic Philadelphia, Inc
Jeff Belonger has been in the mortgage industry for 19+ years and now wants to do something different. With his experience of blogging and social media, Jeff wants to share all of what Philadelphia has to offer, so he created MyPhillyAlive.com. At MyPhillyAlive, we want to share the excitement that the City of Philadelphia resonates. Sharing the passion within, from the people of Philadelphia. At MyPhillyAlive, we'll be talking about Philadelphia restaurants, fun bars, the city night life, the history of Philadelphia, Philly attractions & events, the arts, sports, and much more. We want people to add their experiences regarding Philadelphia, even if they are from out of town, which can be done on our Facebook fan page as well. www.facebook.com/MyPhillyAlive At the end of the day, we want to be different from the many Philadelphia sites. We want our site to be easy to navigate, while at the same time, we want you to not only find the hot spots, the best things to do in Philadelphia; but those hidden gems within the city. Thanks...
More Posts - Website - Twitter - Facebook - LinkedIn