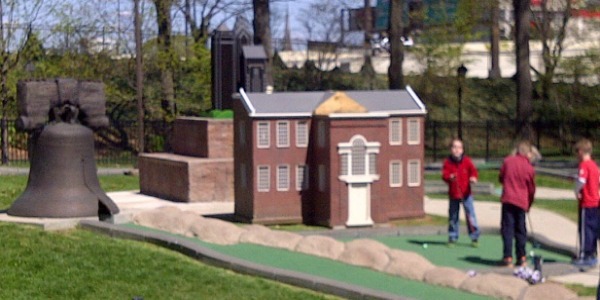 'Carousel Rides, Mini-Golf, Burgers, Movie Nights & More'
Franklin Square is located in the historical part of Philadelphia in Old City. It's one of the five original open-space parks planned by William Penn during the late 17th century. The Square opens its new season Wednesday, March 1, 2017.
SquareBurger, the STARR Restaurants burger stand, opens later in March (stay tuned for an exact date).  There will be many special events and exciting happenings this season, including Evening in Franklin Square, regular movies nights, hosting a number of pop-up beer gardens and food trucks throughout the season, free events throughout the summer and fall, and the fouth annual Franklin Square's Electrical Spectacle: A Holiday Light Show in November and December of 2016. Visitors will also get to experience the Chinese Lantern Festival from April 22 to June 12.
History of Franklin Square
Franklin Square was originally called Northeast Square, and was renamed in 1825 to honor Benjamin Franklin.
The square has a lot of history and usage in its early years, to where it was used for grazing animals, storing gun powder, a burial ground, and as a drill and parade ground for the American military during the War of 1812.
Franklin Square boasts a fountain which is thought to be the oldest surviving fountain in William Penn's five historic squares. 1837, the city made the square into a public park.
In 1976, the city dedicated the Living Flame Memorial to the city's fallen policemen and firefighters, centered on a sculpture by local sculptor Reginald E. Beauchamp. Just recently the park has been refurbished, which started in 2006.
Franklin Square Experience & Atmosphere
Franklin square is 7.5 acres full of fun and entertainment. Several changes have been made and the park now showcases many family attractions such as the carousel, the miniature golf course, a storytelling bench, a playground, a picnic area and more.
There is enough room to play a game of catch, to have a picnic, and just to relax. One of the main focal points is the fountain which was built in 1838 and is surrounded by wrought iron fences, the SquareBurger, an eating area with tables and seats, the carousel, and miniature golf course.
The miniature golf course is unique because many of the holes show an iconic site of Philadelphia History, such as the Betsy Ross House, the Liberty Bell, Elfreth's Alley, and much more. A chance to play golf and learn about the history of Philadelphia.
The Franklin Square is a great place to bring the family or for a date. It's like a little oasis in Philadelphia to where you can play miniature golf, let the kids play on the playground, or even grab a bite to eat at SquareBurger around the fountain. You can even check out the Living Flame Memorial, which is dedicated to Philadelphia's Heroes, and is one of the few memorials in the country dedicated to both fallen Police Officers and Firefighters.
Stay on top of Franklin Square's events and activities for 2016: Click Here
Location
200 N 6th St (6th & Race Streets)
Philadelphia, PA 19176
Hours
Seasonal  |  Monday – Sunday  |  10:00 am – 7:00 pm  |  call in advance
Phone
(215) 629-4026
Web Site
View Larger Map
Jeff Belonger has been in the mortgage industry for 19+ years and now wants to do something different. With his experience of blogging and social media, Jeff wants to share all of what Philadelphia has to offer, so he created MyPhillyAlive.com. At MyPhillyAlive, we want to share the excitement that the City of Philadelphia resonates. Sharing the passion within, from the people of Philadelphia. At MyPhillyAlive, we'll be talking about Philadelphia restaurants, fun bars, the city night life, the history of Philadelphia, Philly attractions & events, the arts, sports, and much more. We want people to add their experiences regarding Philadelphia, even if they are from out of town, which can be done on our Facebook fan page as well. www.facebook.com/MyPhillyAlive At the end of the day, we want to be different from the many Philadelphia sites. We want our site to be easy to navigate, while at the same time, we want you to not only find the hot spots, the best things to do in Philadelphia; but those hidden gems within the city. Thanks...
More Posts - Website - Twitter - Facebook - LinkedIn