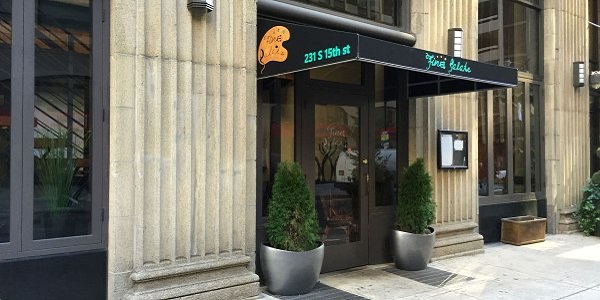 'Globally Inspired Cuisine'
Fine Palate, which is owned by Courtney Dow, opened on October 2, 2015.
This fine dining restaurant is located in the Southeast corner of Rittenhouse Square, right around the block from the Avenue of the Arts area in the Aria Building at 231 S. 15th Street, which once housed Treemont.
Fine Palate Atmosphere & Experience
When you first walk into this small, but elegantly designed restaurant, you locate the bar very easily in front of you which seats six. Looking to your right, there is a small dining area that seats another thirty. There is forty seats with tables on the second floor, and when the weather allows it, another eight to ten outside. Overall, the modern woody look is darkly romantic and makes you feel right at home.
I was very impressed after speaking to Executive Chef Vince Joseph in regards to his outlook when cooking and what he wants to bring to the Philadelphia dining scene. His passion and vision is very refreshing, and local sourcing is important to him.
Joseph was mentored by Wolfgang Puck and trained overseas at three-star Michelin restaurants. The chef brings you an array of globally inspired cuisine with a wide-ranging menu that covers over 3 countries with unique plays on classic dishes such as influences from French, Mediterranean and Japanese cuisine. He explains that the service might seem slow at times, but it's because the longer it takes him to prepare and cook the food, the better that your meal becomes. Chef Joseph and staff clearly know what they're doing in terms of execution and balance.
It was very clear to me that the focus of the restaurant is not to showcase the chef's own artistry. The outlook is for you to feel comfortable ordering whatever your heart desires (it's recommended to call ahead if you would like something not listed on the menu, unless the ingredients are available, then the chef is happy to cook it at that time).
When asked about his vision, Executive Chef Joseph said;
We are all about our guests and the food we make for them. We want to bring back what has been lost in the restaurant business. We are not about fame or notoriety. We want our guests to be catered to. A restaurant is a place to come to be cooked for and given what you want even when it's off the menu.
At the bar, there is no draft system, but you will find ten bottled beers. For those wine drinkers, you'll find French, Spanish, Australian and Western American wines. You can get wine both by the glass or by the bottle. Their happy hour menu for both drinks and wine is extremely reasonable.
You'll find an array of small plates as well as shareable dishes. Some of Fine Palate's more popular dishes, which are true comfort foods, are the 28-oz aged bone-in-Ribeye, roasted crown of hen, Marconi and Cheese (Fregola Sarda Pasta with creamy mornay cheese and lump crab meat), Potato Cheese Croquette (Next day potato puree with cheese then fried) and Agnolotti Pasta (House made pasta stuffed with Cypress Grove Lamb Chopper Cheese with braised lamb).
I had the pleasure of trying several items on the menu. I first started with two raw oysters and the potato cheese croquettes, followed by the "Paris" Dog, which is a beef hot dog in a French demi baguette. I ended my night with the Agnolotti Pasta. House made pasta stuffed with Cypress Grove Lamb Chopper Cheese with braised lamb. Regarding the last dish, wow! Very light tasting, and the lamb stood out because of the Gouda-styled Lamb Chopper cheese as the flavours were initially sweet and buttery with a smooth firm texture. Joseph had told me that this would be on the fall and winter menus as he looks for something more lighter for the summer months. Indicating that he might use duck instead of the lamb.
If you are looking for top quality dishes that won't break your bank, this is certainly a worthy place to give a try. I know I will be back, in which case I am going to try the skewers "Yaki" style, the buffalo tartar and the 28oz aged bone-in ribeye. Okay, maybe I'll need to make a third trip, but this establishment has certainly caught my attention.
(Keep in mind that my experience is not an endorsement, but just my observation and for information only.)
Fine Palate Extras
Entertain Parties Upstairs
Happy Hour  |  5:00 pm – 7:00 pm  | Special Menu & Drinks such as $1 oysters, $3 beers, $5 wine, $6 cocktails
Off the menu meals  |  Call ahead to see if it can be made that day or the next day
Location
231 S. 15th St
Philadelphia, 19102
Hours
Tuesday – Saturday  |  5:00 pm – 11:30 pm
Sunday & Monday  |  Closed
Open Easter Sunday  |  Brunch 11:00 am – 3:00 pm
Starting April 1st  | Friday & Saturday Lunch 11:30 am  |  Sunday Brunch Only  11:30 am – 3:00 pm
Stay Tuned for new spring/summer hours
Phone
(267) 318-7971
Web Site
Photos By Jeff Belonger for MyPhillyAlive ~ Last 4 Food Photos Courtesy of Fine Palate & aren't stage. What you see is what you get.
Jeff Belonger has been in the mortgage industry for 19+ years and now wants to do something different. With his experience of blogging and social media, Jeff wants to share all of what Philadelphia has to offer, so he created MyPhillyAlive.com. At MyPhillyAlive, we want to share the excitement that the City of Philadelphia resonates. Sharing the passion within, from the people of Philadelphia. At MyPhillyAlive, we'll be talking about Philadelphia restaurants, fun bars, the city night life, the history of Philadelphia, Philly attractions & events, the arts, sports, and much more. We want people to add their experiences regarding Philadelphia, even if they are from out of town, which can be done on our Facebook fan page as well. www.facebook.com/MyPhillyAlive At the end of the day, we want to be different from the many Philadelphia sites. We want our site to be easy to navigate, while at the same time, we want you to not only find the hot spots, the best things to do in Philadelphia; but those hidden gems within the city. Thanks...
More Posts - Website - Twitter - Facebook - LinkedIn