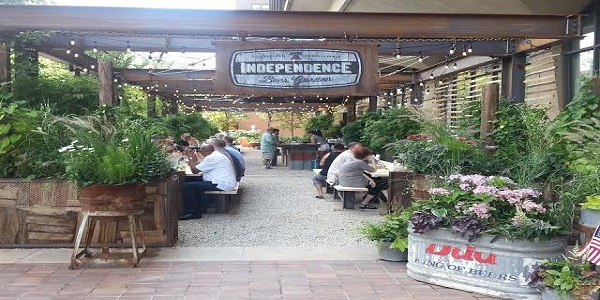 'Come Drink Beer With The Ghosts Of Our Founding Forefathers'
Come enjoy this beautiful and inviting beer garden, the Independence Beer Garden, which is located at 100 South Independence Mall West, directly across the street from the Liberty Bell. This enchanting space adds to the Independence National Historical Park area.
The beer garden is back, opening April 15 and 16 as a teaser, and then officially opening for the season on April 21!
Independence Beer Garden Atmosphere & Experience
This 20,000 sq ft outdoor beer garden is owned by Michael Schulson, who owns Sampan in Midtown Village.
The menu will is comprised of American foods. Enjoy snacks, sandwiches, salads and small meals. Such snacks as pretzel bites, wings and  mac and cheese. Indulge in Italian sausage sandwiches, hamburgers, shrimp rolls, grilled Mahi Mahi and more. 
You'll need a good beer to drink with your food. Enjoy such beers on tap as Goose Island, Victory, Samuel Adams, 21st Amendment, Philadelphia's own Yards & other beers. There are also beers in a can, wine and mixed drinks.
What's nice about this beer garden is that it's spacious. You can sit at picnic benches, sit in bright colored Adirondack chairs and on a chilly night, converse around fire pits. The design work was done by Groundswell Design Group, the same people behind the spectacular Spruce Street Harbor Park.
Surrounded by trees, ivy-covered pergolas and more, come enjoy this laid back atmosphere with friends and or co-workers. 
Independence Beer Garden
Location
100 South Independence Mall West (across the street from the Liberty Bell)
Dates
April 15 & 16  |  Opening at 11:30 am
April 21  |  2016 Season  |  Closing Date Unknown At This Time
Times
Sunday – Monday  |  Open every day at 11:00 am
Kitchen Closed
Sunday & Monday  |  10:00 pm
Tuesday – Thursday  |  11:00 pm
Friday & Saturday  |  Midnight
Bar
Bar remains open two hours after the kitchen closes
Cost
Free – Pay-As-You-Go
Web Site
Jeff Belonger has been in the mortgage industry for 19+ years and now wants to do something different. With his experience of blogging and social media, Jeff wants to share all of what Philadelphia has to offer, so he created MyPhillyAlive.com. At MyPhillyAlive, we want to share the excitement that the City of Philadelphia resonates. Sharing the passion within, from the people of Philadelphia. At MyPhillyAlive, we'll be talking about Philadelphia restaurants, fun bars, the city night life, the history of Philadelphia, Philly attractions & events, the arts, sports, and much more. We want people to add their experiences regarding Philadelphia, even if they are from out of town, which can be done on our Facebook fan page as well. www.facebook.com/MyPhillyAlive At the end of the day, we want to be different from the many Philadelphia sites. We want our site to be easy to navigate, while at the same time, we want you to not only find the hot spots, the best things to do in Philadelphia; but those hidden gems within the city. Thanks...
More Posts - Website - Twitter - Facebook - LinkedIn