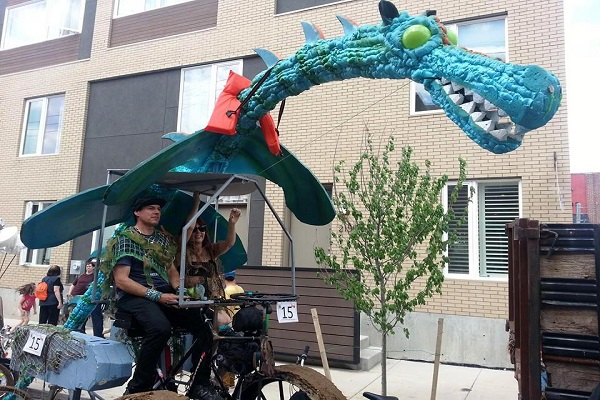 'Human-Powered Vehicle Floats & Art'
The Kensington Kinetic Sculpture Derby and Arts Festival, held May 20 from noon to 6 pm, is one creative and quirky event that you don't want to miss! In years past, it was two events, the Trenton Avenue Arts Festival and Kensington Kinetic Derby.
The all-day event is a combination of crazy derby admirers and those that love art, food and much more.
The festival raises money for neighborhood projects and revitalization in the area while exposing people to an off-the-beaten-path neighborhood. 
Kinetic Sculpture Derby
Get enthusiastic while you cheer creative human-powered vehicle floats along a three-mile urban obstacle course through the Kensington and Fishtown neighborhoods, finishing with a messy mud pit. This part of the event, which started in 2007, is a design competition which spotlights the artist community within the Kensington neighborhood via a design parade throughout the area.
The parade starts at 12:30 pm at Trenton and Norris streets and will end at the mud pit grand finale that will be roughly around 2:30 at Trenton and Norris streets. There are prizes for those participating in the derby. Prizes for such categories like best costume, best art, best engineering, people's choice and a secret judge award.
The Arts Festival
Wander Trenton Avenue, a wide cobblestone street that has been part of Kensington's rich creative history for over a hundred years, and explore more than 200 local artists, vendors and fantastic food trucks during the arts festival. Throughout the day, enjoy live performances, demonstrations and neighborhood attractions.
Shopping will consist of handmade jewelry, children's clothing, vintage decor, organic bath, body and home goods, ceramics, custom photography, screen-printed t-shirts and much more!
The food trucks that are participating include Cow and the Curd, Say Cheese Philadelphia, Oink and Moo BBQ, Baby Blues BBQ, Mamas Meatballs, Smokin' Tacos, Kung Fu Hoagies, Mom-Mom's Polish Food Cart, Philly Fry, Little Baby's and Mr. Softee.
The Festival spans approximately six total blocks, four along Trenton Avenue — between Norris Street and Frankford Avenue — and another two along Susquehanna, crisscrossing Trenton — from Martha Street to Frankford Avenue.
Come out for a full day of fun and enjoy creative human-powered vehicle floats, art, live music, shopping, food and much more . It will be a great time had by all!
Kensington Kinetic Sculpture Derby and Arts Festival
Location
Kensington & Fishtown Neighborhoods
Trenton Avenue and Norris Street
Trenton Avenue and E. Susquehanna Avenue
Date
May 20, 2017
Time
12:00 pm – 6:00 pm
Cost
FREE
Web Site
pp
Jeff Belonger has been in the mortgage industry for 19+ years and now wants to do something different. With his experience of blogging and social media, Jeff wants to share all of what Philadelphia has to offer, so he created MyPhillyAlive.com. At MyPhillyAlive, we want to share the excitement that the City of Philadelphia resonates. Sharing the passion within, from the people of Philadelphia. At MyPhillyAlive, we'll be talking about Philadelphia restaurants, fun bars, the city night life, the history of Philadelphia, Philly attractions & events, the arts, sports, and much more. We want people to add their experiences regarding Philadelphia, even if they are from out of town, which can be done on our Facebook fan page as well. www.facebook.com/MyPhillyAlive At the end of the day, we want to be different from the many Philadelphia sites. We want our site to be easy to navigate, while at the same time, we want you to not only find the hot spots, the best things to do in Philadelphia; but those hidden gems within the city. Thanks...
More Posts - Website - Twitter - Facebook - LinkedIn