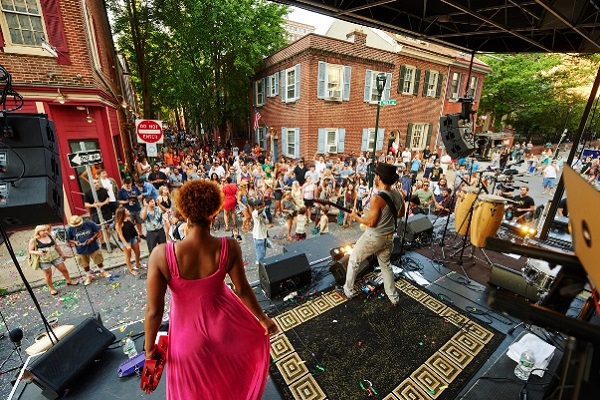 'Dancing In The Streets With Great Bands'
Enjoy a fantastic selection of live music at Molestice Mini Music Festival block party on June 24, 2017!
Molestice, hosted by Mole Street, a digital marketing and entertainment booking agency in Philadelphia, is a block party and music festival that celebrates the summer solstice.
The block party is held at 100 North Mole Street (between Cherry & Race Sts) in Center City from noon to 8 pm.
Musicgoers will enjoy live music, some of which are local bands, food and beer from Fergie's Pub, food trucks and activities for all ages!
This year's headliner is Low Cut Connie, a rock 'n' roll band based in Philly, a band best known for its rebel-rousing rock and roll!
2017 Music Lineup:
A goal of Mole Street regarding Molestice in the next 3-5 years is to grow Molestice from a single block party to a citywide celebration. When you check out Mole Street on a map of Philadelphia, this quirky street extends from the deep South all the way to North Philadelphia.
So come out for some fun, great music, and experience Molestice like never before!
Location
100 North Mole Street (between Cherry & Race Sts)
Philadelphia, PA 19102
Date
June 24, 2017
Time
Noon – 8:00 pm
Cost
FREE  |  Register Tickets (Free)
Beer & Food is Pay-As-You-Go
Web Site
Photos Courtesy of Molestice by Philip Gabriel Photography
Jeff Belonger has been in the mortgage industry for 19+ years and now wants to do something different. With his experience of blogging and social media, Jeff wants to share all of what Philadelphia has to offer, so he created MyPhillyAlive.com. At MyPhillyAlive, we want to share the excitement that the City of Philadelphia resonates. Sharing the passion within, from the people of Philadelphia. At MyPhillyAlive, we'll be talking about Philadelphia restaurants, fun bars, the city night life, the history of Philadelphia, Philly attractions & events, the arts, sports, and much more. We want people to add their experiences regarding Philadelphia, even if they are from out of town, which can be done on our Facebook fan page as well. www.facebook.com/MyPhillyAlive At the end of the day, we want to be different from the many Philadelphia sites. We want our site to be easy to navigate, while at the same time, we want you to not only find the hot spots, the best things to do in Philadelphia; but those hidden gems within the city. Thanks...
More Posts - Website - Twitter - Facebook - LinkedIn