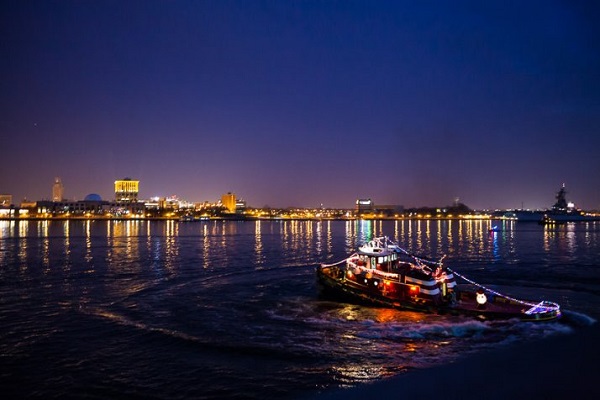 'Boat Parade of Lights on the Delaware River'
All aboard for a festive light event on the Delaware River!
The Parade of Lights itself will take place on December 9 at 5:30 pm outside of the Independence Seaport Museum, which will be a magical joy for all to watch.
The Parade of Lights will feature both working vessels along with pleasure boats, all decked out with festive twinkling lights and decorations.
Prior to the parade, visitors can enjoy holiday festivities and entertainment inside the Seaport Museum from 11 am to 6 pm.
 Activities include:
• Take part in holiday ornament making and gingerbread boat making activities in Santa's Workshop on the Water
• Musical performances by The Philly Pops
• "Snowglobe Submarines" Cartesian Divers take place in their Citizen Science Lab. Make a take-home snowglobe submarine. 
• Take selfies with Santa before he heads out to lead the parade
At 5:30 pm, there goes Jupiter! - leading the lighted boat parade on the Delaware River at during Seaport Parade of Lights event. Jupiter is a 1902 vintage tug boat which is maintained by the Philadelphia Ship Preservation Guild. 
Museum visitors will get the best view of the parade from the 2nd floor balcony overlooking the Delaware River. The Parade of Lights will be a competition for best decorated boat.
If you'd like your boat/yacht to participate in the parade, please contact Gina Pickton at gpickton@phillyseaport.org.
Special pricing available for groups of 10 or more. Contact Tina Yerkes at (215) 413-8622 or tyerkes@phillyseaport.org.
Location
Independence Seaport Museum
211 S. Columbus Boulevard
Philadelphia, PA
Date
December 09, 2017 |  Saturday
Time
11:00 am – 6:00 pm  |  Boat parade begins at 5:30 pm
Cost
FREE to watch outside of museum  |  For all activities inside & view from 2nd floor balcony, cost of museum admission
Web Site
Photo courtesy of Independence Seaport Museum – McAllister


Jeff Belonger has been in the mortgage industry for 19+ years and now wants to do something different. With his experience of blogging and social media, Jeff wants to share all of what Philadelphia has to offer, so he created MyPhillyAlive.com. At MyPhillyAlive, we want to share the excitement that the City of Philadelphia resonates. Sharing the passion within, from the people of Philadelphia. At MyPhillyAlive, we'll be talking about Philadelphia restaurants, fun bars, the city night life, the history of Philadelphia, Philly attractions & events, the arts, sports, and much more. We want people to add their experiences regarding Philadelphia, even if they are from out of town, which can be done on our Facebook fan page as well. www.facebook.com/MyPhillyAlive At the end of the day, we want to be different from the many Philadelphia sites. We want our site to be easy to navigate, while at the same time, we want you to not only find the hot spots, the best things to do in Philadelphia; but those hidden gems within the city. Thanks...
More Posts - Website - Twitter - Facebook - LinkedIn