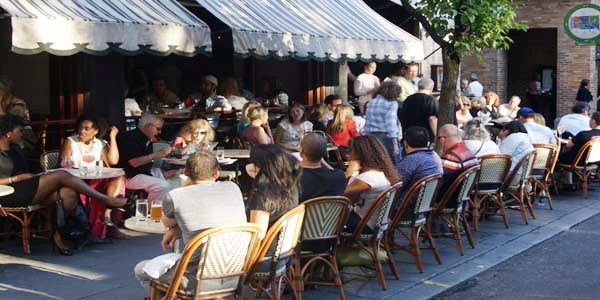 'Food Discounts in Philly'
Center City District Restaurant Week is back. Here is your chance to taste many different delicious meals from well-known Philadelphia restaurants and experience chefs delights at discounted prices.
From January 14 – 26, enjoy many types of food selections such as Oriental, Mexican, Seafood, Steak, American, Japanese, Italian, Indian, Cuban, Brazilian, and much more.
Philadelphia Restaurant Week Experience & Atmosphere
Center City District Restaurant Week is presented by TD Bank, with over 120 restaurants offering three-course dinners for $35 per person and many of them are offering three-course lunches for $20 per person. (Does not include tax, gratuity or alcohol). You do need to check the list of restaurants to see which ones are participating for the lunch specials, dinner specials or both. Many are taking reservations online, click here.
Want to follow on your smart phone. ~ Mobile Site ~ Sign up for (IN) Center City email alerts, filled with promotions and event info. You will also automatically be entered for your chance to win 52 gift certificates from Center City restaurants. ~ contest ~ Follow their Twitter feed – @PhilaRestWeek During Restaurant Week, be sure post your dining pics to Instagram. 
Restaurant Weeks in Philadelphia for 2018
Center City District Restaurant Week
Location
Participating Philadelphia Restaurants, click here
Dates
January 14 – 26, 2018
Web Site
City of Philadelphia View Larger Map
Jeff Belonger has been in the mortgage industry for 19+ years and now wants to do something different. With his experience of blogging and social media, Jeff wants to share all of what Philadelphia has to offer, so he created MyPhillyAlive.com. At MyPhillyAlive, we want to share the excitement that the City of Philadelphia resonates. Sharing the passion within, from the people of Philadelphia. At MyPhillyAlive, we'll be talking about Philadelphia restaurants, fun bars, the city night life, the history of Philadelphia, Philly attractions & events, the arts, sports, and much more. We want people to add their experiences regarding Philadelphia, even if they are from out of town, which can be done on our Facebook fan page as well. www.facebook.com/MyPhillyAlive At the end of the day, we want to be different from the many Philadelphia sites. We want our site to be easy to navigate, while at the same time, we want you to not only find the hot spots, the best things to do in Philadelphia; but those hidden gems within the city. Thanks...
More Posts - Website - Twitter - Facebook - LinkedIn