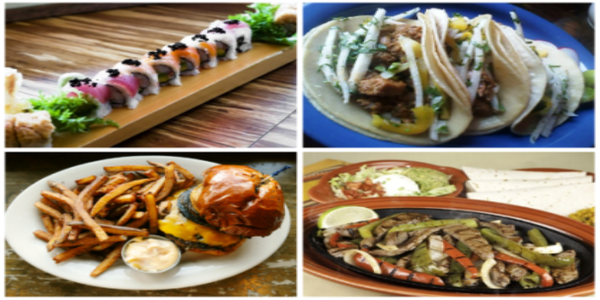 'Food Discounts in East Passyunk'
East Passyunk Restaurant Week is back with 26 participating restaurants, from February 26 to March 19. Here is your chance to taste many different delicious meals from well-known East Passyunk Restaurants and experience chefs delights at discounted prices. There are many types of food selections such as Japanese, Mexican, Italian, Seafood, Steak, American and much more.
East Passyunk Restaurant Week Experience & Atmosphere
Get your food on from restaurants with elegant candlelit areas, to casual, to low key BYOB's or pubs. You'll get to enjoy a 3 course lunch and/or dinner for just $15, $25 or $35. This year's participating restaurants are listed below. Here is a complete breakdown of the prices and who is offering what. Click Here.
Stay on top of last minute openings regarding hard-to-get reservations and other food related information for East Passyunk Restaurant Week. Follow #EPRW on Twitter. Keep in mind that not all restaurants will offer their restaurant week menu every day. Call ahead to make sure.
Participating Restaurants
Adobe

Café

Barcelona
Bing Bing Dim Sum
Birra
Brigantessa
Cantina los Caballitos
Chhaya

El Sarape 

Fond
ITV
Izumi
Le Virtu
Mamma Maria Ristorante
Marra's
Noir
Noord
Paradiso
Perla
Pistolas de Sur
Plenty

POPE - 

Pub on Passyunk East
P'unk Burger
Stogie Joe's
Townsend
Tre Scalini
Will BYOB
Restaurant Weeks in Philadelphia for 2016
Fairmount Restaurant Week

 ~
East Passyunk Restaurant Week
Location
Participating East Passyunk Restaurants: click here
Dates
February 26 – March 9, 2018
Web Site
Picture Courtesy of East Passyunk. Participating restaurants from top left clockwise: Izumi, Pope, Adobe Cafe & Catina los Caballitos.
Jeff Belonger has been in the mortgage industry for 19+ years and now wants to do something different. With his experience of blogging and social media, Jeff wants to share all of what Philadelphia has to offer, so he created MyPhillyAlive.com. At MyPhillyAlive, we want to share the excitement that the City of Philadelphia resonates. Sharing the passion within, from the people of Philadelphia. At MyPhillyAlive, we'll be talking about Philadelphia restaurants, fun bars, the city night life, the history of Philadelphia, Philly attractions & events, the arts, sports, and much more. We want people to add their experiences regarding Philadelphia, even if they are from out of town, which can be done on our Facebook fan page as well. www.facebook.com/MyPhillyAlive At the end of the day, we want to be different from the many Philadelphia sites. We want our site to be easy to navigate, while at the same time, we want you to not only find the hot spots, the best things to do in Philadelphia; but those hidden gems within the city. Thanks...
More Posts - Website - Twitter - Facebook - LinkedIn