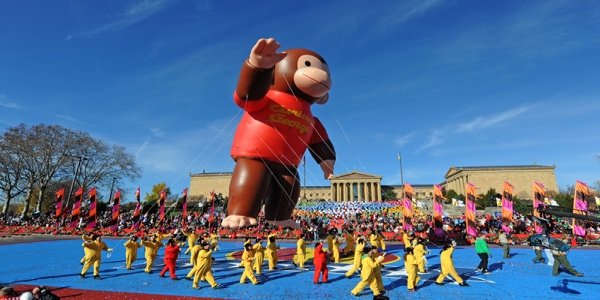 'The Oldest Thanksgiving Day Parade in the Country'
Who loves a good Thanksgiving Parade! Whether you are starting a new family tradition or continuing one, this Thanksgiving Day parade shall be a memorable event for all.
The 98th Annual Philadelphia 6ABC Dunkin' Donuts Thanksgiving Day Parade kicks off on November 24 at 8:30 am on the Benjamin Franklin Parkway. Dating back to 1920, the parade is the oldest in the nation.
Philadelphia Thanksgiving Day Parade Experience & Atmosphere
Stretched over 1.4 miles, you'll get to see some of your favorite costumed characters, giant balloons, marching bands from around the region, festive floats, dancers, celebrities, and much more as they parade through the city.
Some of the cool balloons to look forward to would be Bugs Bunny, Penguins of Madagascar 2, Fragile Rock, Strawberry Shortcake, Clifford, and many others. Some of the festive floats would include Santa's Holiday Express, The Sounds of Music, Campbell's Thanksgiving Harvest-themed float, Disney Friends Gazebo, Under the Sea, A Pirates Life and more.
A grand total of 37 special guests will join the parade festivities this year, including such national stars as the cast of Annie, Walt Disney characters Mickey Mouse and Minnie Mouse, American Idol star Melinda Doolittle, Miss Pennsylvania Katie Schreckengast , Miss New Jersey Kaitlyn Schoeffel, the Eagles Cheerleaders, as well as hometown radio personality Jerry Blavat.
There will be 28 Special Units and performers such as the Philadelphia School for Circus Arts, Jane Baron's Academy of Dance Performance Ensemble, Central Bucks West Choir, the Philly Roller Girls Junior League, The Boy Scouts of American, West Chester University Flag Team and many others.
Parade goers can enjoy the Parade Zone, an open-air festival in Eakins Oval. Guests can enjoy freebies, watch an ice scuplture being created, a special kids zone with face painting and more, watch high-energy performances, and more!
Come out early and don't miss this spectacular holiday treat which promises to be a family favorite. If you aren't coming out to the parade in person, you can watch it on ABC, channel 6.
Parade Route
1. Start point: 20th Street & JFK Boulevard. The parade then proceeds east on JFK Boulevard to 16th Street.
2. Parade turns left onto 16th Street, heading towards Arch Street, making a left onto the Benjamin Franklin Parkway.
4. Parade bears right, going northwest on the Benjamin Franklin Parkway for three blocks until reaching Logan Circle.
5. Parade loops around the southern part of Logan Circle and then continues on the Benjamin Franklin Parkway until it reaches Eakins Oval.
6. Parade proceeds along the south portion of Eakins Oval finishing in front of the steps of the Philadelphia Museum of Art.
Key Spots to Watch the Parade
1. Most definitely at the parade's finish area at the steps of the Philadelphia Museum of Art.
2. Campbell's Winter Wonder Expo Tent. The south side of Eakins Oval, just west of 22nd street & the Ben Franklin Parkway (in front of the Art Museum).  There will be hot food, warm drinks, giveaways and entertainment for kids.
3. Love Park, 20th & JFK. Best area is if you situate yourself on the elevated portions of the park.
4. Logan Circle, where the parade will pass right by on the 19th & Race Streets side.
5. Sister Cities Park, with plenty of space to spread out around.
2017 Philadelphia Thanksgiving Day Parade
Location
Begins at 20th Street & JFK Boulevard and will end at the Philadelphia Museum of Art
Date & Time
November 23, 2017 – Thursday  |  Begins at 8:30 am & ends around noon
Cost
Free
Web Site
Photo Credit: M. KENNEDY FOR GPTMC
Jeff Belonger has been in the mortgage industry for 19+ years and now wants to do something different. With his experience of blogging and social media, Jeff wants to share all of what Philadelphia has to offer, so he created MyPhillyAlive.com. At MyPhillyAlive, we want to share the excitement that the City of Philadelphia resonates. Sharing the passion within, from the people of Philadelphia. At MyPhillyAlive, we'll be talking about Philadelphia restaurants, fun bars, the city night life, the history of Philadelphia, Philly attractions & events, the arts, sports, and much more. We want people to add their experiences regarding Philadelphia, even if they are from out of town, which can be done on our Facebook fan page as well. www.facebook.com/MyPhillyAlive At the end of the day, we want to be different from the many Philadelphia sites. We want our site to be easy to navigate, while at the same time, we want you to not only find the hot spots, the best things to do in Philadelphia; but those hidden gems within the city. Thanks...
More Posts - Website - Twitter - Facebook - LinkedIn