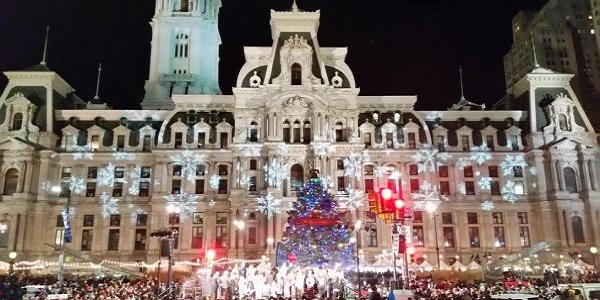 'Holiday Traditions In Philly'
Get into the holiday spirit at the Philly Holiday Tree Lighting Celebration on Friday, November 24 at City Hall at the North Broad Street Portal (North side of Broad St) outside Dilworth Park!
Join Mayor Jim Kenney and the Office of the City Representatives to officially unwrap the holiday season. Ex-Philadelphia Eagles, Tra Thomas and Jerimiah Trotter, will assist to light the tree with the Mayor and other dignitaries.
This festive family evening will kick off at 5 pm with special live entertainment which will include singers, a choir, performers of all kinds and other surprises.
The holiday tree is a towering 52-foot, 50 year-old freshly-cut tree, topped with a Liberty Bell and the decorations include bald eagles flying a banner across the tree that reads: "Let there be Peace on Earth" in both English and Spanish. City Hall will magically be transformed into a joyful winter wonderland of food, and family festivities. 
The 30,000-pound custom steel base supports a 50-foot live tree and represents 22 of Philadelphia's neighborhoods. It was designed by David Korins Designs of New York. Known for production design for Broadway (Hamilton), TV (Grease Live), music (Kanye West) and festivals (Bonnaroo), Korins created this original work of art that showcases Philadelphia's skyline, neighborhoods and icons like Independence Hall, the Philadelphia Museum of Art and the Benjamin Franklin Bridge.
Some of the entertainers will be members of the Philly POPS BIG Band, local students of Isaac Sheppard Elementary 2-4 grade choir (part of the POPS in Schools program), and two University of the Arts vocalists (Natalie Bermudez and Angel Sanchez) will perform.
Isaac Sheppard Elementary, located in Kensington, is a school with a majority of Spanish-speaking students, many with Puerto Rican heritage. They'll perform "Almost Like Praying," the new song written by Hamilton-creator Lin-Manuel Miranda that was recorded with numerous artists to support Hurricane Maria relief efforts in Puerto Rico.
The Philly Holiday Tree powered by NRG will be displayed in a prominent new location on the North Broad Street side of City Hall — along with a new pop-up restaurant. 
Mayor Jim Kenney will do the honors of lighting the tree at 6:20 pm!
New! Gift Drive at the Tree Lighting at City Hall at North Broad Street (Friday, November 24)
Bring an unwrapped gift to the tree lighting on Friday, November 24 and help a child in need. Hats, scarves, ear muffs, gloves, mittens, journals, art and craft supplies, and board games are great for everyone. Older youth also like gift cards, ear buds, and toiletry bags. The Department of Human Services will accept gifts at the "Gift Donation Tent" at City Hall at North Broad Street from 3 pm to 8 pm.
Extras During The Holidays at City Hall
Winter Memories in the City Hall Courtyard Powered by Inspire (begins Saturday, November 18)
Strolling through the historic portals of Philadelphia City Hall, visitors will experience a winter wonderland themed courtyard with a carousel. The City Hall Courtyard will be a destination for families to gather for holiday fun. Twinkling lights shine from the courtyard trees illuminating tents featuring individual vendors with unique gifts perfect for holiday giving.
Schedule For 2017 Holiday Tree Lighting Celebration
3 pm - 8 pm: Gift Donation Drive & Drop-off, through City Department of Human Services, for winter necessities (clothes, gift cards, toiletries) benefiting Children & youth at City Hall's North Portal.
4:55 pm: Pre-programming/performances: YPTC Choir
5 pm: Official Program open
6:20 pm: Official Count-down and Lighting of Tree ~ Mayor Kenney, City Representative Sheila Hess, dignitaries, sponsors, singers, sports figures & other guests!
So come on out and bring the family for some holiday fun and cheer while getting into the holiday spirit. Make this event a family tradition, while enjoying all that the city has to offer during the holidays.
.
Location
City Hall at North Broad Street Portal
15th and Market Streets
Philadelphia, PA
Date
November 24, 2017
Time
5:00 pm to 6:30 pm  |  Tree Lighting at 6:20 pm
Cost
FREE
Web Site
Jeff Belonger has been in the mortgage industry for 19+ years and now wants to do something different. With his experience of blogging and social media, Jeff wants to share all of what Philadelphia has to offer, so he created MyPhillyAlive.com. At MyPhillyAlive, we want to share the excitement that the City of Philadelphia resonates. Sharing the passion within, from the people of Philadelphia. At MyPhillyAlive, we'll be talking about Philadelphia restaurants, fun bars, the city night life, the history of Philadelphia, Philly attractions & events, the arts, sports, and much more. We want people to add their experiences regarding Philadelphia, even if they are from out of town, which can be done on our Facebook fan page as well. www.facebook.com/MyPhillyAlive At the end of the day, we want to be different from the many Philadelphia sites. We want our site to be easy to navigate, while at the same time, we want you to not only find the hot spots, the best things to do in Philadelphia; but those hidden gems within the city. Thanks...
More Posts - Website - Twitter - Facebook - LinkedIn