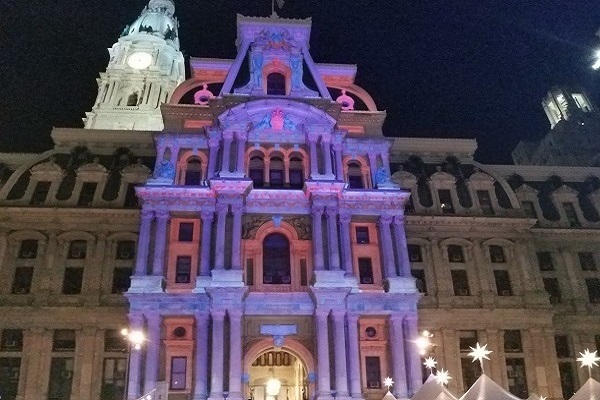 'Lights, Action, City Hall!'
Strolling through the historic portals of Philadelphia City Hall, visitors will experience a winter wonderland themed courtyard with a carousel and a few vendors selling holiday gifts. They can also experience a light show on the west side of City Hall and where visitors can shop a multitude of vendors for unique gifts perfect for holiday giving and also view a holiday tree all lit up at night on the north side.
The Light Show at Dilworth Park at City Hall
Center City District in collaboration with 6 ABC will create a new holiday season attraction for visitors to experience – an animated light show, synchronized with holiday music and projected on Philadelphia's National Historic Landmark, City Hall – The Deck the Hall Light Show is presented by Independence Blue Cross. This choreographed light show will be presented multiple times nightly, seven days a week (times listed below), highlighting the architecture of the west portal of City Hall and visible from Dilworth Park and along West Market Street. The local, creative digital design firm KLIP Collective is creating this unique light show which will premiere on Monday, November 20, and shine on City Hall through Monday, January 1, 2018.
Holiday Light Show Live at City Hall
.
Free Parking on Saturdays (Thanksgiving – New Year's Day)
Once again, the Philadelphia Parking Authority will offer free on-street meter parking on Saturdays after 11 am from Thanksgiving through New Year's Day. In addition, holiday rates at PPA garages will be a flat $8 fee on Saturday!
Rothman Ice Rink at Dilworth Park
Visitors can also enjoy the Rothman Ice Rink at Dilworth Park until February 15, 2018!
.
.
Location
City Hall – West Side
Date
November 24, 2017 to January 1, 2018
Times
Sunday – Thursday  |  5:30 pm, 6:30 pm, 7:30 pm & 8:30 pm
Friday – Saturday & Holiday Week  |  Every half hour from 5:30 pm to 9:30 pm
Cost
FREE
Jeff Belonger has been in the mortgage industry for 19+ years and now wants to do something different. With his experience of blogging and social media, Jeff wants to share all of what Philadelphia has to offer, so he created MyPhillyAlive.com. At MyPhillyAlive, we want to share the excitement that the City of Philadelphia resonates. Sharing the passion within, from the people of Philadelphia. At MyPhillyAlive, we'll be talking about Philadelphia restaurants, fun bars, the city night life, the history of Philadelphia, Philly attractions & events, the arts, sports, and much more. We want people to add their experiences regarding Philadelphia, even if they are from out of town, which can be done on our Facebook fan page as well. www.facebook.com/MyPhillyAlive At the end of the day, we want to be different from the many Philadelphia sites. We want our site to be easy to navigate, while at the same time, we want you to not only find the hot spots, the best things to do in Philadelphia; but those hidden gems within the city. Thanks...
More Posts - Website - Twitter - Facebook - LinkedIn