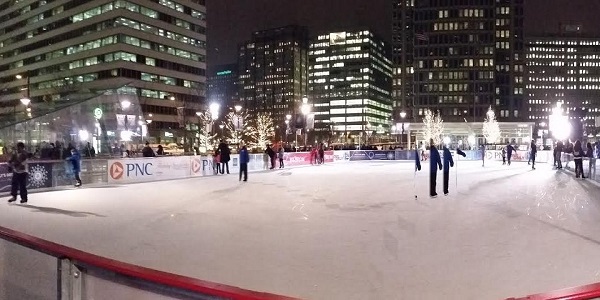 'Ice Skating in Center City' 
It's been an exciting transformation outside of City Hall the last three years!
Just three years ago, Dilworth Plaza was converted into a friendly park, now called Dilworth Park. You'll find a computer-programmable fountain, a Jose Garces-operated cafe, free wifi, pedestrian-friendly amenities, programmed events throughout the year, and an upgraded rail system.
Not only will you be able to enjoy Dilworth Park in the warmer months, you will be able to enjoy this wonderful park during the winter, which brings us to ice skating. Besides the ice skating rink itself, there will be a tent with heating amenities. Welcome Dilworth Park at Wintergarden 2017-18! The season opening to Wintergarden is November 10 from noon to 11 pm!
The ice skating rink, which is known as the Rothman Ice Rink, will officially open on November 10 and remain open through February 25, 2018.
The Rothman Ice Rink will be open 7 days a week, to include all holidays. For the holiday schedule, Click Here.
There will be a range of programmed seasonal and holiday events at the rink that will offer entertainment and fun for people of all ages. There will be birthday party packages and group sales discounts as well.
The rink will be operated and managed by a professional management group, Rink Management Services Corporation of Mechanicsville, VA. The company currently manages 33 ice rinks in 17 states and Washington, D.C.
How they built the ice rink at Dilworth Park; Click Here. And more information on the designer and such, click here.
So make plans with the family, with friends, and enjoy this new found winter location in the heart of Philadelphia.
Rothman Institute Ice Rink at Dilworth Park
Location
Dilworth Park
15th & Market Streets
Date
November 10, 2017 – February 25, 2018
Hours
Monday-Thursday  |  Noon – 9:00 pm
Friday  |  Noon – 11:00 pm
Saturday  |  11:00 am – 11:00 pm
Sunday  |  11:00 am – 8:00 pm
Info on Hours – Click Here  |  Extended Holiday Hours – Click Here
Cost
Adults - $5  |  Children 10 & under – $3  |  Skate Rental – $10
Parking
Park at the Love Park garage for $6. Your ticket must be validated at the rink.
Web Site
Jeff Belonger has been in the mortgage industry for 19+ years and now wants to do something different. With his experience of blogging and social media, Jeff wants to share all of what Philadelphia has to offer, so he created MyPhillyAlive.com. At MyPhillyAlive, we want to share the excitement that the City of Philadelphia resonates. Sharing the passion within, from the people of Philadelphia. At MyPhillyAlive, we'll be talking about Philadelphia restaurants, fun bars, the city night life, the history of Philadelphia, Philly attractions & events, the arts, sports, and much more. We want people to add their experiences regarding Philadelphia, even if they are from out of town, which can be done on our Facebook fan page as well. www.facebook.com/MyPhillyAlive At the end of the day, we want to be different from the many Philadelphia sites. We want our site to be easy to navigate, while at the same time, we want you to not only find the hot spots, the best things to do in Philadelphia; but those hidden gems within the city. Thanks...
More Posts - Website - Twitter - Facebook - LinkedIn