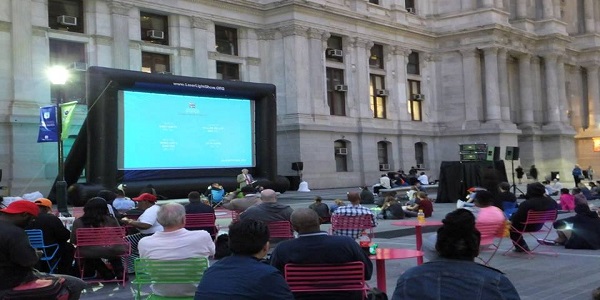 'Free Movie Time in the Shadows of City Hall'
Get cozy at the city's new front yard at Dilworth Park. 
Pictures in the Park are free movies which will take place every Friday evening evening from July 7 to August 25 starting at dusk (around 8:30 pm).
Prior to the movie, enjoy a drink and dinner at the Dilworth Park Cafe and Air Grille. Then pull up your lawn chair in the front yard while you enjoy  your movie in the magnificent shadow of City Hall. 
All of this is made possible due to a generous grant from the Waterman II Fund of the Philadelphia Foundation, courtesy of David Haas. Movies are weather permitting. Schedule & movies are subject to change. Stay tuned for more things to come at Dilworth Park!
2017 Summer Movie Schedule:
August 11: Fantastic Beats and Where to Find Them
August 18: Avengers Age of Ultron
August 25: Guardians of the Galaxy Vol 2
Location
Dilworth Park at City Hall 15th & Market Streets
Philadelphia, PA
Dates
July 7 – August 25, 2017
Time
8:00 pm – 10:00 pm  |  Movies typically starting at dusk.
Cost
FREE
Web Site
Jeff Belonger has been in the mortgage industry for 19+ years and now wants to do something different. With his experience of blogging and social media, Jeff wants to share all of what Philadelphia has to offer, so he created MyPhillyAlive.com. At MyPhillyAlive, we want to share the excitement that the City of Philadelphia resonates. Sharing the passion within, from the people of Philadelphia. At MyPhillyAlive, we'll be talking about Philadelphia restaurants, fun bars, the city night life, the history of Philadelphia, Philly attractions & events, the arts, sports, and much more. We want people to add their experiences regarding Philadelphia, even if they are from out of town, which can be done on our Facebook fan page as well. www.facebook.com/MyPhillyAlive At the end of the day, we want to be different from the many Philadelphia sites. We want our site to be easy to navigate, while at the same time, we want you to not only find the hot spots, the best things to do in Philadelphia; but those hidden gems within the city. Thanks...
More Posts - Website - Twitter - Facebook - LinkedIn