'A Magical Summertime Destination' 
It's back for a fourth year, by popular demand, the Spruce Street Harbor Park! This urban area is being transformed into an outdoor paradise at the Penn's Landing Marina.
But wait! Let's welcome back the Blue Cross RiverRink Summerfest for year three! The Blue Cross RiverRink will be transformed into a roller rink.
The Delaware River Waterfront will bring loads of excitement to include a floating restaurant, boardwalk, hammocks, tons of colorful LED lights, new planted greenery, an outdoor roller rink, more Philadelphia restauranteurs, seating options, and a new family entertainment area! All of this will take place from May 12 to October 1.
Spruce Street Harbor Park
One of the main entrances in guiding you into Spruce Street Harbor Park will feature two 20' and one 40' repurposed shipping containers, sitting at Columbus Boulevard and Spruce Street. This entrance area leads you into Hammock Park.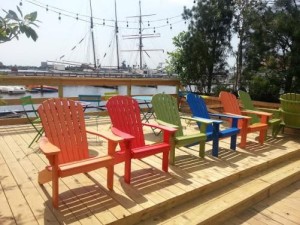 The Oasis returns with three floating barges from 2014, that will provide different types of seating for eating, drinking, or just enjoying the scenery. The centerpiece of the Oasis, the net lounge, will extend from the barges allowing visitors to hang over and almost touch the water underneath them. In addition, you'll be able to enjoy water gardens, picnic tables, colorful bistro tables and chairs, high-top tables made out of industrial spools, and Amish-made local Adirondack chairs will fill the barges, allowing visitors to relax in the middle of the marina. 
Extras at the Spruce Street Harbor Park will include fountains, relaxing in hammocks, read a book on colorful Adirondack chairs, fire pits, enjoy the boardwalk, mist areas and urban beach. There will be concerts, food, drinks, games and the Oasis.
In addition to more hammocks, SSHP will also be adding 8 draft lines to the Beer Garden with two dedicated to pouring a selection of new rotating draft cocktails. Restaurant favorites such as Chickie's and Pete's, Federal Donuts, Franklin Fountain, Frozen Delights, and Garces will be returning.
The Hammock Lounge
Reserve a hammock lounge and relax in the sun with a large group of friends for parties, celebrations, etc in the private hammock lounge! You'll enjoy 2 free-standing hammocks, premium outdoor seating , tables and chairs for 15-20 people, games and more. To reserve a hammock lounge, click here!
For more details in what the Spruce Street harbor Park will have to offer, click here.
Highlights of Spruce Street Harbor Park
New this 2017 season

, SSHP will host the 

Second Sunday Cinema Series

 from May-September with each night featuring a screening of a classic TV show and a classic movie. First up on 

May 14

 is 

The Patty Duke Show

 (episode: The President) followed by a showing of 

On the Waterfront

 with Marlon Brando.
Waterfront Sessions Live Music Series

 returns every Thursday from June-September with free performances by a variety of acclaimed local talent.
Art Star Pop-Up Market will be back on Saturdays from 

10am-2pm

 along with a rotating selection of vendors from

R5 Production's bi-annual "Punk Rock Flea Market" on Sundays during the same time.
Paddle Penn's Landing

 is opening on the weekends starting Fr

iday, May 5. Regular schedule (7 days a week) begins on 

Friday, May 26

.
Paddle Board Yoga & Paddle Board Fitness by 

Aqua Vida

 will be back in the marina from 

June 10 – September 23

.

Schedule will be on the website soon
First Annual UNIVESTival ~ May 12 – 14 ~
A weekend-long festival, May 12 to 14, will feature multiple nights of live music, food and drink specials, and a variety of entertainment including aerial routines over the marina, circus-style performances, a magician, caricature artist, a petting zoo, the Univest money booth, and an assortment of other unique arts and crafts.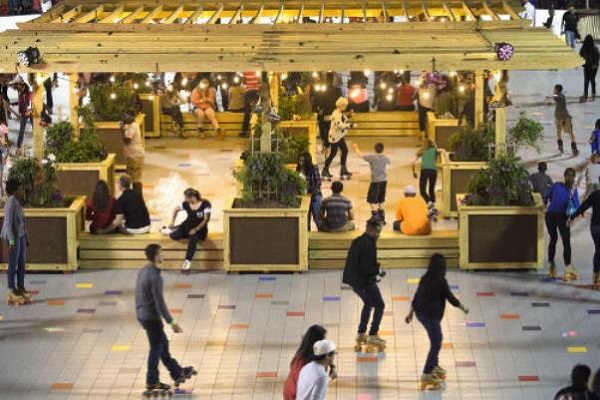 Blue Cross RiverRink Summerfest
The Blue Cross RiverRink Summerfest, opening May 26, will feature a full-sized roller skating rink with a new flooring that was redone which is similar to a tennis court epoxy, a skate rental facility (roller skates AND inline skates), and plenty of food and beverage options.
The Lodge has been transformed into Chickie's and Pete's Waterfront Crabshack! Chickie's and Pete's will be giving away FREE crab fries from 5 to 6 pm on opening day, Friday, May 26.
In addition to roller skating, a 9-hole mini-golf course has been added with an arcade that will provide an area for kids to play while they're not skating.
New this year is an outdoor bowling alley. 
Spruce Street Harbor Park
Location
Penn's Landing
101 S. Columbus Boulevard
Dates
Friday, May 12 – October 1, 2017  |  Open Daily
Time
Park Hours (same for barge bar)
Sunday - Thursday  |  11:00 am – 11:00 pm
Friday – Saturday  |  11:00 am – 1:00 am
Cost
Free Admission (pay as you go)
Web Site
Blue Cross RiverRink Summerfest
Location
Penn's Landing
101 S. Columbus Boulevard
Dates
Friday, May 26 – October 1, 2017  |  Open Daily
Time
Monday – Thursday  |  1:00 pm – 11:00 pm
Friday – Saturday  |  11:00 am – 1:00 am
Sunday  |  11:00 am – 11:00 pm
Operational Hours for Restaurant & Bar  |  Click Here
Cost
Free Admission to Summerfest |  Roller Skating Admission $3 plus skate rental  |  Click here for costs
Web Site
Jeff Belonger has been in the mortgage industry for 19+ years and now wants to do something different. With his experience of blogging and social media, Jeff wants to share all of what Philadelphia has to offer, so he created MyPhillyAlive.com. At MyPhillyAlive, we want to share the excitement that the City of Philadelphia resonates. Sharing the passion within, from the people of Philadelphia. At MyPhillyAlive, we'll be talking about Philadelphia restaurants, fun bars, the city night life, the history of Philadelphia, Philly attractions & events, the arts, sports, and much more. We want people to add their experiences regarding Philadelphia, even if they are from out of town, which can be done on our Facebook fan page as well. www.facebook.com/MyPhillyAlive At the end of the day, we want to be different from the many Philadelphia sites. We want our site to be easy to navigate, while at the same time, we want you to not only find the hot spots, the best things to do in Philadelphia; but those hidden gems within the city. Thanks...
More Posts - Website - Twitter - Facebook - LinkedIn