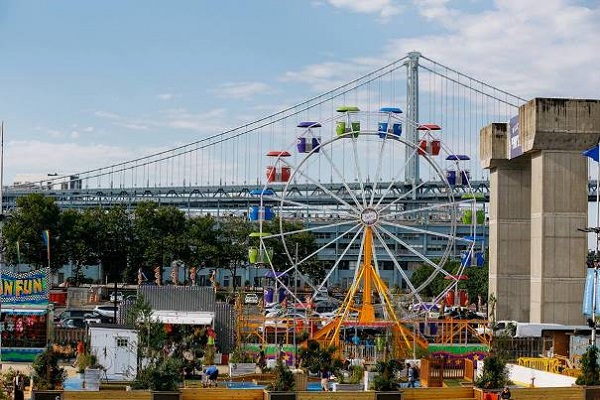 'Carnival-Style Attractions In Philly'
Who says you have to leave the City of Philadelphia for shore-like amusement rides and games!
Guests will be able to enjoy boardwalk-inspired games, a full-size carousel, and a specific marquee ride at the Blue Cross RiverRink Summerfest, just blocks north of Spruce Street Harbor Park.
Throughout the summer, the marquee ride will be rotated between a 60 ft Ferris Wheel, the Pharoah's Fury swinging boat ride, and the Typhoon Magic Carpet ride. Check for specific dates below.
Play such games as Water Race, basketball, Balloon Bust, High Striker/Ring the Bell, Cork Gun and Break a Plate to win prizes.
In addition to the rides and games, there will be an outdoor bowling alley, mini-golf and food.
Feast on food from Chickie's and Pete's as they will serve their stapled crab fries, in addition to wings, cheesesteaks and seafood-centric menu items, including fried shrimp, hard shell crabs, steamers and a seafood feast for two. They will also debut an all-you-can-eat snow crabs with corn and potatoes on Thursday nights.
For those desert fans, enjoy ice cream, milkshakes, floats and more from Franklin Fountain!
Those seeking adult beverages, you can enjoy beer, cocktails and wine from a number of bars throughout the space.
Come one, come all and make plans to visit this fun-filled waterfront park this season!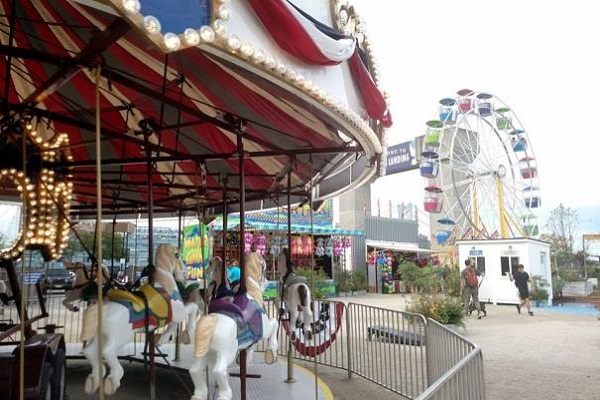 Grand Opening Weekend Specials ~
June 23 – 25

:


Friday, June 23: FREE face painting (12 pm – 3 pm), balloon twisting (1 pm – 3pm) & claymation with The Clay Studio (5 pm – 8 pm), DJ Jay Tables (9 pm – Midnight)

Saturday, June 24: FREE Face painting (12 pm – 3 pm), Balloon twisting (1 pm – 3 pm) & FREE performance by the legendary Biz Markie DJ SET (9 pm – 11 pm) 

Sunday, June 25: FREE Face painting (12 pm – 3 pm) & Balloon twisting (1 pm – 3 pm) 
Location
The Blue Cross RiverRink Summerfest at Penn's Landing
101 S. Columbus Boulevard
Philadelphia, PA
Dates
Ferris Wheel: 

June 2 – July 9, July 23 – August 14

 
Pharoah's Fury: 

July 10 – July 23

 
Typhoon Magic Carpet Ride: 

August 14 – September 4

 
Carousel: 

June 23 – September 4

 
Times
Monday – Thursday  |  1:00 pm – 10:30 pm
Friday  |  1:00 pm – 12:30 am
Saturday  |  11:00 am – 12:30 am
Sunday  |  11:00 am – 10:30 pm
Costs
Pay-As-You-Go  |  Rides $3 to $4  |  Games $2 to $5  | Tickets for the rides & cash for the games
Rides
Ferris Wheel (4$ per son)
Pharoah's Fury (4$ per person)
Typhoon Magic Carpet Ride (4$ per person)
Carousel (3$ per person)
Midway Games
Water Race ($3 per player)
Basketball game ($2 a shot or 3 for $5)
Balloon Bust (3 darts for $5)
High Striker/Ring the Bell game (3 swings for $5, everyone wins a prize)
Cork Gun game ($5 to play, players keep shooting until they win)
Break a plate game (3 balls for $5)
Web Site
Main Photo Courtesy of Blue Cross RiverRink & Second photo courtesy of Tara Nurin
Jeff Belonger has been in the mortgage industry for 19+ years and now wants to do something different. With his experience of blogging and social media, Jeff wants to share all of what Philadelphia has to offer, so he created MyPhillyAlive.com. At MyPhillyAlive, we want to share the excitement that the City of Philadelphia resonates. Sharing the passion within, from the people of Philadelphia. At MyPhillyAlive, we'll be talking about Philadelphia restaurants, fun bars, the city night life, the history of Philadelphia, Philly attractions & events, the arts, sports, and much more. We want people to add their experiences regarding Philadelphia, even if they are from out of town, which can be done on our Facebook fan page as well. www.facebook.com/MyPhillyAlive At the end of the day, we want to be different from the many Philadelphia sites. We want our site to be easy to navigate, while at the same time, we want you to not only find the hot spots, the best things to do in Philadelphia; but those hidden gems within the city. Thanks...
More Posts - Website - Twitter - Facebook - LinkedIn