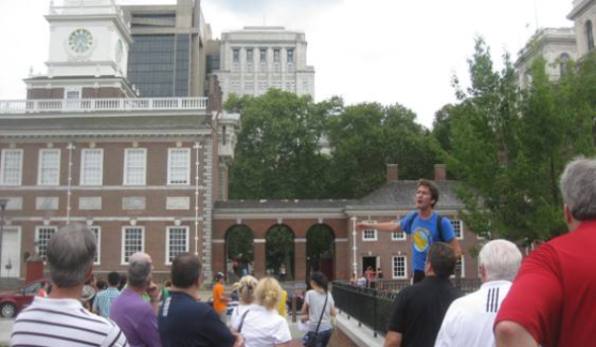 'Touring the City of Brotherly Love'
There are many types of tours in the City of Philadelphia. Free Friendly Tours, which was founded by Mark Simmons and Mike Carwile, is a walking tour which is unique in several ways.
Their model, which is a tip-based tour, caught on in Europe in 2006 and became a hit in 2008. As far as I can see, this tour company is the second kind of its nature in the United States.
Free and Friendly Tours Experience & Atmosphere
Starting with their first tour on May 1, 2012, Free and Friendly Tours is a company that adheres to a simple policy: "If we like something, we recommend it."
Mark Simmons first gained interest while working at a hotel while over-hearing guests talk about their tour experiences. While visiting Budapest, he worked as a tour guide for Free Budapest Tours, which led him to his passion of walking tours. He learned that people are more open and responsive, loving the tours more, when they felt comfortable enough with the knowledge of a guide to ask them just about anything.
Simmons tells us,
"Our narratives for each tour come together to tell a story of Philadelphia, and by the end, visitors can get a pretty good sense of how the city developed the way it did…. especially if visitors come on both tours. As for my favorite thing on the tour, the Reading Terminal Market."
Sharing their knowledge of the city and untold stories about Philadelphia history, the company has two types of walking tours which hit famous historical monuments, focal points of Philly and present-day city life.
Colonial Cheeseteak Tour – Approx 2 1/2 hrs
Ever wanted to set foot where revolutionary men such as George Washington walked. You'll start out in Old City and be taken to key spots such as the Liberty Bell, Independence Hall, the Quaker Meeting House, Christ Church, venture through Society Hill, and end up at Jim's Steaks after a quick tour of South Street.
Billy Penn Tour – Approx 2 1/2 hours
You'll start off at City Hall which is an amazing architectural building, then head to the Reading Terminal Market which will blow your socks off, visit the Love Park sculpture (don't forget to get your picture here), and then end up in Rittenhouse Square in which you can visit the many shops or relax at a restaurant or bar.
The company also offers group and custom tours; for food buffs, music aficionados and connoisseurs of just about anything else, whatever your interest, they will try to accommodate you. Ask about their 'Walk with Ben' tour and check back here or on their site leading up to Halloween for their 'Ghost Tour'.
Free and Friendly Tours is a company giving free tours, which means you tip what you want. These friendly guides are folks who want to share their passion of Philadelphia and  make you love Philly as much as they do. No matter if you live in the area or if visiting Philadelphia,  they will direct visitors to their favorite places after the tour to where visitors can continue to get to know this great City of Brotherly Love.
Location & Hours
Colonial Cheesesteak Tour
Meets at 401 Chestnut St (Omni Hotel & Souvenir Shop)
Starts at 10:30 am  |  Ends approximately 1:00 pm at Jim's Steaks on South Street
Billy Pen Tour
Meets at courtyard of City Hall (Broad & Market Streets)
Starts at 2:30 pm  |  Ends approximately 5:00 pm in Rittenhouse Square Area
Schedule
Monday –  Sunday  |  Review hours above
Cost
Free (based on tipping system)
Phone
(877) 558-9671
Social Media
Web Site
401 Chestnut St
View Larger Map
Courtyard of Philadelphia City Hall
View Larger Map
Jeff Belonger has been in the mortgage industry for 19+ years and now wants to do something different. With his experience of blogging and social media, Jeff wants to share all of what Philadelphia has to offer, so he created MyPhillyAlive.com. At MyPhillyAlive, we want to share the excitement that the City of Philadelphia resonates. Sharing the passion within, from the people of Philadelphia. At MyPhillyAlive, we'll be talking about Philadelphia restaurants, fun bars, the city night life, the history of Philadelphia, Philly attractions & events, the arts, sports, and much more. We want people to add their experiences regarding Philadelphia, even if they are from out of town, which can be done on our Facebook fan page as well. www.facebook.com/MyPhillyAlive At the end of the day, we want to be different from the many Philadelphia sites. We want our site to be easy to navigate, while at the same time, we want you to not only find the hot spots, the best things to do in Philadelphia; but those hidden gems within the city. Thanks...
More Posts - Website - Twitter - Facebook - LinkedIn