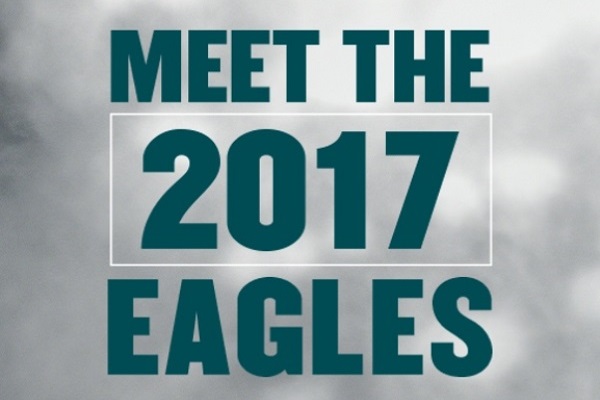 'Introducing Your 2017-18 Philadelphia Eagles'
It's officially here, the roster cuts trimming the Philadelphia Eagles to a 53-man roster.
Is this the Good, the Bad, or the Ugly? One question might be, do you have faith in Howie Roseman, the executive vice president of football operations for the Eagles. Time will tell.
The roster cuts had to be in by 4 pm on Saturday, September 2. This doesn't mean that the Eagles roster is etched in stone. As of now, the NFL waiver wire ended at noon today, and starting at 1 pm today, practice squads can start to be formed. So there could be some additions and subtractions to the 53-man roster.
Let's take a look at what we already know. Carson Wentz will be the main man at quarterback. In his second year at the helm, we can already sense some improvement over last year, which was still an impressive rookie year.
Keep in mind that 46 players dress for games, while the other seven sit in street clothes and that you have 10 players on the practice squad.
What has taken place is that the Eagles will keep five running backs and only eight offensive lineman.
The main question should be, are the Eagles overrating some of their draft picks. Running back Donnel Pumphrey who was a 4th round pick and wide receiver Shelton Gibson who was a 5th round pick, both had inconsistent training camps and preseasons. But Roseman said the Eagles can play for now with an eye toward the future.
Myself, having gone to school at West Virginia University and who watches their football program closely, can see some good things in Shelton Gibson. But I was impressed by second year player Bryce Treggs, who showed good hands and was able to get open in the crease. I am sure some team will pick Treggs up on waivers.
The one knock I have is keeping Donnel Pumphrey. Yes, he was a 4th round pick and there would be a financial hit if they left him off the roster spot. Just because he had excellent numbers at San Diego State, doesn't mean much when heading into the NFL. Look at such busts as Reggie Bush, David Wilson, Montee Ball, Cadillac Williams, Trent Richardson and Ron Dayne.
Granted, many of these were top 10 picks in their respective drafts, but did the Eagles reach when grabbing Pumphrey in the 4th round, hoping that he would be a steal? Yes, the Eagles were semi depleted at running back going into the 2017 NFL Draft. I will say that I did like the work and progress of undrafted running back Corey Clement out of Wisconsin.
The take on both Pumphrey and Gibson from Roseman is that he wants to develop these young men. He has stated that it sometimes takes a while for rookies. Or maybe it was to save face on using a 4th round pick on Pumphrey. Roseman said this:
"We don't want to lose a guy that a year from now or two years from now we think has starter traits."
Some may think keeping only eight offensive lineman was shocking. The Eagles will have Jason Peters, Jason Kelce, Lane Johnson, Brandon Brooks, Isaac Seumalo, Stefen Wisniewski, Halapoulivaati Vaitai, and Chance Warmack. They do seem more proven than what the Eagles had last season, and for the larger fact that Lane Johnson will be with them the whole season, baring any kind of injury. My opinion is that we might see two or three linemen back on the Eagles' practice squad, as long as they pass the waiver wire.
Lastly, there might be some buzz of quarterback Matt McGloin, a former Penn State star, who was one of those cut from the roster. But I personally didn't think he played well this preseason in which he was very inconsistent.
Other than what I had mentioned above, the rest of the pieces fell into place for the most part, on what was expected.
2017-18 Philadelphia Eagles Roster ~ Position By Position
What shocked you the most in who was cut or kept? Please tell us in the comments.
Stay tuned to our site and social media channels in the next several days for our Philadelphia Eagles 2017-18 season preview by Max Mangigian!
Update: 2017-18 Philadelphia Eagles Practice Squad
Fly Eagles Fly!
Jeff Belonger has been in the mortgage industry for 19+ years and now wants to do something different. With his experience of blogging and social media, Jeff wants to share all of what Philadelphia has to offer, so he created MyPhillyAlive.com. At MyPhillyAlive, we want to share the excitement that the City of Philadelphia resonates. Sharing the passion within, from the people of Philadelphia. At MyPhillyAlive, we'll be talking about Philadelphia restaurants, fun bars, the city night life, the history of Philadelphia, Philly attractions & events, the arts, sports, and much more. We want people to add their experiences regarding Philadelphia, even if they are from out of town, which can be done on our Facebook fan page as well. www.facebook.com/MyPhillyAlive At the end of the day, we want to be different from the many Philadelphia sites. We want our site to be easy to navigate, while at the same time, we want you to not only find the hot spots, the best things to do in Philadelphia; but those hidden gems within the city. Thanks...
More Posts - Website - Twitter - Facebook - LinkedIn