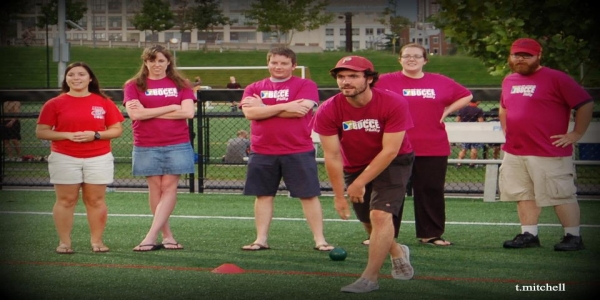 'Bocce Ball Fun In Philadelphia'
Who loves to play Bocce ball! Think the opposite of Curling on ice and think about balls of metal or various kinds of plastic that is played on natural soil or asphalt courts.
Welcome to the Major League Bocce in Philadelphia league. First started in DC over 8 years ago, they have invade Philly in the fall of 2011. Major League Bocce is now in Pittsburgh, Philadelphia, Dallas, Boston, Washington, DC and Bethesda, MD.
So what is all of the hype?
It's a great time to socialize while having fun. Eight weeks of fun! You can create a team, join an already existing team, or register without a team. Not only do you get to participate in trying to kick your opponents arse by winning your game, but shooting for that end of season first place trophy and bragging rights. The winner will even have a small portion of money donated to their choice of charity.
Sounds okay, right? There's more! There will be food and drink specials at your sponsor's bar, a team t-shirt, plus an end of the season party. You'll even be able to choose between three days of the week to play on and one of four locations in the City of Philadelphia.
Sounds better, right? Well, we aren't done just yet! Major League Bocce  has graciously extended their summer registration until midnight of July 17 and has agreed to give our readers and fans $15 off the normal registration fee of $50. The code is MYPHILLY15!
It's very simple. Click the link below and then click the word 'register'. Then choose 1 of the 4 locations and you are on your way to fun and glory.
Summer Bocce League with Major League Bocce in Philadelphia
Location
Dates
Summer 2013 Schedule  |  First game is the week of July 23, 24, 25
Registration closes July 17, 2013
Registration
Sign up for Bocce Ball in Philadelphia  |  Click Here  |  Reminder of $15 off registration fee by use the code, MyPhilly15.
Web Site
pictures courtesy of DC Bocce & main Photo Credit – Tracy Mitchell
Jeff Belonger has been in the mortgage industry for 19+ years and now wants to do something different. With his experience of blogging and social media, Jeff wants to share all of what Philadelphia has to offer, so he created MyPhillyAlive.com. At MyPhillyAlive, we want to share the excitement that the City of Philadelphia resonates. Sharing the passion within, from the people of Philadelphia. At MyPhillyAlive, we'll be talking about Philadelphia restaurants, fun bars, the city night life, the history of Philadelphia, Philly attractions & events, the arts, sports, and much more. We want people to add their experiences regarding Philadelphia, even if they are from out of town, which can be done on our Facebook fan page as well. www.facebook.com/MyPhillyAlive At the end of the day, we want to be different from the many Philadelphia sites. We want our site to be easy to navigate, while at the same time, we want you to not only find the hot spots, the best things to do in Philadelphia; but those hidden gems within the city. Thanks...
More Posts - Website - Twitter - Facebook - LinkedIn