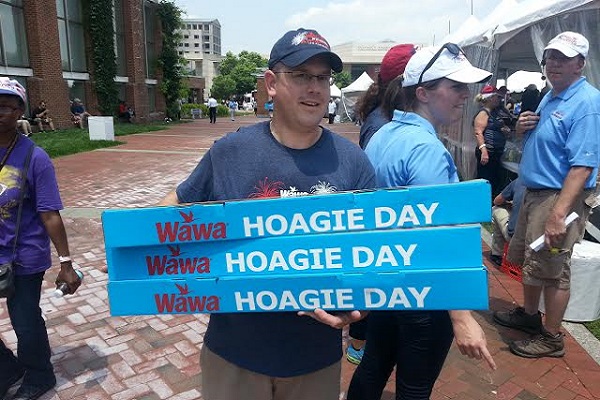 'Celebrating With FREE WAWA Hoagies!' 
Imagine 6 tons of hoagies! Now imagine a free hoagie! That's what you get with WAWA Hoagie Day!
WAWA Hoagie Day was celebrated in 1992 with a free, 500-foot hoagie. On that day, then-Mayor Ed Rendell, proclaimed the hoagie the "Official Sandwich of Philadelphia."
Decades later, the 25th annual Wawa Hoagie Day taking place on June 29 at noon, focuses on honoring our troops and expands on Wawa's partnership with the USO, is one of the tastier events that takes place during WAWA Welcome America!
Philadelphians and tourists line up on the lawn outside the Independence Visitor Center on Independence Mall to enjoy a free hoagie, courtesy of Wawa. And we aren't talking about a few tables of hoagies, but 6 tons!
Not only does the event salute our local and national Heroes – our military, firemen and police officers, but there will be a special appearance by the USO Show Troupe and a hoagie building competition of enormous proportions between police and firefighters. 
In addition to free food and entertainment, the National Constitution Center will be offering free admission all-day, courtesy of Wawa.
Annual WAWA Hoagie Day
Location
Independence Mall - Market Street; Between 5th & 6th Streets
Date
Thursday, June 29, 2017
Time
Noon – 2:00 pm
Cost
FREE
Jeff Belonger has been in the mortgage industry for 19+ years and now wants to do something different. With his experience of blogging and social media, Jeff wants to share all of what Philadelphia has to offer, so he created MyPhillyAlive.com. At MyPhillyAlive, we want to share the excitement that the City of Philadelphia resonates. Sharing the passion within, from the people of Philadelphia. At MyPhillyAlive, we'll be talking about Philadelphia restaurants, fun bars, the city night life, the history of Philadelphia, Philly attractions & events, the arts, sports, and much more. We want people to add their experiences regarding Philadelphia, even if they are from out of town, which can be done on our Facebook fan page as well. www.facebook.com/MyPhillyAlive At the end of the day, we want to be different from the many Philadelphia sites. We want our site to be easy to navigate, while at the same time, we want you to not only find the hot spots, the best things to do in Philadelphia; but those hidden gems within the city. Thanks...
More Posts - Website - Twitter - Facebook - LinkedIn