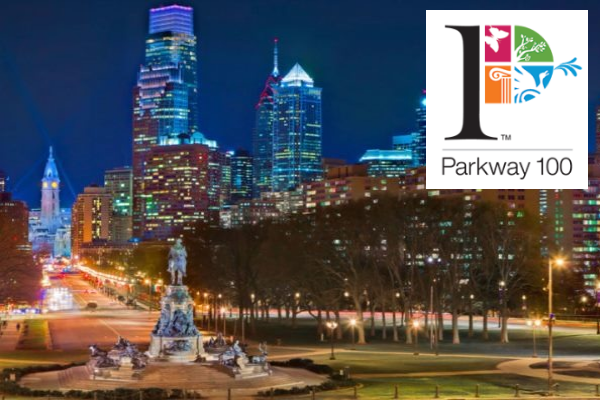 'Celebrate 100 Years Of The Parkway'
For 100 years, the Parkway has served as Philadelphia's cultural boulevard filled with world-renowned art, science and educational offerings that attract local residents, visitors and businesses!
The Ben Franklin Parkway is turning 100 and Philadelphia is set to mark this milestone with a year of special events, promotions, and family-friendly experiences through November 18, 2018.
The Parkway 100 "We Are Connected" Festival, which is September 8, will promote diversity, arts and culture across the region. 
During the festival, more than 100 free activities will take place indoors and outdoors at the museums and attractions, as well as in the Parkway's pocket parks, great public places, and many observation decks. Map of Events for the Festival
FREE

Events for September 8
The Franklin Institute

opens its doors for free from 4:00 pm – 9:00 pm to explore 11 exhibit galleries, plus an all-new virtual reality experience, live science shows, Fels Planetarium shows, and stargazing from the Joel N. Bloom Observatory.
A Walk Along The Parkway - 

Philadelphia's Parkway references the most beautiful cities of Old Europe. Discover the magnificent buildings along Philadelphia's own Champs-Élysées and what lies beneath them. Start at the Fairmount Water Works, where wheels once pumped the City's drinking water, then embark on a mile-long stroll down the picturesque path to Logan Square and back. Ideal for history buffs, cultural connoisseurs and architectural mavens. 4:00 pm - 6:00 pm.
The Barnes Foundation

- 

Pay-What-You-Wish (even if a penny), 4:00 pm -10:00 pm. Admission includes access to the Barnes collection and special exhibition, 

Mohamed Bourouissa: Urban Riders

.
The Academy of Natural Sciences

- 

Free general admission, 4:00 pm – 9:00 pm. (With purchase of an $8 Supersaver Ticket, visitors also will gain access to 

Backyard Adventures

 and 

Butterflies!

 exhibits.)
Cathedral Basilica of Saints Peter and Paul at 1723 Race St – Enjoy organ concerts from 4 pm – 4:30 pm & 9 pm – 9:30 pm
Philadelphia Museum of Art

- Pay-What-You-Wish Friday Night, 4:00 pm – 8:45 pm. Enjoy 

a free concert featuring an ensemble of local jazz and folk musicians led by multi-talented Philadelphia songwriter, guitarist and producer 

Ross Bellenoit. 

(5:45 pm – 6:30 pm & 7:15 pm – 8:00 pm)
List of all events and activities on September 8 for the "We Are Connected" festival, Click Here (scroll closer to bottom)
Special Attraction
Winter Fountains on the Benjamin Franklin Parkway ~ November 30 – March 18, 2018 ~  The Winter Fountains exhibition illuminates the Benjamin Franklin Parkway with a stunning nighttime display of glowing videos projected onto four large domes. These inspirational installations will be showcased at Aviator Park, outside the Rodin Museum, at the Park Towne Place Residences and at the Spring Garden Triangle.  ~ Winter Fountains on the Benjamin Franklin Parkway ~
We Are Connected Happy Hour at Dilworth Park September 8 from 5 pm – 8 pm. Enjoy appetizer and drink specials brought to you by Maker's Mark 46 and Bud Light. Live DJ music provided by DJ Craig Dash. ~ Details ~
Parkway 100 is made possible through the generous leadership support of the William Penn Foundation, PNC Bank and PECO, and partners the City of Philadelphia and City of Philadelphia Department of Parks & Recreation, as well as the following sponsors: The Logan Hotel, Cooke & Berlinger, Dippin' Dots, Fox Rothschild LLP, Philadelphia Convention and Visitors Bureau, The PFM Group, Beneficial Bank, Logan Square Neighborhood Association, 6abc, Devine + Partners, LeftHand Creative, and Visit Philadelphia. 
Location
Around the Parkway Area in Philadelphia
Dates & Times
We Are Connected Celebration
September 8, 2017
4:00 pm – 10:00 pm
Map of Events for the Festival
Parkway 100 Celebration
September 8, 2017 to November 16, 2018
Events
For monthly events, Click Here
p
Jeff Belonger has been in the mortgage industry for 19+ years and now wants to do something different. With his experience of blogging and social media, Jeff wants to share all of what Philadelphia has to offer, so he created MyPhillyAlive.com. At MyPhillyAlive, we want to share the excitement that the City of Philadelphia resonates. Sharing the passion within, from the people of Philadelphia. At MyPhillyAlive, we'll be talking about Philadelphia restaurants, fun bars, the city night life, the history of Philadelphia, Philly attractions & events, the arts, sports, and much more. We want people to add their experiences regarding Philadelphia, even if they are from out of town, which can be done on our Facebook fan page as well. www.facebook.com/MyPhillyAlive At the end of the day, we want to be different from the many Philadelphia sites. We want our site to be easy to navigate, while at the same time, we want you to not only find the hot spots, the best things to do in Philadelphia; but those hidden gems within the city. Thanks...
More Posts - Website - Twitter - Facebook - LinkedIn