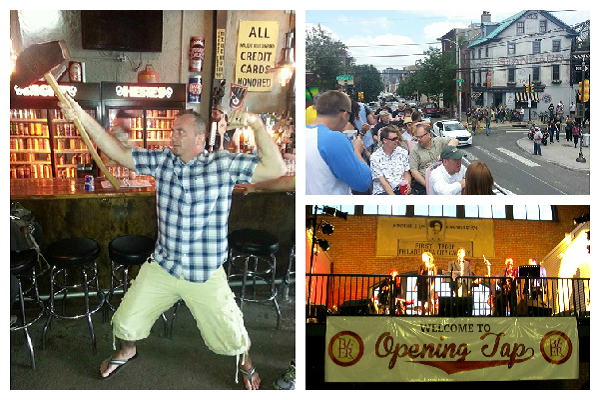 'Kick-Off Celebration to Philly Beer Week In Style!'
We begin the journey into Philly Beer Week with the Annual HOG Relay that kicks off early in the morning at a few media outlets, then hits 25 bars, restaurants and breweries, and then will end at The Filmore. This is a tradition not seen in any other city!
If you have heard of Philly Beer Week, a non-profit promoting Philly's beer culture, the organization has rebranded itself as Philly Loves Beer! Philly Beer Week is celebrating their 10th year anniversary starting with the Hammer of Glory Relay, which leads up to Opening Tap!
Beer-goers will travel throughout Philadelphia on fun adventures while tasting beer at some of your favorite bars! Why not, as Philadelphia has been recognized over recent years as one of the top beer cities in the world.
For those that have never been, there are many options to choose from. You can start early as you follow the HOG, aka the Hammer of Glory, from the starting point, or you can jump in mid-stream as it travels through the City of Brotherly Love, or basically just show up at the Opening Tap event which starts at 7 pm for those with general admission tickets.
Each year, participants compete to come up with the most outlandish and unusual transport for the HOG from place to place. Often, each participant keeps their method of transit a closely guarded secret until the day of the relay, when they unveil their off-the-wall method of transportation.
The HOG will travel across Philadelphia via every means of transit imaginable, stopping at top beer bars as well as television stations and newspapers before arriving in style at the Opening Tap for the ceremonial first tap that officially begins PBW! Here is your chance to take pictures with the HOG as well. See the HOG schedule below.
There is a ritual that is part of this unique event, to where at each stop, the handler will recite the hand-off toast:
"Noble carrier, we entrust you with the Hammer of Glory, the omnipotent symbol of our beloved Philadelphia Beer Week.  May your journey be safe. Work ye up a thirst, for there shall be a beer waiting for you at your destination. Godspeed!"
As of right now, it will be a mystery to who will tap the first keg of Philly Beer Week at Opening Tap. Past dignitaries have been Mayor Nutter and Governor Ed Rendell. We'll keep you posted as we wait for our inside beer mole to report back to us.
Philly Beer Week's Opening Tap makes its second appearance at The Fillmore with many types of beer, live music (stay tuned for this year's band), plus photo opportunities with the HOG. This year will feature 45 + local breweries as well as the ceremonial tapping of Gravity Never Fails, a collaboration porter brewed with experimental hops created by 2SP Brewing in Aston, PA and Brouwerij De Ranke in Belgium.
Those opting in for the VIP treatment, you'll not only get an early hour tasting of beers with a souvenir glass, but enjoy a VIP balcony, fully catered with exclusive access to limited breweries!
The Hammer of Glory Relay Route
This year's HOG Relay is sponsored by SugarHouse Casino! Party-goers can jump on and off the double-decker bus when visiting the establishments listed below. You'll need a ticket for the bus, which will cost $10, which gives you safe passage all day long. For bus tickets, click here (The times below are rough estimates. If you are going to attend a specific bar, we would advise getting there 15 minutes earlier than the time mentioned to be on the safe side.)
The HOG itself will be visiting Preston & Steve, CBS 3 and FOX 29 before it starts its journey at Hop Angel Brauhaus.
This year's 2017 HOG Relay Route will include:
9:00 a.m. Hop Angel Brauhaus (7980 Oxford Avenue)
9:33 a.m. SawTown Tavern (4717 Princeton Avenue)
9:56 a.m. Grey Lodge Pub (6235 Frankford Avenue)
10:24 a.m. Bonk's Bar (3467 Richmond St)
11:02 a.m. Philly Brewing Company (2439 Ambler St)
11:31 p.m. Evil Genius Brewery (1727 North Front St)
12:00 p.m.  Saint Benjamin Brewing (1710 North 5th Street)
12:33 p.m. London Grill (2301 Fairmount Avenue)
12:52 p.m. Belgian Cafe (601 North 21st Street)
1:30 p.m. Billy Penn (1429 Walnut St)
1:46 p.m. Jose Pistola's (263 South 15th Street)
2:07 p.m. Garage Passyunk (1231 East Passyunk Avenue)
2:35 p.m. Varga (941 Spruce Street)
3:03 p.m. Fergie's Pub (1214 Sansom St)
3:25 p.m. Opa & Drury Beer Garden (1311 Sansom Street)
3:39 p.m. Tiki p.m. (102 South 13th St)
3:53 p.m. Time (1315 Sansom Street)
4:16 p.m. Craftsman Row Saloon (112 South 8th St)
4:59 p.m. El Camino Real (1030 North 2nd St)
5:13 p.m. Heritage (914 North 2nd Street)
5:27 p.m. Standard Tap (901 North 2nd Street)
5:50 p.m. Yards Brewing (901 North Delaware Avenue)
6:13 p.m. Frankford Hall (1210 Frankford Avenue)
6:27 p.m. Johnny Brenda's (1201 Frankford Avenue)
6:41 p.m. Garage Fishotwn (100 East Girard Ave)
6:59 p.m. Opening Tap at The Fillmore (26 East Allen Street)
Join in on the daily conversation and follow Philly Beer Week on Twitter and Instragram at @PhillyLovesBeer. Use hashtag #PBW2016.
Cheers! Prost! Sláinte! Salute! Skål! Na zdrowie! Будем здоровы! Santé! Наздраве! 乾杯! Salud! Şerefe!
Hammer of Glory Relay
Location
Starts at 9 am at Hop Angel Brauhaus at 7980 Oxford Ave |  Travels to various staging areas throughout the city (see route above)
Ends at 6:59 pm at The Fillmore at 26 East Allen Street
Date
June 1, 2017
Time
9:00 am  |  See route above for times  |  Ends at The Filmore at 6:59 pm
Cost
Hammer of Glory Bus $10  |  Pay-As-You-Go for beers  |  For bus tickets, click here
Web Site
Opening Tap 2017
Location
The Filmore
26 East Allen Street
Philadelphia, PA 
Date
June 1, 2017
Time
6:00 pm – 10:00 pm  | VIP  |  Sales end May 30 at 6 pm or until sold out
7:00 pm – 10:00 pm  |  General Admission  |  Sales end May 30 at 6 pm or until sold out
Cost
VIP  |  $92
General Admission  |  $46
Designated Driver  |  $15
Opening Tap Tickets  |  Opening Tap Tickets
Web Site
Jeff Belonger has been in the mortgage industry for 19+ years and now wants to do something different. With his experience of blogging and social media, Jeff wants to share all of what Philadelphia has to offer, so he created MyPhillyAlive.com. At MyPhillyAlive, we want to share the excitement that the City of Philadelphia resonates. Sharing the passion within, from the people of Philadelphia. At MyPhillyAlive, we'll be talking about Philadelphia restaurants, fun bars, the city night life, the history of Philadelphia, Philly attractions & events, the arts, sports, and much more. We want people to add their experiences regarding Philadelphia, even if they are from out of town, which can be done on our Facebook fan page as well. www.facebook.com/MyPhillyAlive At the end of the day, we want to be different from the many Philadelphia sites. We want our site to be easy to navigate, while at the same time, we want you to not only find the hot spots, the best things to do in Philadelphia; but those hidden gems within the city. Thanks...
More Posts - Website - Twitter - Facebook - LinkedIn