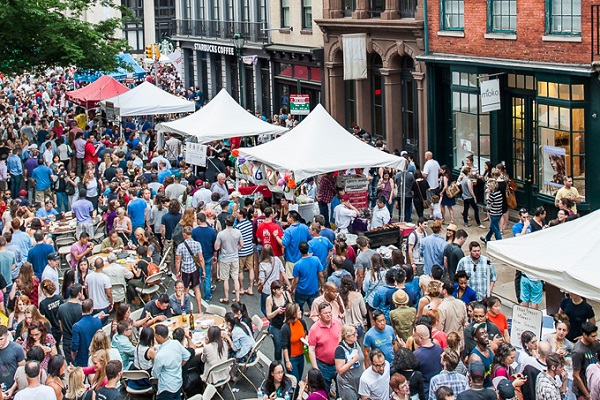 'Food, Art, Live Music… Oh My!' 
What would William Penn say about Old City's Old City Fest? "Bring It! I just wish I could party in this awesome historical section of Philly with my friends on Sunday, October 8!"
No worries William, because this festival certainly looks like a great time for all ages. 
The Old City Fest is a celebration of art and design, fashion and food, creativity and culture on the streets of America's most historic square mile and will transform a four block area - Arch Street between 2nd and 4th streets and 3rd Street between Race and Market streets – from 11 am to 6 pm.
The free street festival highlights the region's premier art and design district; showcasing local designers, creative firms, restaurants, retailers, top-notch art galleries, theater, culture, history and architecture.
Visitors will enjoy a wide selection of food and beverages from local restaurants, a festival stage with live music and performances, a design showcase installation, pop-up street performances, kids zone and art, craft and retail shopping.
As you walk around this vibrant neighborhood, you'll experience and appreciate the neighborhood's culture, history and architecture.
The Old City Fest lineup includes such vendors as: Sassafras, Amada, Scout Vintage, Smak Parlour, Continental, Franklin Fountain, Betsy Ross House, The Center for Art in Wood, The Clay Studio, Panorama and many more.
Old City Fest
Location
Olde City
Arch Street: between 2nd & 4th streets and 3rd Street: between Race & Market Streets
Date
October 8, 2017
Hours
11:00 am – 6:00 pm
Cost
Free to attend  | Pay-As-You-Go
Web Site
Main Photo Courtesy of Old City District
Jeff Belonger has been in the mortgage industry for 19+ years and now wants to do something different. With his experience of blogging and social media, Jeff wants to share all of what Philadelphia has to offer, so he created MyPhillyAlive.com. At MyPhillyAlive, we want to share the excitement that the City of Philadelphia resonates. Sharing the passion within, from the people of Philadelphia. At MyPhillyAlive, we'll be talking about Philadelphia restaurants, fun bars, the city night life, the history of Philadelphia, Philly attractions & events, the arts, sports, and much more. We want people to add their experiences regarding Philadelphia, even if they are from out of town, which can be done on our Facebook fan page as well. www.facebook.com/MyPhillyAlive At the end of the day, we want to be different from the many Philadelphia sites. We want our site to be easy to navigate, while at the same time, we want you to not only find the hot spots, the best things to do in Philadelphia; but those hidden gems within the city. Thanks...
More Posts - Website - Twitter - Facebook - LinkedIn