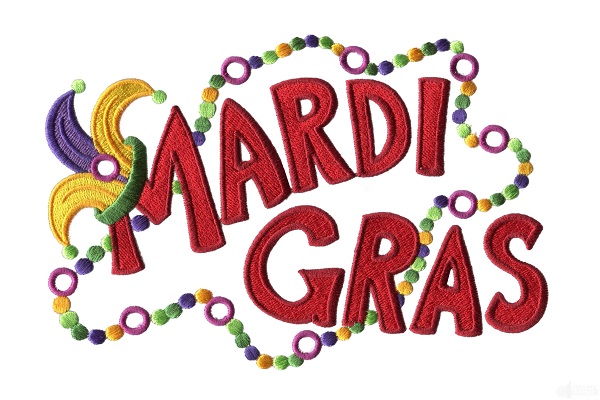 "New Awlins Philly Style 2017!"
Why let New Orleans have all of the fun for Mardi Gras! We can have as much fun right here in the City of Brotherly Love.
Mardis Gras, known as the Carnival Season, are events that begin on or after the Epiphany or Kings Day and wrap up on the day before Ash Wednesday, which is Tuesday, February 28.
Fact: Many tourists try to fit in and say N'Awlins, while locals will say New Awlins.
Get ready to feast your eyes and fill your stomachs on good New Orleans food, parades, dancing to live music and the threat of Hurricanes attacking Philly. Well, that's the drink Hurricane, not the storm.
So get your beads, put on your best Mardi Gras mask and get ready to get down with these local festivities on Mardi Gras, February 28, also known as Fat Tuesday. (dates listed for special events outside the day of Mardi Gras)
Mummers Mardi Gras Parade: 

February 18

 - Taking place Saturday from 11 am until 6 pm, here is your chance to enjoy the Mummers again, a few months after the Mummers Parade. Head on over to Main Street Manayunk for this blowout bash, as 16 Mummers String Bands strut their stuff from 11 am to 1 pm. Celebrate Mardi Gras in style with the Mummers and after the parade, enjoy family activities such as face painting, a photo booth, food, drinks and more. The event helps generate exposure and raises money for one of the oldest traditions in Philadelphia. ~  

Mummers Mardi Gras

 ~
Mardi Gras Parade On South Street:

February 19

– From 1 pm to 6 pm on and around South Street, enjoy The Wild Bohemians as they take you from bar to bar while wearing colorful costumes. The parade/bar crawl starts at NOLA-themed bar Fat Tuesday's at 1 pm and continues to Downey's, PaddyWhacks, O'Neals and more. ~

More Info

~
9th Annual Mardi Gras Party & Silent Auction: 

February 24

 - This event will be held at the 

Old Pine Community Center

 on Friday, February 24, from 6:30 pm to 10:00 pm located at 401 Lombard Street. Enjoy 

New Orleans inspired food, great drinks, live music, activities for kids of all ages, and last but certainly not least — a silent auction 

for a great cause, OPCC Outreach programs! $35 for adults & $10 for kids. For tickets & info, 

Click Here

.
Mardi Gras 2017 at XFinity Live:

February 25

~ Starting at 9 pm at

XFinity Live

, enjoy food & drink specials, contests, live performances by Drop Dead Sexy & more! ~

More Info

~
Beck's Cajun Cafe

: ~ 

February 19 – 28

 ~ Beck's Cajun Café, Philadelphia's premiere New Orleans eatery, is selling King Cakes for Mardi Gras from

February 3 to March 3

. These traditional pastries are made of braided bread similar to brioche, topped with icing or sugar in the colors of purple, green and gold.

The large King Cake contains a small, plastic baby. Whoever finds the baby is believed to gain good luck. 

Beck's will be serving up its award-winning menu of hearty gumbos, jambalaya, shrimp and crawfish pasta and more! 

Beck's Cajun Cafe

 is located in the

Reading Terminal Market

 and 30th Street Station. More info about Beck's Cajun Cafe, 

Click Here

.

Ordering King Cakes,

Click Here

.
Bourbon Blue: ~

February 28

 ~ Open at 4 pm. This New Orleans-style restaurant in Manayunk will have live music and serving up such specials as their Jambalaya and Andouille sausage dishes. There will also be a New Orleans open bar & buffet starting at 7 pm. $25 for 2 hours or $35 for 3 hours. For more info about Bourbon Blue, click 

Bourbon Blue

.
Khyber Pass Pub

: ~

February 28

 ~ Located in Olde City, a bar that's been around for 4 + decades, has evolved into a pleasant watering hole with excellent food over the last several years. Enjoy 

etouffée, po-boys, creole sausage and vegan variations, along with sazeracs and hurricanes.

 More info about Khyber Pass Pub,

Click Here

.
Fat Tuesday: ~

February 28

 ~ Are you searching for a powerful Hurricane, this is the place to go. Fat Tuesdays's Hurricane will be mixed with Rum, Hurricane mix and crushed ice. Just make sure to have your life preserver with you at all times. Fat Tuesday is on South Street  and is open from 11 am to 2 am. (

Feb 21 – waiting for 2017 update

)
Catahoula: ~ February 24 – 28 from 

11 am 

~ They will be serving their regular menu as well as some specials such as Jambalaya, Voodoo Shrimps, Crawfish Crab Cakes, Gator patties, Andouille, Shrimp and Crawfish Flatbread and

Gumbol

aya, which is 

Gumbo

 with Jambalaya on top. They will also have specialty drinks and giving away Mardi Gras novelties as well, and prizes for the best costumes each night. 

Catahoula

 is located in Queen Village.
Copabanana

:  ~

February 28

 ~ Opening at 11:30 am. The Copabanana on South Street in the Headhouse District, which is known for their margaritas and beef tacos, will be serving $5 Hurricane specials, $5 Oyster Shooters, and $3 Abita Springs Louisiana beer as well as some Louisiana foods such oysters, $9 Oyster & $8 catfish po' boys, $4 Beignets, $6 Gumbo and $8 Crawfish Etoufee. More info about Copabanana,

Click Here

. (

Feb 21 – waiting for 2017 update

)
Bayou Bar & Grill: ~

February 28

 ~ Open 11 am to 2 am. This will be the Bayou Bar & Grill's 24th Fat

Tuesday

Celebration. Opened in 1993 in the spirit of a comfortable, laid back, Bourbon St tavern, the Bayou will have great drink and food specials starting at 

11 am.

 Specials:

 

25 cent Buffalo Wings, $1.75 Steamed Hardshell Crabs, $1.75 Miller Lites All Day & Night & $4 Hurricanes. For more info on Bayou Bar & Grill, located in Manayunk,

Click Here

. (

Feb 21 – waiting for 2017 update

)
Rex 1516: ~

February 28

 ~Enjoy good food and discounted NOLA cocktails at Rex 1516 located at 1516 South Street. Falernum Hurricane - Aged rum, white rum, falernum, cranberry, lime, orange  for $7 *Falernum is a syrup flavored with almond, ginger, cloves, lime, & vanilla.* ~ 

Mardi

 

Gras

 Citywide burger – 8oz. house grind, cooper cheddar, bacon, bibb lettuce & house-made pickle on a King's Cake roll. This comes with a pint of Newbold and shot of Jim Beam's Devil's Cut for $17!
London Grill: ~

February 28

 ~ Enjoy some Mardi Gras drinks and tasty New Orleans food at

London Grill

 in Fairmount. Enjoy such types of drinks such as: S

azeracs

 & several types of Po' Boys. Also visit London Grill's Paris Wine bar in the back from

February 24 – 26

for some Jazz NOLA style from 9 pm to midnight!
Chris' Jazz Cafe ~

February 28

~ Nothing says Mardi Gras like the Hoppin John Orchestra. Join the parade down the street and then come in for this NOLA experience with drink specials, hurricanes, sazarac, crawdads, crawzones, crawdad mac & cheese, crawdad cheesesteaks, Jambalaya, beads, feathers and lots and lots of FUN!! Party, eat & drink all night long. 7 pm – midnight for $15! For details & tickets,

click here

. Located 1421 Sansom St.
South

~

February 28

 ~ Open from 4 pm to 2 am, explore the Magic & Mystery of the Sazerac in the lounge from 5 pm – 7 pm which is sponsored by Bastille. As always, taste new southern cuisine Fat Tuesday evening with a full dinner menu available, but they will have a special edition of our Southern Classics Menu (3-Courses for $25) featuring a New Orleans Style Mississippi Catfish! Then join them in the jazz parlor for The Leon Jordan Trio w/ Brass Band Jam! Located 600 N Broad Street.
Hop Angel ~

February 28

~ Hop Angel will celebrate Fat

Tuesday

with fun, beer, food, and live music f

eaturing New Orleans' very own Elliot Jardelay. Enjoy suchs foods as: Creole crab soup, Shrimp Po' Boys, Muffulettas, chicken, shrimp, & Andouille sausage over white rice, a glazed donut burger & more.

 ~

Click here

~ Located 

7980 Oxford Ave in North East Philly.
World Cafe Live: ~

February 28

 ~ On Mardi Gras, come listen to the The Wild Bohemians upstairs at this 32nd annual Mardi Gras celebration at 

World Cafe Live

. The band's music consists of Cajun, Zydeco, Dixieland, Mardi Gras Street Music, Jazz, R&B, and a specialty the Bohemians call Swamp Stomp. Doors open at 7 pm & show starts at 8 pm. For more information & tickets,

Click Here

.
Mardi Gras at The Franklin Institute ~

February 28

~ From 7 pm to 10 pm at the

Franklin Institute

, g

o big for Fat Tuesday and enjoy a scientifically sinful celebration of the senses. For a night of indulgences, the museum will be filled with music and revelry.

 

New Sound Brass Band will perform in The Fels Planetarium and the Hurt So Good: Live Show will explore the extremes of the human body. 

For tickets & info:

Mardi Gras at The Franklin Institute

.
Laissez les bons temps rouler! – Let the Good Times Roll!
Jeff Belonger has been in the mortgage industry for 19+ years and now wants to do something different. With his experience of blogging and social media, Jeff wants to share all of what Philadelphia has to offer, so he created MyPhillyAlive.com. At MyPhillyAlive, we want to share the excitement that the City of Philadelphia resonates. Sharing the passion within, from the people of Philadelphia. At MyPhillyAlive, we'll be talking about Philadelphia restaurants, fun bars, the city night life, the history of Philadelphia, Philly attractions & events, the arts, sports, and much more. We want people to add their experiences regarding Philadelphia, even if they are from out of town, which can be done on our Facebook fan page as well. www.facebook.com/MyPhillyAlive At the end of the day, we want to be different from the many Philadelphia sites. We want our site to be easy to navigate, while at the same time, we want you to not only find the hot spots, the best things to do in Philadelphia; but those hidden gems within the city. Thanks...
More Posts - Website - Twitter - Facebook - LinkedIn