'Get Ready To Rumble Football Lovers!'
It might not be like the Philadelphia Eagles winning a Super Bowl, which many of us Eagles fans hope happens in the near future, but it certainly will be at the top of many football enthusiasts lists when the NFL Draft comes to Philly!
The NFL Draft itself will be taking place at the steps of the Philadelphia Museum of Art April 27 to 29. For the first time in history, the Draft theater will be constructed outside. This unique set up will allow for the largest live audience of 3,000 people to ever see the selection announcements.
If you aren't one of the lucky ones to be in the audience, you'll be able to watch the draft on large screens.
NFL Draft Atmosphere & Experience
The 2017 NFL Draft is returning to Philadelphia, home to the first Draft, which was held at the Ritz-Carlton Hotel in 1936. Additionally, the city hosted the event in 1949-50, 1953-54, 1956 (Rounds 1-3) and 1957-61.
More than 200,000 fans will convene outdoors on the Benjamin Franklin Parkway during the 3-days of festivities.
There will be 25 football fields worth of action that will include interactive exhibits like the Combine Corner and NFL Virtual Reality, awesome memorabilia in an NFL Museum, photo ops with the Vince Lombardi Trophy, visit a replica NFL locker room as it appears on gameday, have access to view media interviews with NFL greats and to visit the official NFL Draft set and see the view from behind the podium.
For those who ever wanted to experience what the NFL Combine feels like, Combine Corner will allow you to race against NFL players to running routes! Fans can also test their football and athletic skills while trying the vertical jump and 40-Yard Dash. For more details, click here.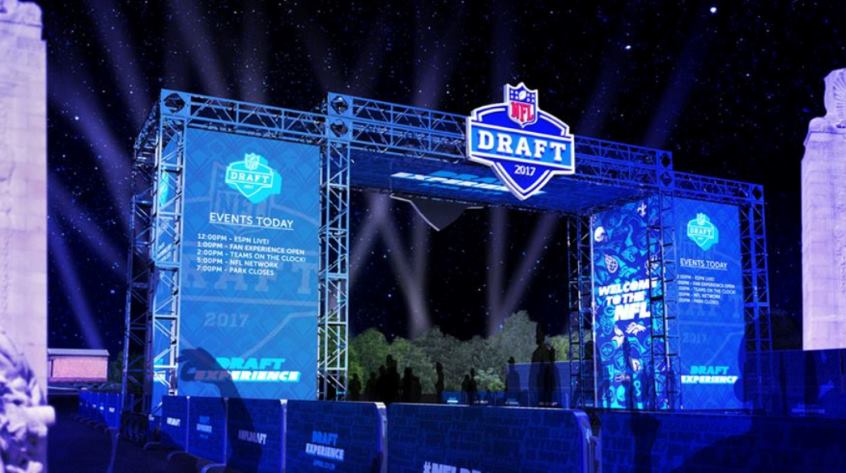 According to NFL Senior Vice President of Events Peter O'Reilly, the Philadelphia NFL Draft event will be the largest fan experience ever produced by the NFL!
There will be food and drink options as well. For more details, click Fabulous Philly Food At The NFL Draft Experience!
So get pumped Philadelphia while watching this video! Raise your arms up in the air like Rocky did while running up the Philadelphia Museum of Art's steps! This is our time to shine Philly!
The NFL Draft Experience in Philadelphia
Location
Benjamin Franklin Parkway
Philadelphia, PA
Dates
April 27 – 29, 2017
Times
NFL Draft Festival
Thursday, April 27: Noon – 11 pm
Friday, April 28: Noon – 11 pm
Saturday, April 29: 10 am – 6 pm
Draft Times (Draft Schedule)
Thursday, April 27 – 7:00 pm ET
Friday, April 28 – 6:00 pm ET
Saturday, April 29 – 11:00 am ET
Cost
Fan Festival is free admission with pay-as-you-go activities & food  |  Draft Theater will require tickets
Web Site
Images courtesy of NFL Draft & PHLCVB
map
Jeff Belonger has been in the mortgage industry for 19+ years and now wants to do something different. With his experience of blogging and social media, Jeff wants to share all of what Philadelphia has to offer, so he created MyPhillyAlive.com. At MyPhillyAlive, we want to share the excitement that the City of Philadelphia resonates. Sharing the passion within, from the people of Philadelphia. At MyPhillyAlive, we'll be talking about Philadelphia restaurants, fun bars, the city night life, the history of Philadelphia, Philly attractions & events, the arts, sports, and much more. We want people to add their experiences regarding Philadelphia, even if they are from out of town, which can be done on our Facebook fan page as well. www.facebook.com/MyPhillyAlive At the end of the day, we want to be different from the many Philadelphia sites. We want our site to be easy to navigate, while at the same time, we want you to not only find the hot spots, the best things to do in Philadelphia; but those hidden gems within the city. Thanks...
More Posts - Website - Twitter - Facebook - LinkedIn