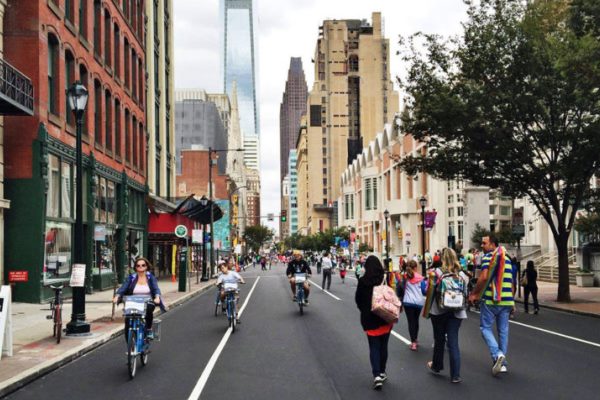 'Walk, Bike, Run and Play On Philly Streets!'
What, no cars on some streets of Philadelphia?!?!
Welcome to Philly Free Streets Day in Philadelphia on Saturday, October 28 from 8 am to 1 pm!
Because of the Pope's visit September 2015 to the City of Brotherly Love, we got a taste of what it would be like if there were no cars roaming the streets. This allows pedestrians to be able to walk, bike, run and much more in the Philly Streets.
This year's car-free route will connect Philadelphia's Historic District and El Centro de Oro in North Philadelphia's Fairhill Neighborhood.
Seven miles of roads will be temporarily closed to vehicular traffic and open to walkers, runners and bikers. The exact route will run from 3rd and Chestnut streets to 5th Street and Indiana Avenue.
The event also encourages exercise among the people who call Philadelphia home and aims to bring people to different parts of our beautiful city.
Guests are also encouraged to pop into the businesses that they pass along the way. Plus, there will be fun and free activities, cultural activities, pop-up arts and more along the way!
Get out there and explore the streets of Philadelphia on foot during Philly Free Streets!
Frequently Asked Questions:
.
Is Philly Free Streets accessible to those with disabilities?​
Yes! Participants with mobility limitations are welcome to use motorized wheelchairs, scooters, pedal-assist bikes, and adaptive bicycles. 
Is Philly Free Streets stroller-friendly?
Yes! Philly Free Streets is for everyone, especially children and families.
Can I use an electric or motorized bike or four-wheeler, scooter, or hoverboard on the route?​
Philly Free Streets is open to all forms of people-powered, non-motorized transport. This does not include e-bikes, powered scooters or skateboards, or hoverboards.
If you require a pedal assist bike due to a medical issue, you are welcome to ride that at Philly Free Streets. 
Are there bathrooms along the route?​
Yes. There are portable toilets, including ADA accessible ones.
.
Follow Philly Free Streets on Facebook, Twitter and Instagram (@PhillyFreeStreets).
Interested in volunteering for Philly Free Streets? Click Here.
Philly Free Streets 2017
Location
3rd and Chestnut streets to 5th Street and Indiana Avenue
Philadelphia, PA
Date
October 28, 2017
Time
8:00 am – 1:00 pm
Cost
FREE
Web Site
Photo: Courtesy of Philly Free Streets
Jeff Belonger has been in the mortgage industry for 19+ years and now wants to do something different. With his experience of blogging and social media, Jeff wants to share all of what Philadelphia has to offer, so he created MyPhillyAlive.com. At MyPhillyAlive, we want to share the excitement that the City of Philadelphia resonates. Sharing the passion within, from the people of Philadelphia. At MyPhillyAlive, we'll be talking about Philadelphia restaurants, fun bars, the city night life, the history of Philadelphia, Philly attractions & events, the arts, sports, and much more. We want people to add their experiences regarding Philadelphia, even if they are from out of town, which can be done on our Facebook fan page as well. www.facebook.com/MyPhillyAlive At the end of the day, we want to be different from the many Philadelphia sites. We want our site to be easy to navigate, while at the same time, we want you to not only find the hot spots, the best things to do in Philadelphia; but those hidden gems within the city. Thanks...
More Posts - Website - Twitter - Facebook - LinkedIn