'More Than Just Special Burgers in Philadelphia'
Spot Gourmet Burgers, Steaks and Pork is a food truck located in University City section of Philadelphia. Started on February 20, 2012, owner Josh Kim has brought an unique taste to the city streets with his food truck.
Spot Gourmet Burgers, Steaks & Pork Experience & Atmosphere
You certainly can't miss this food truck that is usually lined-up with 3-5 other food trucks on 33rd and Arch Streets in University City. Just look for the food truck in School Bus Yellow and you can't go wrong.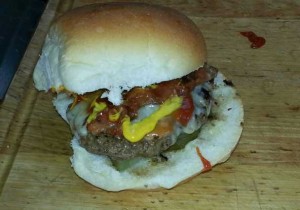 The burgers are made of 100% House-Ground Sirloin. There are more than just your typical plain burgers or cheeseburgers. Josh has 7 types of Gourmet Burgers as well. How about the Rizzo burger; with sautéed spinach, roasted peppers, smoked mozzarella, and marinara. Maybe the Umami Burger tickles your fancy, which comes with lettuce, pickled daikon, grilled onion, mushrooms, gochujang, and teriaki. All burgers are served on soft rounds buns from Conshohocken Bakery.
Don't just think burgers. You can find a cheesesteak and 3 kinds of roast pork sandwiches that are available on a daily basis. Occasionally you can find specials such as beef burgundy, lobster rolls, tacos, or Sloppy Joes. Want to add some french fries. You have your choice of regular cut fries or cheese french fries. The end result is that the food is excellent and the service is quick and friendly.
You normally can find Spot Gourmet Burgers, Steaks and Pork on 33rd and Arch Streets from Monday through Friday except on Wednesdays, where he is at 30th Street Station. Want to keep up-to-date on the specials of the week. You can follow Josh on Twitter at @spotburgers and or his Facebook fan page for the lowdown on the wonderfully interesting things that take place in this  tiny little cart.
Spot Burger has also opened a brick-and-mortar in January 2016 at 2821 W Girard Ave in Brewerytown.
Location
N. 33rd & Arch Streets 90% of the time (University City area)
Philadelphia, PA 19104
Hours
Monday – Friday except Wednesdays |  11 am – 5 pm  |  Sometimes later to 6pm |  Winter Time (cut back some on days & hours)
Wednesdays  |  30th Street Station area
Contact
Web Site
Philly Food Trucks
View Larger Map
Jeff Belonger has been in the mortgage industry for 19+ years and now wants to do something different. With his experience of blogging and social media, Jeff wants to share all of what Philadelphia has to offer, so he created MyPhillyAlive.com. At MyPhillyAlive, we want to share the excitement that the City of Philadelphia resonates. Sharing the passion within, from the people of Philadelphia. At MyPhillyAlive, we'll be talking about Philadelphia restaurants, fun bars, the city night life, the history of Philadelphia, Philly attractions & events, the arts, sports, and much more. We want people to add their experiences regarding Philadelphia, even if they are from out of town, which can be done on our Facebook fan page as well. www.facebook.com/MyPhillyAlive At the end of the day, we want to be different from the many Philadelphia sites. We want our site to be easy to navigate, while at the same time, we want you to not only find the hot spots, the best things to do in Philadelphia; but those hidden gems within the city. Thanks...
More Posts - Website - Twitter - Facebook - LinkedIn