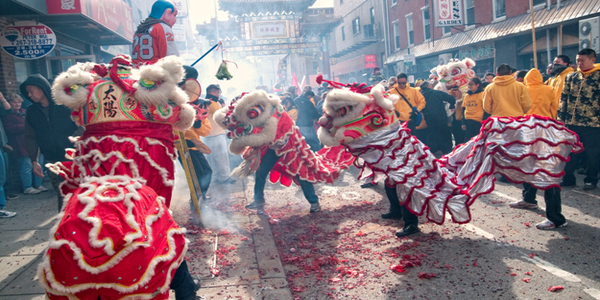 'Gung Hay Fat Choy! ~ Best Wishes and Congratulations!'
The Chinese New Year is an important traditional Chinese Holiday that is celebrated on the first day of the year of the Chinese calendar. In China, the New Year is also known as the Spring Festival and traditionally, the festival was a time to honor deities as well as ancestors.
The Chinese New Year celebrations traditionally run from Chinese New Year's Eve, the last day of the last month of the Chinese calendar, to the 15th day of the first month. The New Year starts on January 28 and this year marks the 'Year of the Rooster'. The Rooster, considered to be honorable and upstanding. Roosters, Chinese astrology describes you as resilient, brave, loyal, a hard worker, astute, a fashionable dresser, charming and witty. Complex, creative and artistic, you are drawn to religious and spiritual studies, especially regarding healing. Problem solving is your special talent.
The year will kick off with a live Lion dance in Chinatown, on Chinese New Year's Eve, where there will be fireworks, the sounds of drums, dancers and much more. Throughout the city, there will be traditional Chinese performances, educational experiences and Chinese food events in the next few weeks in honor of the Lunar New Year. Come celebrate the Chinese New Year with your friends and family, exploring an unique culture.
List of Chinese New Year Celebrations in Philly
.
• 17th Annual Lunar New Year Celebration at International House of Philadelphia
January 27 ~ Starting at 7 pm at the International House Philadelphia at 3701 Chestnut Street, enjoy their annual Lunar New Year party. The event will allow you the sampling of traditional Chinese food, several cultural performances and will end with a traditional performance with a Lion Dance. Click Here for tickets, which are $5, $10 or $15.
• New Year's Eve Lion Dance Performance
January 27 ~ On Chinese New Year's Eve, starting at 11:30 pm at 10th and Race Streets, the Philadelphia Suns Lion Dance Troupe will perform a lion dance which will start at 10th and Race streets and wind through the streets of Chinatown. As mentioned, there will be dancers, drums, firecrackers and more. ~ Midnight Lion Dance ~ ~ More Info on Lion Dance ~
• Lunar New Year at Independence Seaport Museum
January 28 ~ From 11 am to 3 pm at the Independence Seaport Museum, guests will be able to participate in colorful activities like creating your own Chinese lanterns, dragon puppets and rooster drums. Try your hand at calligraphy classes and captivate the whole family through Chinese storytelling. There will also tasty food samples & martial arts demonstrations. All activities are included with Museum admission. For more info, Click Here.
• The Philadelphia Suns Lion Dance Parade
January 29 ~ From 11 a.m. – 4 p.m. at 10th and Spring Streets, the festivities will continue throughout Chinatown with firecrackers, martial arts performances, the Philadelphia Suns' lion dance, and so much more to welcome in the Chinese New Year. For details, click here.
• Chinese New Year Dim Sum Brunch at Buddakan
January 29 ~ From 10:30 a.m. to 2 p.m. at Buddakan in Old City, enjoy Red tea service, two special lion dancer performances from Penn Lions, and traditional Chinese décor will complete this festive one-time brunch experience. Keeping with the holiday's tradition, red envelopes will be presented at the completion of the meal with a select number of envelopes revealing complimentary drinks, appetizers, desserts, and brunch. ~ Call for reservations: (215) 574-9440. For details, Click Here. (waiting for update)
• Chinese New Year Dinner at Bing Bing Dim Sum
January 30 ~ From 5 pm to 10 pm at Bing Bing Dim Sum at 1648 East Passyunk Avenue, enjoy four courses of inspired Chinese fare! For $39.99 per person, enjoy shrimp and truffle soup dumplings, hand-cut egg noodles, lacquered duck and mandarin semi Freddo. Details & reservations needed, click here.
• PCDC's Chinese New Year Banquet
February 3 ~ From 5:30 pm to 9 pm, the Philadelphia Chinatown Development Corporation (PCDC) will be celebrating the Year of the Rooster on Friday at Chinatown's Ocean City Restaurant at 234 N. 9th Street. PCDC hosts this annual fundraiser to help sustain the organization. The funds raised from this banquet will support our work and mission. For details, click here.
• Celebrate the Chinese New Year at Reading Terminal Market
February 4 ~ FREE – From 10 am to 4 pm at Center Court at the Reading Terminal Market, enjoy a Lion Dance performance by the Philadelphia Suns, cultural & cooking demonstrations, crafts and more. For more info, Click Here.
Main Photo Courtesy of KCBrownPhotography.com
Jeff Belonger has been in the mortgage industry for 19+ years and now wants to do something different. With his experience of blogging and social media, Jeff wants to share all of what Philadelphia has to offer, so he created MyPhillyAlive.com. At MyPhillyAlive, we want to share the excitement that the City of Philadelphia resonates. Sharing the passion within, from the people of Philadelphia. At MyPhillyAlive, we'll be talking about Philadelphia restaurants, fun bars, the city night life, the history of Philadelphia, Philly attractions & events, the arts, sports, and much more. We want people to add their experiences regarding Philadelphia, even if they are from out of town, which can be done on our Facebook fan page as well. www.facebook.com/MyPhillyAlive At the end of the day, we want to be different from the many Philadelphia sites. We want our site to be easy to navigate, while at the same time, we want you to not only find the hot spots, the best things to do in Philadelphia; but those hidden gems within the city. Thanks...
More Posts - Website - Twitter - Facebook - LinkedIn