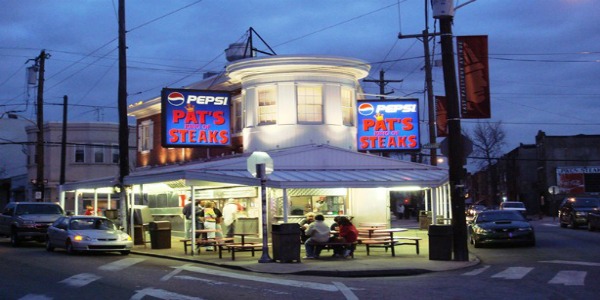 'South Philly Cheesesteaks'
If you know anything about Cheesesteaks in Philadelphia, that when you ask where too go, there will be enough answers that say Pat's Kings of Steaks or Geno's Steaks. Keeping in mind that these aren't the only two places to grab a Philly Cheesesteak. It's just that both have a long standing rivalry that stretches over 4 + decades.
The History of Pat's King of Steaks
Pat's King of Steaks was founded by brothers, Pat and Harry Olivieri in 1930. Pat originally had a small hot dog stand and wanted to try something a little different. In 1933, he sent Harry to the market for some steak, in which they ended up slicing it thinly and cooking it on their hot dog grill, while adding onions and placing it on an Italian roll.
A cabbie, who was a regular customer, was attracted by the aroma and asked what he had for lunch. Pat told him it was a steak sandwich and the cabbie wanted one. The brothers started to sell the steak sandwiches instead of the hot dogs. As the years went on, both employees and customers alike wanted change, and the cheese was added.
As it stands, the brothers were credit with the creation of the Philly Cheesesteak that was introduced in 1933 and it can said to be the original home of the cheesesteak.
Pat's King of Steaks Atmosphere & Experience
To this day, Pat's King of Steaks claims that they don't sell cheesesteaks, but that it's steak sandwiches, even though cheese is added. The one difference between Pat's King of Steaks and Geno's Steaks is that Pat's chops up its meat while Geno's does not.
As you approach Pat's counter, you will see a sign that tells you how to order. You will want to practice this before placing your order. For example, when ordering a cheesesteak, let the cashier know what type of cheese you want (Provolone, American, or Cheese Whiz), and whether or not you want fried onions. But there is a Philly language for this type of order.
Let's try an example. One would say "one wiz with". This would mean that you would like one cheesesteak with Cheeze Wiz as your choice of cheese and with fried onions. Sounds easy? What would this mean then. "One Provolone without." Times up…. This would get you a single cheesesteak with provolone cheese and without fried onions.
When visiting Philadelphia and if in the vicinity of South Philly, one must stop by Pat's King of Steaks. Keeping in mind that everyone has a different taste and opinion, that each cheesesteak place has different breads, meats, and cheese. And in doing this, you must then stop next door to Geno's Steaks and do the same. At least you can say that you tried both Philadelphia Cheesesteaks.
Location
1237 East Passyunk Ave (9th & Wharton where Wharton & Passyunk meet)
Philadelphia, PA 19147
Hours
24/7 – 24 hours a day & 7 days a week  |  Closed Thanksgiving & Christmas
Phone
(215) 468-1546
Web Site
Related Articles About Cheese Steaks in Philadelphia
Main picture by : Bobak Ha'Eri

View Larger Map
Jeff Belonger has been in the mortgage industry for 19+ years and now wants to do something different. With his experience of blogging and social media, Jeff wants to share all of what Philadelphia has to offer, so he created MyPhillyAlive.com. At MyPhillyAlive, we want to share the excitement that the City of Philadelphia resonates. Sharing the passion within, from the people of Philadelphia. At MyPhillyAlive, we'll be talking about Philadelphia restaurants, fun bars, the city night life, the history of Philadelphia, Philly attractions & events, the arts, sports, and much more. We want people to add their experiences regarding Philadelphia, even if they are from out of town, which can be done on our Facebook fan page as well. www.facebook.com/MyPhillyAlive At the end of the day, we want to be different from the many Philadelphia sites. We want our site to be easy to navigate, while at the same time, we want you to not only find the hot spots, the best things to do in Philadelphia; but those hidden gems within the city. Thanks...
More Posts - Website - Twitter - Facebook - LinkedIn