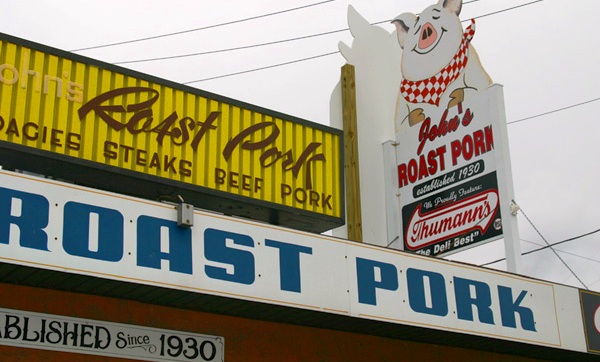 'John's Roast Pork in South Philly Since 1930′
John's Roast Pork is located in South Philly on the corner of Weccacoe & Snyder Avenues. Established in 1930, as you pull into the area, you might not see much around, making it feel like a desolate area. Don't let that keep you from trying any of their sandwiches.
John's Roast Pork Experience & Atmosphere
Philadelphia is known for cheese steaks, but John's Roast Pork can certainly change your mind with one of their roast pork sandwiches or roast beef sandwiches.
Their Roast Pork is completely homemade. They only use top-choice pork and they bone the meat right on the premise. The pork is seasoned according to an old family recipe and is roasted in their commercial oven daily with hints of rosemary and garlic infused into the meat. If you like horseradish, it will go well with the pork sandwich.
Sharp Provolone is always good to add to a roast pork sandwich, yet they don't offer broccoli rabe.  You can add their garlicky spinach that gets piled on the roast pork Italian, along with sharp provolone, which meshes nicely with the flavors of the meat.
When it comes to cheesesteaks, most places that are busy will pre-cook piles of meat. John's steaks are all cooked to order. The meat is thinly-sliced, and chopped on the grill and loaded into a seeded roll from Carangi's Bakery.
Another nice feature is that the cheese and onions are actually folded into the meat while still on the grill, adding to the flavor and making it more cheesy than many of its rivals.  One thing to remember is that they do not have Cheese-Whiz. Your choice of cheeses are American, Mild Provolone, or Sharp Provolone.
Word of advice is that you want to get here before 2:30 pm on the weekdays because the grill then shuts down soon after. You can also call your order in to avoid long lines. John's even has a decent breakfast menu for those early risers. What is appealing are the prices, especially for the Roast Pork sandwiches, which seem to be less expensive than many throughout the city.
If visiting Philadelphia, the name Geno's or Pat's Steaks are usually mentioned in conversation. Try something a little different that is not a tourist spot and try John's Roast Pork.
Location
14 Snyder Ave (corner of Weccacoe & Snyder Avenues)
Philadelphia, PA 19148
Hours
Monday – Friday  |  6:45 am – 3:00 pm
Saturdays  |  10:00 am – 4:00 pm (Summers Only)
Phone
(215) 463-1951
Web Site
Related Articles About Cheese Steaks in Philadelphia
Related Articles About Roast Pork Sandwiches in Philadelphia (& Roast Beef)
View Larger Map
Jeff Belonger has been in the mortgage industry for 19+ years and now wants to do something different. With his experience of blogging and social media, Jeff wants to share all of what Philadelphia has to offer, so he created MyPhillyAlive.com. At MyPhillyAlive, we want to share the excitement that the City of Philadelphia resonates. Sharing the passion within, from the people of Philadelphia. At MyPhillyAlive, we'll be talking about Philadelphia restaurants, fun bars, the city night life, the history of Philadelphia, Philly attractions & events, the arts, sports, and much more. We want people to add their experiences regarding Philadelphia, even if they are from out of town, which can be done on our Facebook fan page as well. www.facebook.com/MyPhillyAlive At the end of the day, we want to be different from the many Philadelphia sites. We want our site to be easy to navigate, while at the same time, we want you to not only find the hot spots, the best things to do in Philadelphia; but those hidden gems within the city. Thanks...
More Posts - Website - Twitter - Facebook - LinkedIn