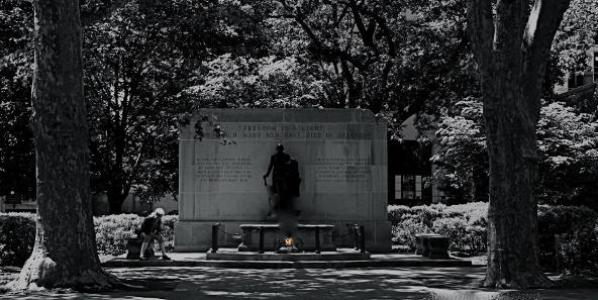 'Terrifying Tales from Haunted Philadelphia'
Who enjoys spooky sites and stories that would be related to Philadelphia History. At the Spirits of '76 Ghost Tour, you get to travel down the cobblestone streets of Old City, hearing these chilling stories.
The tour is approximately 75 minutes long and takes you to 20 sites throughout the Historic District of the city, visiting such sites as:
Congress Hall
Merchant's Exchange
Old Pine Street Church & Cemetery
St. Peter's Church & Cemetery
Witch of Pine Street

Washington Square Park

, and many more
Not only do you learn a little of Philadelphia History while on the tour, but you get ghostly stories of mystery, death, and more that surround some of this Philly history. Hear stories about the Master of the Macabre, Edgar Allan Poe, who used to reside in Philadelphia and learn about Leo Callahan, the only prisoner to escape from Eastern State Penitentiary and never be captured! Learn about the legendary ghosts that inhabit Independence Hall, the spirits of Carpenters' Hall from a first person encounter, the dancing statue of Benjamin Franklin at Library Hall and paranormal Pine Street happenings.
Are you a movie buff? You'll visit famous film locations from big screen thrillers such as The Sixth Sense, Shooter, National Treasure and more! I had the pleasure of attending this tour in October of 2011 and I enjoyed it. I learned several new things about Philadelphia that I never knew before. We had a very good tour guide, Tim, who has been doing this for three years. Tim was very knowledge and you could tell that he enjoyed giving the tour, which made the tour even more enjoyable.
The Spirits of '76 Ghost Tour gives you an eerie feeling after dark when visiting such Philadelphia sites such as the Liberty Bell and Independence Hall. The Ghost Tour is affiliated with the Constitutional Walking Tour of Philadelphia. If you buy a combo ticket for both Spirits of '76 Ghost Tour and the Constitutional Walking Tour, you will save $4 as an adult and $3 as a child. Combo Ticket
Location
325 Chestnut Street at Cosi (corner of 4th & Chestnut Streets) Philadelphia, PA 19106
Dates & Hours
April – November (certain dates & times)  |  Yearly Schedule |  Daily in October at 7:30 pm & Extended Hours Thurs/Fri/Sat/& Halloween at 9:30 pm & Saturday & Sunday at 6:00 pm  | November on Friday & Saturday at 7:30 pm
Tickets
Order Online  |  Ghost Tour Tickets or call 215-525-1776
Phone
(215) 525-1776
Web Site
Articles About Halloween in Philadelphia (2016)
pictures courtesy of Spirit's of '76 Ghost Tour
Jeff Belonger has been in the mortgage industry for 19+ years and now wants to do something different. With his experience of blogging and social media, Jeff wants to share all of what Philadelphia has to offer, so he created MyPhillyAlive.com. At MyPhillyAlive, we want to share the excitement that the City of Philadelphia resonates. Sharing the passion within, from the people of Philadelphia. At MyPhillyAlive, we'll be talking about Philadelphia restaurants, fun bars, the city night life, the history of Philadelphia, Philly attractions & events, the arts, sports, and much more. We want people to add their experiences regarding Philadelphia, even if they are from out of town, which can be done on our Facebook fan page as well. www.facebook.com/MyPhillyAlive At the end of the day, we want to be different from the many Philadelphia sites. We want our site to be easy to navigate, while at the same time, we want you to not only find the hot spots, the best things to do in Philadelphia; but those hidden gems within the city. Thanks...
More Posts - Website - Twitter - Facebook - LinkedIn