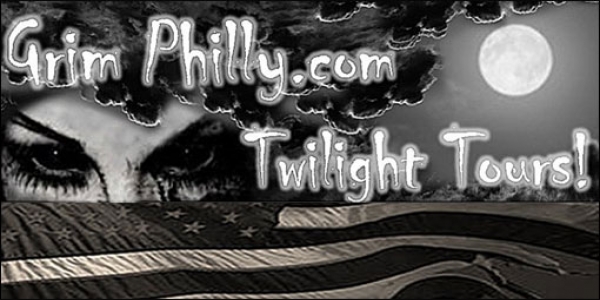 'Good Philadelphia History Tidbits with Ghouls and Stories'  
Grim Philly Tours opened it's touring services in 2011. Founder Joe Wojie, is a historian and Professor of Rider University, who wants the tours not only to be fun and adventurous, but educational.
Grim Philly is an unique tour company because it prides itself on factual events that can be documented with viable sources and not just partial facts or sources that can't be verified by an actual person. In many cases, we'll see a specific fact mentioned that will say, "source wouldn't allow to be identified" or "unknown". Professor Wojie told us that he really tries to stay away from those events and or ghostly occurrences that he can't properly document through research.
The types of tours: (Tours are seasonal)
Vampires, Sex & Ghost Tour
A tour with an eclectic array of sites and frights from dark & deviant sexcapades to torture, mass burials & execution, to vampires, pirates, and ghosts! Adventurers are guided past Independence Hall, The Library of Congress and 2 dozen other sites starting with a core of traditional stories from our founding fathers. 
*Departs from Independence Visitor Center every Friday & Saturday 7 pm, and nightly throughout summer and fall- 599 Market St*
Serial Killers * Cemetery Tour
From grave robbers like Dutch Pillet and Levi Chew to psychopathic killers like the "Corpse Collector" and "Frankfort Slasher." Afterwards, you'll visit one of Philly's finest watering holes for a complimentary moonshine and optional pub cuisine.
*Departs 1 pm Saturday afternoons (and some Sundays) from Independence Visitor Center (April through November) – 599 Market Street. 1 N. Independence Mall West*
Oktoberfest Halloween & Haunted Tavern Tour!
Enjoy ghost stories, toasting, trivia for additional beer and shot give-a-ways and prizes abound while visiting several watering holes in Olde City. You'll also get Oktoberfest, Halloween, ghost hunting, and colonial and craft beer secrets.
*7-Nights a week. Plus days during the weekend. Tour departs outside front doors of Independence Visitor Center: 599 Market St*
Ghosts and Graveyard Tour
The most comprehensive and riveting ghost tour in or outside Pennsylvania. Ghosts and Graveyards is a ghost aficionados wet dream with visits to the site of live Witch Trials, founding father's graves, bodies stacked under colonial structures, multiple colonial boneyard haunts, and Old Pine Street Church bone yard as a highlight shrill chill in the dead of the October night.
*Saturdays in October - 8:00 pm to 10:15 pm or later. Additional Friday and other nights as available. (see calendar for details).*
Join Grim Philly and renowned psychic and ghost hunting expert Laurie Hull-McCabe! Search with your own equipment (provided) alongside the most renowned clairvoyant paranormal investigator on the east coast as you hunt for ghosts in famously haunted Olde City under the cool moonlight over the cobblestone paths of America's most historic and haunted city! 
*Check-in and orientation: 9:45 PM Han Dynasty 123 Chestnut St*
Riverboat Cruise: Pirates & The Jersey Devil!
Join aboard the Patriot Harbor Lines' genuine 1920′s replica commuter yacht and hear about legends of pirate ghouls and the Jersey Devil on this irreverently uncensored R-Rated cruise of the Delaware's grittiest tales under the blue moonlight. Hear about Blackbeard, Captain Kidd, Anne Boney, and pirate ghosts and treasure!
*2017 Schedule: Runs most Friday Night's May 13th through October 30th from southern end of Penn's Landing. "Patriot" Riverboat departs from "behind" the Hilton Hotel at the Independence Seaport Museum Dock. GPS (Street) Adress: 211 S Christopher Columbus Blvd*
Bootleggers Ball Prohibition Pub Crawl
From ruthless "businessmen" gangsters such as Al Capone, Mickey Duffy, Waxy Gordon and others, shooting up the city in a war to control the liquor trade, to even a few haunting stories of pirates and ghosts. There will be trivia questions during the tour which will take place at certain taverns to possibly win beer. (Seasonal – Spring & Summer) 
*Departs from Independence Visitor Center (March through August) – 599 Market St*
Introducing your chance to be part of an actual ghost story! In this immersive experience, they will explore the world of Spiritualism, Magic, and Séance. The evening will culminate in a live séance where our medium will contact the spirits to interact with the group to allow you to experience other-worldliness, whispers, apparitions, and the unexplainable. 
*Thursday Nights 8 pm – 9:30 pm; Check-in and orientation: 7:45 PM Han Dynasty 123 Chestnut St*
Nightmare Before Christmas Tavern Tour!
Toast with the ghosts of Christmas past while you revel in little known facts to include the season's pagan roots in Roman, Celtic & German traditions, while learning of medieval Christian, and New World additions in caroling, mumming & mistletoe. (November thru January) 
*2016/17 Schedule: Runs 4 pm & 6 pm (see calendar)  (4 pm Saturdays) November 26th through January from Infusion, located at 16th South 2nd St. 
Grim Philly Tours does offer a different twist than many of the other tours locally. They have been voted best city tour of Philadelphia by PHL 17′s Hot List for 2011, 2012 and 2013. Their expert tours have one solid year of research and development, bringing you the highest value in entertainment and facts. Check them out.
Special Discount! Exclusively through MyPhillyAlive, we are offering 25% off all tours being offered by Grim Philly now. Good for any Serial Killers and Cemetery Tour; any Oktoberfest tour; and any Midnight Ghost Hunting tour through the end of this season which runs through Thanksgiving. This discount is valid 6 days/nights a week, excluding Saturdays. Promotional Code: MyPhillyAlive25
Location
Most Tours Depart from Independence Visitors Center (Please check the details of each tour)
Dates & Hours
Typically from April to November  |  Check for seasonal tours such as Christmas, St. Patrick's & Valentines)  | Calendar of Event
List of Grim Philly Tours  |  Click Here
Tickets
Phone
(856) 829-3100
Web Site
Articles About Halloween in Philadelphia (2017)
Jeff Belonger has been in the mortgage industry for 19+ years and now wants to do something different. With his experience of blogging and social media, Jeff wants to share all of what Philadelphia has to offer, so he created MyPhillyAlive.com. At MyPhillyAlive, we want to share the excitement that the City of Philadelphia resonates. Sharing the passion within, from the people of Philadelphia. At MyPhillyAlive, we'll be talking about Philadelphia restaurants, fun bars, the city night life, the history of Philadelphia, Philly attractions & events, the arts, sports, and much more. We want people to add their experiences regarding Philadelphia, even if they are from out of town, which can be done on our Facebook fan page as well. www.facebook.com/MyPhillyAlive At the end of the day, we want to be different from the many Philadelphia sites. We want our site to be easy to navigate, while at the same time, we want you to not only find the hot spots, the best things to do in Philadelphia; but those hidden gems within the city. Thanks...
More Posts - Website - Twitter - Facebook - LinkedIn