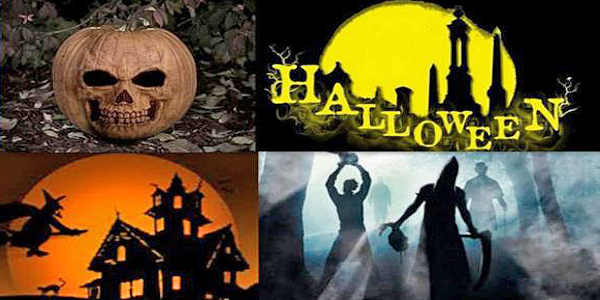 '2017 Spooky Halloween Attractions in Philly'
Who gets scared of spooks, goblins, murder mysteries, ghost stories and much more? Halloween can be a treat for all ages, ranging from hayrides to haunted attractions.
We would like to share with you the different Halloween events happening in the Philadelphia region for both the family and for adults.
To get you into the Halloween spirit, please listen along to some Halloween music. (opens in a new window) Monster Mash – by Bobby Pricket  |  Thriller – by Michael Jackson  |  Ghost Busters – by Ray Parker Jr  |  Halloween – by Daniel Caine  |  Werewolves of London – by Warren Zevon  |  Dead Man's Party – by Oingo Boingo  |  Time Warp – The Rocky Horror Show
MyPhillyAlive's Halloween 2017 Guide to Ghosts and Goblins


.
This haunted prison, Eastern State Penitentiary, has been rated the top haunted house in the country by AOL. There have been a few new attractions added this year, with a total of 6 attractions inside the cell blocks of Eastern State, any of which are sure to scare the socks off your feet. It takes an elite team of 14 makeup artists almost three hours to prepare the cast of more than 200 performers each evening.  Do you dare? Get $3 off your tix by using code MyPhilly16 -  ~ Terror Behind the Walls by MyPhillyAlive
Dates: September 22 – November 10  |  Location: Fairmount, Philadelphia
Grim Philly's Tours has a variety of different ghost tours, some of which you won't find anywhere else in Philadelphia. They have expert university professor led tours; one solid year of research & development into each ghost tour for the highest value in entertainment & fact. Here are the different ghost tours by Grim Philly Tours.
Vampires, Sex, Ghosts!, Cemetery, Serial Killers; Blood & Beer!, Halloween & Haunted Tavern Tour!, & Ghost Ship Terror Cruise: Pirates & The Jersey Devil!
Special Discount! Exclusively through MyPhillyAlive, we are offering 15% off all 4 tours being offered by Grim Philly now. This discount is valid 6 days/nights a week, excluding Saturdays. Promotional Code: MyPhillyAlive25
          Dates: April – November  |  Plus seasonal tours ~ Grim Philly's Tours ~
The tour is approximately 75 minutes long and walks you through the spine-chilling cobblestone streets of the Historic District of the city, visiting 2o haunted sites, such sites as: Independence Hall, Congress Hall, Liberty Bell, Old Pine Street Church and Cemetery, Washington Square, and many more. ~ Spirits of '76 by MyPhillyAlive
Dates: Daily in October with extended hours  |  April thru Steptember & November (certain dates & times)  |  Location: Old City part of Philadelphia
The Bates Motel and their Haunted Hayride is consistently ranked as one of the top Scary attractions in America by CNN.com & USA Today. The haunted hayride uses amazing props, digital FX, and great actors with professional makeup.
Dates: September 22-24, September 29 & 30 – October 1 & October 6 – 31 (calendar)  |  Location: Glen Mills, Pa.
The Ghost Tour of Philadelphia actually has 4 different attractions . Such things as the Haunted Trolley Tour, the Ghost Hunting Tour, or the Candlelight Walking Tour. Many of the haunted stories that you will hear have to do with historical events surrounding Philadelphia. ~ The Ghost Tour of Philadelphia by MyPhillyAlive
Dates : Year Round  |  Location : Parts of  Philadelphia
Featured on America's Scariest Haunted Attractions on the Travel Channel, the Fright Factory is a spooky warehouse with 4 haunted attractions such as a subterranean laboratory, a hunted asylum, the undercroft cemetery, or the Amygdala (mind altering).
Dates : September 29 & 30  |  Weekends & Specific days in October – Days & Hours of Operation  |  Location : 2200 S. Swanson Street Philadelphia
The Laurel Hill Cemetery events will differ; from a walking tour with such ghostly stories of a Civil War hero George Meade or Philly gangster, to a tour of the burial sites of local brewers (which there will be beer tasting/reception at the end), to dining with the dead (where a buffet-style candlelit dinner will be served). Murder Mystery In The Cemetery Oct 6 & 7  |  Gravediggers Ball Oct 14  |  Soul Crawl: Haunted Halloween Oct 20 & 21  |  Dracula: A Gothic Mystery Oct 26 – 28  |  There will also be a family day on Sunday, October 29th which will include Halloween games and goodies, a pumpkin patch, arts & crafts, and much more. For more info : List of tours & packages
Dates : Month of October (go to site for specific events & dates)  |  Location : Laurel Hill Cemetery on 3822 Ridge Av in Philadelphia
Four different attractions : The Original Haunted Hayride – Imagine being on a hayride that takes you deep into the woods, not knowing if you will ever return. Experience Scary Tales Haunted Forest Walk – Their favorite wicked characters are back with a VENGEANCE! The Madd Hatter! The Muffin Man! The Tweedles and a slew of haunted horrific Twisted FairyTale characters for your screaming pleasure! Are you brave enough to make it through The ALL NEW Scarytales!. The Facility - The super undead have broken loose and you are their next target! Operation Z – Take a mission deep into the woods with explosions, fog & much more as you search for zombies & hunt them down with paintballs.  Specials : There are special packages.
Dates : September 29 & 30; October 6-8, 13-15, 19-22, 26-29; November 3 & 4 ; Select Nights  |  Location : Feasterville, PA (Bucks County) - direction
Stoker's Dracula, Performed by Going Dark Theatre
Dracula is a 70-minute solo adaptation of Bram Stoker's tale of terror, using only Stoker's original text of diary entries, letters, and newspaper articles. This show has received rave reviews and returns to the Rosenbach, home of Bram Stoker's original notes for Dracula.Advanced registration is recommended. ~ The Growth of Stocker's Dracula ~ more info about Stoker's Dracula ~
Dates :   October 19: 6:30 pm – 8 pm  |  Location : Rosenbach Museum & Library 2008-2010 Delancey Place
Delancey Place comes alive on Halloween, and join Rosenbach for a celebration of mad science and medical oddities by exploring our Frankenstein & Dracula exhibition and trying your own questionable experiments. The historic Rosenbach home will be decked out in its Halloween finest, and you too are invited to dress as your favorite literary monsters and compete for prizes. Light refreshments will be served. 21 & over ~ Details
Dates :   October 28: 6 pm – 9 pm   Location : Rosenbach Museum & Library 2008-2010 Delancey Place
Investigate the darker history of America's most decorated battleship.  The Moonlight Adult Tour will launch two nights in October! Explore hidden, dark areas of the ship. Discover historic sailor art, hear stories, stand in compartments where staff stayed & much more. Click the dates below for details.
Dates : October 12: 6 pm to 8 pm  |  October 26: 6 pm to 8 pm  |  Location : Battleship of New Jersey at Camden Waterfront in New Jersey – 20 minutes from Philadelphia.
Experience 7 mazes, 4 scare zones, 3 shows that would scare even the strongest willed person(s), and 25 thrill rides.  More details : Halloween at Dorney Park
 Dates : Fridays & Saturdays Sept 15 thru October 28 ~ Dates & Times  |  Location : Allentown, PA – 80 minutes from Philadelphia
Hershey Park in the Dark features over 50 rides, allowing thrill-seekers to try 13 "roller ghosters", while visiting other spooky attractions, food and live entertainment.
Dates : October 13-15, 20-22, & 27-29  ~ Hours  |  Location : Hersehy Park, PA – 90 minutes from Philadelphia – directions
Kids & Family Special Halloween Events
A miniature golf course that transforms into a spooky miniature golf course with music and surprises. Until October 30 ~ Friday, Saturday & Sunday nights 6 pm to 9 pm  |  Enjoy special Halloween events such as : Pumpkin Patch ~ October 21 from Noon – 2 pm ~ FREE to kids 10 & under. Kids are invited to pick a pumpkin from the Franklin Square pumpkin patch and decorate it with paint, markers, stickers, and more.  |  Trick-or-Treat Trail ~ October 28 from Noon – 3 pm ~ Kids 10 & under get to decorate Trick-or-Treat bags, meet characters and follow the Trick-or-Treat Trail map throughout Franklin Square to find Halloween treats!. All details, click Trick-or-Treat
Dates : October 1 – 30 on Fri/Sat/Sun 6 pm – 9 pm  |  Location : Race Street between 6th & 7th Streets in Franklin Square
The Glow: A Jack O'Lantern Experience ~
Enter a Halloween wonderland with over 5,000 illuminated, hand-carved pumpkins that have been transformed to create jaw-dropping landscapes, structures and iconic figures. ~ The Glow: A Jack O'Lantern Experience ~
Dates : October 6 – 29  |  Location : West Fairmount Park
This ghoulish fundraiser helps support activities at the historic Laurel Hill Cemetery. Come black tie or dressed in your Halloween costume. What is Gravedigger's Ball? Click Here. There will be costume contests, silent auctions, dinner, open bar, music and dancing. For details, Click Here. For tickets, Click Here.
Dates : October 16 ~ 7 pm – 12:30 am  |  Location : Laurel Hill Cemetery on 3822 Ridge Av in Philadelphia
Harvest Festival at Reading Terminal Market
Harvest Festival at Reading Terminal Market allows visitors to sample locally grown fall fruits and vegetables while savoring some delicious barbecue. There will be freshly made donuts, candy apples, treats, live music, picture taking at the pumpkin patch, hayrides and much more. More about Harvest Festival, click here.
Dates : October 21 ~ 10 am – 4 pm  |  Location :  Reading Terminal Market at 12th & Filbert in Philadelphia
A day filled with activities for children and adults alike. Manayunk offers a fun and safe way to celebrate Halloween! From trick-or-treating along Main Street and a costume parade to Venice Island! 10:30 am: Children and dog costume parade begins at Pretzel Park – 11 am – 4 pm: Trick or treating on Main Street – All Day: Corn Maze at Venice Island ~ Halloween in Manayunk ~
Dates : October 28 ~ 11 am – 4 pm  |  Location : Canal View Park & Venice Island, Manayunk Philadelphia
The Philadelphia Zoo has tricks and treats for the whole family. Come to the zoo dressed in your costumes while playing your favorite Halloween games, listening to music, and much more. Click on the dates below for different events. More Info, Click Here
Dates : October 21 – 22 & October 28 & 29 – Times 10 am to 4 pm  |  Location : 3400 W. Girard Ave Philadelphia – Directions
Sesame Place transforms into a soft-friendly Halloween place where it will feature two themed mazes, a character hayride, three Halloween shows, fly and cruise on four Count von Count-themed mechanical rides, and the Sesame Street friends dressed in Halloween attire.  All families are encouraged to come dressed also & enjoy in the fun. For more info, Click Here.
Dates : Select dates: September 22 through October 29  |  Location : Sesame Place – Langhorne, PA - Directions 
Kids 10 and younger are invited to attend this Halloween event in costume for a fun-filled morning of games, activities, crafts, face painting, scary (but not too scary!) storytime, healthy snacks, goodie bags, and more! ~ Details ~ Tickets ~
Dates : October 28 ~ 10:00 am – noon  |  Location : East Fairmount Park, Philadelphia, PA 19121 ~ Map ~
A spooktacular fun day with free activities for children, adults and even fido too! Shop from dozens of crafters, check out fall displays at shops, kids activities, and even bring your pooch to Amelie's Bark Shop for a treat and water station. All activities at The Singing Fountain (East Passyunk & Tasker) unless otherwise noted. FREE pumpkin decorating, fall and Halloween-themed arts & crafts, BenFM music and Trick or Treating from the Crafters & Costume Contests. For details Click Here.
Date : October 28 ~ 11 am – 4 pm  |  Location : The Singing Fountain (East Passyunk Ave & Tasker), East Passyunk Philadelphia
Join the South Street Headhouse District for a day of live music, shopping, football bungee challenge, straw bale maze, circus performances, horse and wagon hay rides, face painting and more. Free admission, rain or shine! 

BONUS for the kids (12 and under w parent/guardian): District businesses will open their doors for trick or treating from 3:00pm to 5:00pm. For details Click Here. 
Date : October 28 ~ 12 pm – 5 pm  |  Location : South Street Headhouse District, Philadelphia
Halloween Parties and Events for Adults


.
The Colonial Theatre presents the classic Rocky Horror Picture Show! Enjoy a costume contest, pre-show, full-shadow cast and prop bags for sale so viewers can participate in the madness. For details, Click Here. Get Tickets!
Date : October 14 ~ 10:00 pm  |  Location : Phoenixville 
Grab your broomstick and fly around East Passyunk Avenue during the fifth annual Witch CRAFT Beer Crawl on Wednesday, October 25, from 5:30 pm to 9:30 pm, with registration at Garage (1231 East Passyunk). 

Five hundred witches will enjoy seasonal craft beers bubbling up in cauldrons at 17 bars and restaurants. Tickets are $6.66 and include $4.00 craft beers, a witch hat and a Witch CRAFT stamp card. For more details, Click Here.
 Date : October 25 ~ 5:30 pm – 9:30 pm  |  Location : East Passyunk Avenue, Philadelphia
We'll be updating this article throughout October, so please check back often.
The repetitive question is, "do you dare…", taking a frightful leap and trying any of these attractions out. We Dare You!
Articles About Halloween in Philadelphia (2017)
Jeff Belonger has been in the mortgage industry for 19+ years and now wants to do something different. With his experience of blogging and social media, Jeff wants to share all of what Philadelphia has to offer, so he created MyPhillyAlive.com. At MyPhillyAlive, we want to share the excitement that the City of Philadelphia resonates. Sharing the passion within, from the people of Philadelphia. At MyPhillyAlive, we'll be talking about Philadelphia restaurants, fun bars, the city night life, the history of Philadelphia, Philly attractions & events, the arts, sports, and much more. We want people to add their experiences regarding Philadelphia, even if they are from out of town, which can be done on our Facebook fan page as well. www.facebook.com/MyPhillyAlive At the end of the day, we want to be different from the many Philadelphia sites. We want our site to be easy to navigate, while at the same time, we want you to not only find the hot spots, the best things to do in Philadelphia; but those hidden gems within the city. Thanks...
More Posts - Website - Twitter - Facebook - LinkedIn