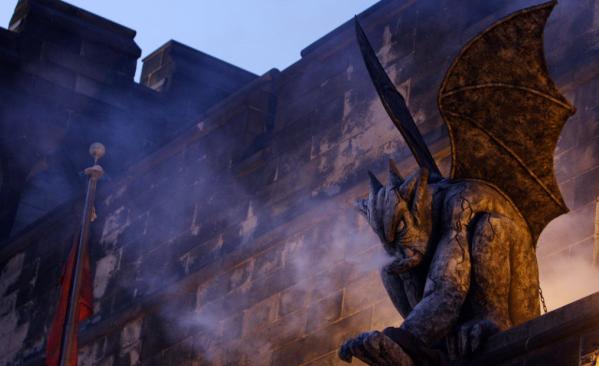 'A Massive Haunted House in a Real Prison' 
It's that time of year again, Halloween will be upon us before you know it.
Do you scare easily?  If you answered no, you might want to rethink your answer again prior to visiting Terror Behind the Walls at the Eastern State Penitentiary in the Fairmount neighborhood of Philadelphia.
Terror Behind the Walls kicks off on September 16 and continues until November 5!
Terror Behind the Walls Experience & Atmosphere
Once the most famous prison in the country, Eastern State Penitentiary is now a U.S. National Historic Landmark and hosts many types of tours throughout the year. Now in its 23rd year, Terror Behind the Walls is one of the top 10 ranked haunted attractions in the country, attracting over 100,000 visitors from around the world.
Extended from last year's Terror Behind the Walls, visitors will be able to decide if they want to be fully immersed in the frightening action by marking themselves to be potentially grabbed, held back, taken into hidden passageways and maybe even become part of the production itself. The question is, Do You DARE!
An extraordinary theatrical production, Terror Behind the Walls features Hollywood-quality sets, custom-designed props, animatronics, and digital sound effects, all taking place within the walls of the prison. It takes an elite team of 14 makeup artists almost three hours to prepare the cast of more than 200 performers each evening.
There are 6 attractions inside the cell blocks of Eastern State Penitentiary.
Lock Down The Uprising (New) – get locked in Cell Block 12, constructed in 1911, and experience what it was like behind bars.
4-D Quarantine – Mind altering effects, hallucinations… all while facing your enemy
Infirmary – experience the prison hospital and what it was like when prisoners were operated on.
Breakout – Prison Break! Inmates on the run! Find your own way out!
Detritus – Enter original 1800 cellblocks and an overgrown prison greenhouse.
Machine Shop – Very interactive attraction that will lead you deep into cellblocks never before open to the public. Experience nightmares and unique one-on-one encounters that will firmly stick with you for a long time.
Keep in mind that there have been actual ghost sightings at the prison throughout the years and many believe that the prison is haunted. As early as the 1940s, officers and inmates reported mysterious visions and eerie experiences in the ancient prison and it's been said that the ghostly activities have increased over the years. You might even get to experience your first super natural.
Directly from the web site, "with the growing interest in paranormal investigations, Eastern State Penitentiary may now be the most carefully studied building in the United States. Nearly 60 paranormal teams visit to explore the site in a typical year. The historic site's website, www.easternstate.org/ghosts, features extensive television and audio clips that document real paranormal investigations inside the 183-year-old prison."
When heading out to Terror Behind the Walls, plan your time around the wonderful restaurants and bars located in the Fairmount section. ~ List of Restaurants & Bars in Fairmount ~
If there is one thing that you need to experience, it's Terror Behind the Walls at the Eastern State Penitentiary. Get ready for an experience of your lifetime.
As a bonus and in conjunction with Eastern State Penitentiary, we are giving $3 off adult admission per ticket through November 5, which is valid every night except for Saturday evenings. Children under the age of seven cannot be admitted. All proceeds benefit historic preservation at Eastern State Penitentiary, a National Historic Landmark. Please click on the link below and enter code MyPhilly16. Get Discount Here
FYI – Ticket giveaway! We are giving away tickets to Terror Behind the Walls. Follow us at www.Facebook.com/MyPhillyAlive or on Twitter at @MyPhillyAlive for updates. Here is the contest on Facebook: Click Here - If you aren't on Facebook, Tweet us the answer. Who was the most notorious criminal ever kept at Eastern State Penitentiary? The contest tickets are only good for: Sept 30; Oct 2, 12, 13, 18, 19, 31 & Nov 4.
Terror Behind the Walls Extras
Location
22nd & Fairmount Avenue
Philadelphia, PA 19130
Dates
September 16 – November 5, 2016  |  Select days  |  Calendar of Open Dates
Phone
(215) 236-3300
Web Site
Articles About Halloween in Philadelphia (2015)
all pictures courtesy of Eastern State Penitentiary's photographers
View Larger Map
Jeff Belonger has been in the mortgage industry for 19+ years and now wants to do something different. With his experience of blogging and social media, Jeff wants to share all of what Philadelphia has to offer, so he created MyPhillyAlive.com. At MyPhillyAlive, we want to share the excitement that the City of Philadelphia resonates. Sharing the passion within, from the people of Philadelphia. At MyPhillyAlive, we'll be talking about Philadelphia restaurants, fun bars, the city night life, the history of Philadelphia, Philly attractions & events, the arts, sports, and much more. We want people to add their experiences regarding Philadelphia, even if they are from out of town, which can be done on our Facebook fan page as well. www.facebook.com/MyPhillyAlive At the end of the day, we want to be different from the many Philadelphia sites. We want our site to be easy to navigate, while at the same time, we want you to not only find the hot spots, the best things to do in Philadelphia; but those hidden gems within the city. Thanks...
More Posts - Website - Twitter - Facebook - LinkedIn