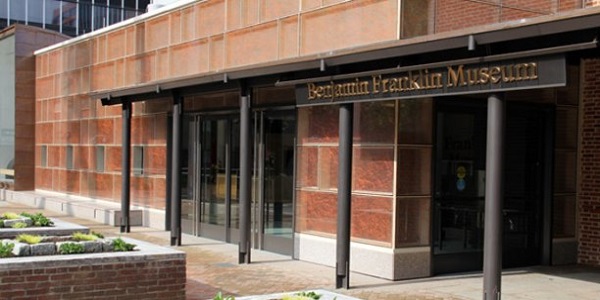 'Celebrating the Life of an Extraordinary Man'
Benjamin Franklin, one of the Founding Fathers of the United States, was born on January 17, 1706. In honor of Benjamin Franklin, the Benjamin Franklin Museum will be open to the public for free January 13 to 15 in conjunction with the Martin Luther King Jr holiday.
Franklin was a leading author, printer, political theorist, politician, postmaster, scientist, inventor, civic activist, statesman, and diplomat. He even facilitated many civic organizations, including Philadelphia's fire department and founded the University of Pennsylvania. Interesting fact: Benjamin Franklin ran away from Boston to Philadelphia at the age of 17 and throughout his years in Philly, brought a lot to the City of Brotherly Love in so many ways.
The museum, originally built for the 1976 Bicentennial celebration, is built next to where Franklin actually lived in the mid 1700′s. It is housed underground, beneath Franklin Court, which went through a major two-year revitalization from 2011 to 2013.
More about the museum, click here.
Other Ben Franklin Activities
Public Procession for Benjamin Franklin
January 12: Starting at 11:15 am – 12:00 pm at American Philosophical Society (431 Chestnut St.). March to Franklin's final resting place at Christ Church Burial Ground (5th and Arch sts). Tributes honoring his legacy take place graveside, before a wreath-laying ceremony. This annual procession was established to bring international attention to Franklin's ideas and accomplishments, and highlight his contributions and influence on the modern world. More info, click here.
January 12, 13 & 15: 10 am – 4 pm: Held at the Independence Visitor Center (onside) - Hear about Benjamin Franklin's trailblazing experiments and revolutionary inventions; and how he spent his days as a statesman, inventor, and diplomat. ~ More Information ~
Benjamin Franklin Tippler's Tour
January 12 & 13: 5:30 p.m. Historic Philadelphia Center, 6th and Chestnut streets. Enjoy a Colonial guide for the Tippler's Tour with Ben Franklin, a rollicking pub crawl, with stops for drinks and snacks at four Old City establishments. Franklin "himself" joins the tour along the way and stays for a chat at City Tavern, the final stop, to enjoy a Yards Brewing Company Franklin Spruce Ale. ~ More Info ~ ~ For Tickets ~
Meet & Greet Ben Franklin
January 13: 11:00 am – 1:00 pm – Held at the at the Independence Visitor Center, ask him about his "electrifying" life; learn about his many inventions; take a photo to remember your day.  ~ More Information ~
Location
Benjamin Franklin Museum
317 Chestnut Street
Philadelphia, PA 19106
Hours
Saturday – Monday  |  9:00 am – 5:00 pm  | Last entrance to museum is at 4:15 pm
Cost
FREE  |  January 13 – 15, 2018
Phone
(215) 965-2305
Web Site
Photo Courtesy of NPS
Jeff Belonger has been in the mortgage industry for 19+ years and now wants to do something different. With his experience of blogging and social media, Jeff wants to share all of what Philadelphia has to offer, so he created MyPhillyAlive.com. At MyPhillyAlive, we want to share the excitement that the City of Philadelphia resonates. Sharing the passion within, from the people of Philadelphia. At MyPhillyAlive, we'll be talking about Philadelphia restaurants, fun bars, the city night life, the history of Philadelphia, Philly attractions & events, the arts, sports, and much more. We want people to add their experiences regarding Philadelphia, even if they are from out of town, which can be done on our Facebook fan page as well. www.facebook.com/MyPhillyAlive At the end of the day, we want to be different from the many Philadelphia sites. We want our site to be easy to navigate, while at the same time, we want you to not only find the hot spots, the best things to do in Philadelphia; but those hidden gems within the city. Thanks...
More Posts - Website - Twitter - Facebook - LinkedIn