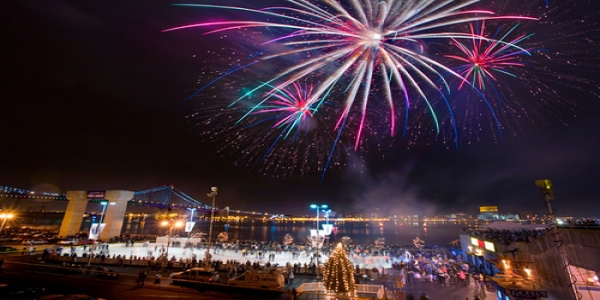 'Ringing in the New Year with Family & Friends Philly Style'
What a great way to ring in the 2018 New Year with family and friends, to be watching fireworks in Philadelphia, America's birthplace. Where the second Continental Congress met at Independence Hall and adopted the Declaration of Independence. With so much Philadelphia History surrounding us, could you think of a better place to watch the fireworks!
The Fireworks, which is Philadelphia's main attraction on New Year's Eve, draws thousands of people to the Delaware River Waterfront, specifically at Penn's Landing, where the Blue Cross River Rink is located. SugarHouse will be putting on two fireworks shows, one at 6 pm and the second one will explode at midnight. 

What's so exciting is that you have two view points in watching the fireworks. You can view the fireworks from the New Jersey side, especially down at the Camden Aquarium, which gives you the view of the Philadelphia skyline behind the fireworks. Or as mentioned, you can watch them from the Penn's Landing side in Philadelphia, with the Benjamin Franklin Bridge in the backdrop.
Places to watch New Year's Eve Fireworks in Philadelphia
. 
Blue Cross RiverRink Winterfest
An excellent family-friendly location for those that like to ice skate or just relax by the fire pits. You can lace up your skates for two different New Year's Eve celebrations while watching the fireworks at the Blue Cross RiverRink. You can party on ice starting at 5 pm or lace them up for the second party session at 10 pm. (Ice Skating Tix SOLD OUT – Only Spectator Tix Left) Click here for tickets. Don't forget to hang out at Winterfest next to the Blue Cross RiverRink, where you can relax with hot chocolate, beer, wine and or food. Both places are located at Penn's Landing.
Location: Columbus Boulevard & Market Street  |  (215) 925-RINK
Great Plaza at Penn's Landing
The Great Plaza at Penn's Landing allows you to have incredible views of the fireworks on the Delaware River with a synchronized soundtrack in the background during the show.
Location: Chestnut Street and Columbus Boulevard
Race Street Pier
Race Street Pier is an amazing spot to watch because the main part sits at the edge of the Delaware River next to the Ben Franklin Bridge. We recommend that you get there early, because it's probably going to fill up fast because of the limited space. Reminder: Alcohol and glass containers are not permitted at the Pier.
Location: Race Street and Delaware Avenue.
SugarHouse Casino
SugarHouse Casino is the one who is sponsoring this year's fireworks on the Delaware River Waterfront and who are throwing a massive party to ring in 2018 with SugarHouse's New Year's Eve celebration. Enjoy live performances by The Rockets, DJ N9NE, 3 Hour Open Bar, Champagne Toast at Midnight, Passed Hors D'oeuvres and an incredible view of the fireworks at midnight. For NYE Party Tix. You can skip the massive party celebration and enjoy hot beverages, tasty snacks and a front row view from the riverfront walk for both the 6 p.m. or midnight fireworks shows.
Location: 1001 N. Delaware Avenue  |  (877) 477-3715
Adventure Aquarium
Party with the fishes at Adventure Aquarium's fifth annual New Year's Eve Splash. Families not only will have access to the entire aquarium, but guests will get to dance away with a DJ & enjoy free giveaways. For the fireworks, you'll get to enjoy a front row view at 6 pm from the Aquarium's Waterfront promenade. More information on tickets online here.
Location: 1 Riverside Drive  |  (856) 365-3300
Independence Seaport Museum
Ring in the New Year at the Independence Seaport Museum. The family fun starts at 10 am with fireworks at 6 pm. Guests of all ages will receive a complimentary party hat and noisemaker. For more info on either event: Click Here ~ More Info
Location: Penn's Landing, Columbus Boulevard at Walnut Street  |  (215) 413-8655
Penn Treaty Park
The seven acres of open green space at Penn Treat Park is situated along Delaware Avenue which offers clean picnic areas and provides a great vantage point from which to watch the fireworks. BYO lawn chairs.
Location: Delaware Avenue and Beach Street
Battleship New Jersey
Guests will be able to get spectacular views of the New Year's Eve Fireworks on the decks of the Battleship New Jersey at 6 pm and midnight. The party will consist of music, dancing and food and beverages for purchase. Tickets are just a $10 donation per person. You'll also get to enter for a chance to fire the Battleship's five-inch portside gun after each fireworks show! – For more info, Click Here.
There is a second option! You can stay overnight on the Battleship New Jersey. The package includes dinner, breakfast, a tour of the Battleship and to be able to watch the fireworks show at midnight. For more info, Click Here.
Location: 62 Battleship Place  |  (856) 966-1652
Spirit of Philadelphia
Enjoy a cruise on the Spirit of Philadelphia for two special sailing adventures to ring in the New Year. The first dinner cruise will set sail from 4:30 pm to 6:30 pm so you can enjoy the fireworks at 6 pm. The second cruise is from 9:30 pm to 12:30 am, in which you'll enjoy a night of dancing, entertainment, party favors, food and an open bar. For more info: New Year's Eve dinner cruises on the Spirit of Philadelphia
Location: 401 S. Columbus Boulevard
Moshulu
Enjoy a spectacular view of the fireworks as you dine aboard the Moshulu during a special New Year's Eve celebration with a four-course prix fixe menu from 3:30 to 6:45 pm or a later seating from 7:00 to 10:30 pm. The first seating is $125 per person and the second is $175. INFO – The menu is available right here.
Location: 401 S. Columbus Boulevard | (215) 923-2500
Front Street
The entire length of Front Street between the South Street and Market Street bridges are prime fireworks viewing spots on New Year's Eve.
South Street Bridge
The South Street Bridge is down by Front Street outside of Headhouse Square. This can be a great spot to set up camp with limited benches for viewing the fireworks.
Location: South Street Bridge over I-95
One Liberty Observation Deck
Visitors and residents, from 4 pm to 6 pm, can watch the fireworks! From 9 pm to 2 am, enjoy an open bar, hors d'oeuvres and all-night DJ tunes. ~ Click Here for Details ~
Location: 1650 Market St. on the 57th Floor  |  (215) 561 – 3325 (DECK)
Franklin Square
Franklin Square is celebrating New Year's Eve with a FREE, kid-friendly "Square Drop" in lieu of the famous ball at 6 pm. From 3 pm to 8 pm, kids can enjoy the Philadelphia Park Liberty Carousel, Philly Mini Golf, enjoy SquareBurger's hearty winter menu and celebrate with a Kids Dance Party in the indoor pavilion before watching the Penn's Landing's Fireworks early show at 6 pm. The fun continues with the the final Electrical Spectacle Holiday Light Show of the year at 8 pm. ~ Info (located at bottom of the page) ~
Location: 200 N. 6th Street
SkyGarten New Year's Eve (
SOLD OUT

)

Celebrate New Year's Eve 51 floors up at SkyGarten. Tickets to the event include a three-hour open bar, charcuterie station, dessert station, party favors and a celebratory champagne toast at midnight. ~ Click Here for Details ~

Location: 1717 Arch St 51st Floor

Considering that Penn's Landing is so conveniently located within a short walk of the many areas to watch the fireworks in Philadelphia, you can't go wrong hanging out in the city after the first fireworks event. You can eat, drink, and shop at such areas as Old City, South Street, Society Hill, and many more. So if you can't make it to Penn's Landing, hopefully you'll catch the show from one of these places or on the New Jersey side.

But wait, we aren't done just yet. After ringing in the new year, don't forget Philly's most celebrated tradition, the Mummers Parade which takes place New Years Day. Come watch the excitement and entertainment up and down Broad Street.

Enjoy the fireworks and the parade, and be safe. Happy New Years from MyPhillyAlive.com
Locations
Mentioned Above: Delaware River Front  |  Best place is Penn's Landing
Date
December 31st  |  New Year's Eve
Time
First Show  |  6:00 pm
Second Show  |  Midnight
Cost
Free (fireworks at most locations)
View Larger Map
Jeff Belonger has been in the mortgage industry for 19+ years and now wants to do something different. With his experience of blogging and social media, Jeff wants to share all of what Philadelphia has to offer, so he created MyPhillyAlive.com. At MyPhillyAlive, we want to share the excitement that the City of Philadelphia resonates. Sharing the passion within, from the people of Philadelphia. At MyPhillyAlive, we'll be talking about Philadelphia restaurants, fun bars, the city night life, the history of Philadelphia, Philly attractions & events, the arts, sports, and much more. We want people to add their experiences regarding Philadelphia, even if they are from out of town, which can be done on our Facebook fan page as well. www.facebook.com/MyPhillyAlive At the end of the day, we want to be different from the many Philadelphia sites. We want our site to be easy to navigate, while at the same time, we want you to not only find the hot spots, the best things to do in Philadelphia; but those hidden gems within the city. Thanks...
More Posts - Website - Twitter - Facebook - LinkedIn