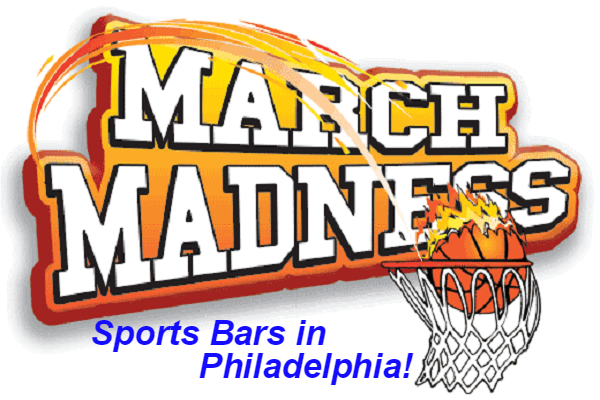 'March Madness in Philadelphia'
Who doesn't love March. You have spring fast approaching, St. Patrick's Day, American Red Cross month, Women's History month and of course, there is March Madness.
The 2017 NCAA Basketball Tournament kicks off March 14 and 15 with a few play in games. Then the real excitement takes place March 16 and ends on April 3 with the National Championship game at the University of Phoenix stadium. This is the time of year that many businesses actually dislike this week because so many people are filling out their office pools. Have you filled yours out? Who do you have winning it all? Tell us in the comments below.
Well, at MyPhillyAlive.com, we have many winners for you. Need a sports bar in Philadelphia to watch the games during March Madness? Here is our list of sports bars and some with specials during the games. (alphabetical order)
Bar-Ly Chinatown ~ located in Chinatown ~ This large sports bar in Chinatown has 24 tvs as you enjoy a wide selection of 60 draft beers on tap! They also have a tasty choice of Asian-American food! Anything from spring rolls, to pizza, to sandwiches and burgers.
BRÜ Craft & Wurst ~ located in Center City ~ Enjoy your choice of 39 drafts on tap, eating delicious German food, all while watching the Super Bowl on their 6 flat screen televisions. ~ 1318 Chestnut St ~
Buffalo Billiards

~ located in Old City ~ Plenty of room with an upstairs bar and downstairs bar, with 12 draft lines dedicated to all american/local craft and roughly 15 different bottles of beer. If like to play pool, you can enjoy not only a basketball game and beer, but a game of pool. Many other types of games inside to keep you occupied once your basketball game is over with.
Cavanuagh's Headhouse ~ located in the South Street Headhouse District ~ One large room with 3 other rooms with televisions everywhere. Enjoy their tasty wings and other pub food while you enjoy the game.
Cavanaugh's Restaurant & Sports Bar ~ located in University City ~ A decent rectangular bar that allows you many different views to watch your games. Don't want to sit at the bar, there are many booths with viewing paths to the televisions while you enjoy some good pub food.
Cavanaugh's Rittenhouse

 ~ located in Rittenhouse Square ~ You have your choice of the upstairs bar or the downstairs bar, with 20 HDTV's to watch from. Enjoy a wide range of pub food to include their 'pretzel bites & pigs' or the tater tots with bacon and cheese.
Chickie's and Pete's

~ located at Roosevelt Blvd & South Philly ~ Was voted "North America's Best Sports Bar" by ESPN. The South Philly's sports bar is located just a few blocks from Citizen's Bank Park. How can you go wrong with three bars inside, a 14-foot television and of Chickie's and Pete's signature Crab Fries.
City Tap Logan House ~ located in Logan Square ~ Watch the Super Bowl on one of the largest televisions in Center City while enjoying their delicious food and beer! If you are a craft beer lover, get wowed by their 35 + craft beers!
Drinkers West

~ located in University City ~ Drinkers, with two bars and multiple floors, is a large open sports bar with room. Games will be projected on their massive 10 foot HD projection screen. It's a place where you can play some pool or pinball before or after a basketball game. There is definitely a lot of space to move around, and with many tables.
Fadó Irish Pub

 ~ located in Center City/Rittenhouse Squarea area ~ Fado may be an Irish bar that has a nice selection of 14 draft beers, but is set up nice as a sports bar with a large HDTV in the pit with comfortable seating. There are also several televisions throughout the bar and if you want to get away from it all, there are many nooks and crannies for a little privacy.
Field House

 ~ Located in the Pennsylvania Convention Center ~ Field House has 50 plasma tv's, and each booth has a mini television so you aren't to miss a game. With 9 draft beers, 20 plus bottled beers, 14 pub starters, and 10 different types of sandwiches – you can't go wrong with this sports bar.
Fox and Hound

 ~ located in Rittenhouse Square ~ A large sports bar with many tables that has 17 televisions and 9 types of drafts beers. Right now, they have specials on Miller Lite, Coors Light, and a few other beers. They now even have the 2011 Golden Tee golf game.
McFadden's Ballpark

 ~ located at Citizens Bank Park ~ A fun sports bar with 33 HDTV's, two projector screens, and girls with jello shots. If it's nice enough outside, you can even watch a few games at their outside bar.
McGillin's Old Al House

~ located in Market East section ~ Why not watch some college basketball games at the oldest bar in Philadelphia, dating back some 150 years.  With 8 televisions, you can decide to stay downstairs or go upstairs while deciding over the 30 draft beers of choice.
Misconduct Tavern

~ located 

 in Rittenhouse Square & Center City ~ Rittenhouse Square >The tavern has a relaxed setting with 10 HDTV's. They have a well-rounded pub menu to go with their 12 beers on tap that change regularly, 50+ bottled beers, and some of the better beer specials in Philadelphia. Center City > Large bar in the middle with 8+ large screen televisions throughout and many tables as well.
O'Neals Irish Pub & Restaurant

 ~ located in South Street District/Queen Village Area ~ This Irish Sports Bar right off of South Street in Philadelphia is 2 floors of fun. They have their share of HDTV's with 19 + Beers on draught, including the area's only "Real Ale" beer engine and over 100 bottles available for six-pack takeout. And if Spoonie is around, one of the owners, the fun increases.
Paddy Whacks Irish Pub

~ located in South Street District/Society Hill area ~ This clean and spacious Irish Pub with two main bars down stairs, a 2nd floor dining area with a bar; is a casual-relaxing place to watch college basketball games. There are enough televisions around the bars for you to enjoy a selection of 15 appetizers, with 15 draught beers on tap, and 19 bottled beers while watching your team.
Piazza at Schmidt's

 ~ located in Northern Liberties ~ What a nice set up here, in this 80,000 square foot plaza in Northern Liberties with a 40-foot LED television. You can see the large television from the many bar/restaurants that surrounds the Piazza to include

Gunners Run

, P.Y.T. (Bar and Burger Joint), RAW and Darling's Diner. You basically can say that there isn't a bad seat in the house, and that you get a very wide selection of foods at the same time.
Revolutions ~ located in Fishtown ~ If you love to bowl, this venue might be a great spot for you! 

This two-level complex features a 26-lane bowling experience, along with a full service restaurant, a few bars and many large screen televisions. ~ 1009 Canal Street (next to the Fillmore)
Smith's Restaurant & Bar

~ located in the Rittenhouse Square area ~ Enjoy an upscale sports bar that makes you feel comfortable on all levels. There are HDTV's with tasty food & beer specials.
Tavern on Broad

~ located in Avenue of the Arts/Rittenhouse Square ~  The Tavern on Broad is your underground sports bar with 33 HDTV's and 6 sound zones that you can reserve in advance. They have 10 beers on draft, usually 20 to 30 bottles of beer, and a decent selection of foods. Done with your game, they also have a pool table to keep you busy.
Urban Saloon ~ Located in Fairmount ~ This bar/restaurant has 7 large screen HDTV's,

 twelve taps, 60+ bottles/cans, and a diverse menu of pub food!
XFINITY Live

–  located in South Philly, right outside the 3 major Philadelphia Sports Complexes. You have 5 different bars to choose from, or the main area which is the NBC Sports arena.
Keep in mind that everyone has their own taste of what types of sports bars they like. This list is just our suggestions for sports bars in Philadelphia that you might enjoy when looking for a good place to rest your feet while watching a college basketball game.
The City of Philadelphia has one school representing the city. The Villanova Wildcats and 2016 Champions! Good luck!
#1 Villanova Wildcats vs #15 Mount St. Marys or New Orleans ~ When: Thursday, March 16 at 7:10 pm on CBS
Enjoy, good luck to your team, and good luck to the Philadelphia schools Villanova & Temple! Have fun at the many sports bars in Philadelphia.
Jeff Belonger has been in the mortgage industry for 19+ years and now wants to do something different. With his experience of blogging and social media, Jeff wants to share all of what Philadelphia has to offer, so he created MyPhillyAlive.com. At MyPhillyAlive, we want to share the excitement that the City of Philadelphia resonates. Sharing the passion within, from the people of Philadelphia. At MyPhillyAlive, we'll be talking about Philadelphia restaurants, fun bars, the city night life, the history of Philadelphia, Philly attractions & events, the arts, sports, and much more. We want people to add their experiences regarding Philadelphia, even if they are from out of town, which can be done on our Facebook fan page as well. www.facebook.com/MyPhillyAlive At the end of the day, we want to be different from the many Philadelphia sites. We want our site to be easy to navigate, while at the same time, we want you to not only find the hot spots, the best things to do in Philadelphia; but those hidden gems within the city. Thanks...
More Posts - Website - Twitter - Facebook - LinkedIn