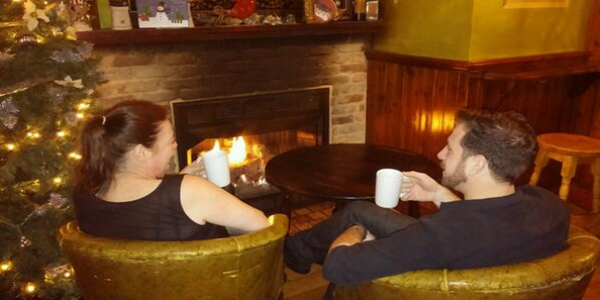 'Enjoying The Warmth Of Fireplaces In Many Fine Restaurants & Bars'
As the cold days bear down on us, we seek warmth in many ways. Some prefer blankets and heaters, while others enjoy a cozy fire with their favorite cocktail with friends at a bar or during dinner. May it be a hot toddy, a glass of wine, your favorite glass of liquor or a beer, one can always find some sort of comfort at one of the many bars and restaurants that we have listed below.
33 Bars and Restaurants with a Fireplace in Philly (alphabetical order)
Did you always want to travel to France and eat in a French restaurant.  Here you can enjoy authentic mouth watering French crêpes in this lovely bistros.  A great first date place with a lovely fireplace, excellent choices of wine and much more.
Location:  Bella Vista  |  624 S. Sixth St.  |  (215) 592-0656
This German Beer Hall has all the comforts of home, just as if you were in Germany. When walking in, many seats for a meal, then a nice long bar, followed by an additional large room in the back. This room, called the Brauer Bund room, has many tables and a second bar with a wood stove to keep you warm.
Location:  South Street District  |  718 South Street  |  (267) 909-8814
A cozy, European-style bar and restaurant featuring a fantastic Italian-inspired menu with a small fireplace in the back.
Location:  Fairmount  |  726 N. 24th St.  |  (215) 232-3232
A nice upscale bar which has a great open space for both dinning and the bar itself. There is an extensive beer menu and outdoor seating which has a row stone fire pits that overlook Walnut Street to keep you warm on those cold evenings.
Location:  University City  |  3925 Walnut St.  |  (215) 662-0105
A Stephen Starr restaurant that is upscale, with innovative menu items, has a rooftop that has heaters throughout.
Location:  Rittenhouse  |  1801 Chestnut St.  |  (215) 567-1800
This cozy bi-level restaurant and bar has an urban decor, cool ambiance, and an outdoor vibe to it. Enjoy their fireplace upstairs in the back and choose a good beer or cocktail from their drink menu.
Location:  Rittenhouse  |  1907 Chestnut St.  |  (215) 751-0707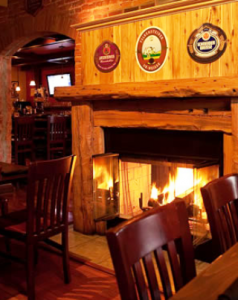 A pleasant bar/restaurant that host an annual Fireplace Lighting Event. Here you can enjoy seasonal beer and tasty food.
Location:  South Philadelphia  |  1148-1150 S. 11th St.  |  (215) 339-0855)
A unique Irish pub with a maze of nooks and crannies which has been built from dark wood that can seat from two at one too twelve at another. Serving good beers and excellent pub food, the fireplace in the far back is quaint and romantic.
Location:  Rittenhouse  |  1500 Locust St.  |  (215) 893-9700
One of Philadelphia's largest beer gardens, which is by Stephen Starr, has 29 picnic-style benches with several fire pits and heat lamps within the courtyard to help keep you warm.
Location:  Fishtown  |  1210 Frankford Ave  |  (215) 634-3338
A cozy atmosphere that serves breakfast, lunch & dinner while making their meals from scratch. They have over 1,000 single bottles of beer with 11 rotating drafts!
Location:  Bella Vista  |  738 S. 11th St  |  (215) 627-3012
Featuring German fare and beers, there is a full size stone fireplace on the 2nd floor in a cozy room with 3 tables for dining and a full size couch. With soft couches and a fireplace, one can certainly feel comfortable and unwind.
Location:  Northeast  |  7980 Oxford Ave  |  (215) 437-1939
A Stephen Starr restaurant that brings flair with decor and food to another part of Philly. Explore a sunken living room with rough stone walls and columns, a see-thru fireplace, cork flooring, swivel chairs, and oversized, nightlight-lit booths.
Location:  Market East  |  700 Chestnut St.  |  (215)  223-5663
This Mexican restaurant has good food, boasts a strong array of 50 plus types of blancos, reposadas, and anejos tequilas and has a relaxing fireplace in the main part of the dining area next to a beautiful mural.
Location:  Fairmount  |  2321 Fairmount Avenue  |  (215) 787-9930
An upscale lounge that has a very cozy fireplace in the Sofitel Hotel. Here you can try French-inspired food and sip a sophisticated hand-crafted cocktail in a warm, urban setting.
Location: Rittenhouse  |  120 S. 17th St.  |  (215) 569-8300
Enjoy a few fireplaces in this massive lodge that serves food and drinks. You can also enjoy sports or movies on their big screen or place a few different types of games in the lodge.
Location: Penn's Landing at Delaware River Waterfront  |  101 South Columbus Boulevard
This large restaurant/bar allows you to enjoy fresh-brewed beer, all types of food from sushi to pizza done in their stone pizza oven and in many different areas of the establishment. Anywhere from their dining room, to Jazz room, to their several decks to their tiki bar. You can also cater events here in their banquet room and enjoy diner near the fireplace.
Location:  Manayunk  |  4120 Main St.  |  (215) 482-8220
Located in a traditional Victorian home, enjoy masterful created dishes by chefs Andrew Kochan and Tim Lanza. The dining room is heated by a gas fireplace.

Location: University City  |  501 South 45th Street  |  (215) 222-3699
Enjoy their heat-blasting fireplace that'll keep you cozy while enjoying their hoagies, house-made pickles, vegetable plates, cheeses & charcuterie, craft beer, cocktails, wine, kombucha & more!
Location: Kensington  |  2113 East York Street  |  (215) 867-8881
A neighborhood  establishment that offers a wonderful ambiance with good food, drinks and a fireplace in the dining area.
Location:  Art Museum District/Fairmount/Spring Garden  |  529 N 20th St  |  (215) 854-0923
This two-story pub is the oldest pub in Philadelphia that has over 30 drafts, 8 televisions, a jukebox and a fireplace.
Location:  Midtown Village  |  1310 Drury St  |  (215) 735-5562
This establishment has an underrated happy hour with 12 Beers on tap that rotate, 50+ bottled beers, 20+ wines and great appetizers and snacks. There has been an addition to the bar the not only extends the bar and a larger eating area, but a beautiful fireplace with more televisions.
Location:  Rittenhouse  |  1511 Locust Street  |  (215) 732-5797
This swanky cafe, restaurant and bar has a sophisticated decor that serves elegant foods and has fireplace seating and views of the city skyline.
Location:  Hyatt at the Bellevue on the Avenue of the Arts  |  200 S. Broad St. 19th Floor  |  (215) 790-1919
This Olde City cafe is a stylish bar with a decor of wood and bricks that has rotating specials that includes 15 beers on tap, good food and a brunch menu.
Location: Old City  |  208 Race St.  |  (215) 627-6181
Enjoy a nice cozy atmosphere with good food, drinks and a fireplace.
Location: Fairmount  |  1701 Green St  |  (215) 769-5000
This cozy American pub, with a great draft list, pairs local microbrews with excellent gourmet pub fare such as chicken pies, fried smelts and double burgers.  The fireplace is located upstairs in another section of the bar.
Location:  Northern Liberties  |  901 N 2nd St.  |  (215) 238-0630
 A neighborhood joint that has good home cooked meals in a friendly and relaxing environment. Here you can find good beer, live music and a warm fireplace.
Location:  East Passyunk  |  1801 E Passyunk Ave  |  (215) 463-3030
This lounge has a rooftop bar with heat lamps and features local beers, cocktails and snacks.
Location:  Old City/Center City  |  433 Chestnut St  |  (215) 925-2889
Located in a three-story colonial townhouse, this Irish Pub has all the comforts of home; to include a fireplace, 6 televisions, darts, comfortable sitting areas, good food, and a solid draft and bottle list.
Location:  Rittenhouse  |  247 S. 17th St.  |  (215) 545-9473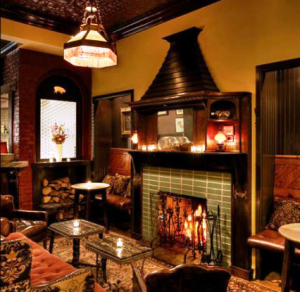 A British styled restaurant by Stephen Starr which serves cask-conditioned ales, tea and British Fare. There are multiple fireplaces in which to enjoy your meals and or drinks nearby.
Location: Rittenhouse  |  124 18th St.  |  (215) 558-2500
This popular destination rotates eleven different types of draft beers from countries such as Ireland, Belgium, the Netherlands, and the United States.  They have good food, traditional Irish music sessions and a fireplace area with small tables set away from the bar and dining area.
Location:  Old City  |  123 Chestnut St.  |  (215) 733-0300
Located inside the hotel itself (only accessible from within the hotel), the Library Bar offers a bar and a separate room with a fireplace and cozy couch. Enjoy fine wines, fancy drinks and complimentary snacks. Open daily 4 pm to midnight.
Location: The Rittenhouse Hotel  |  210 W. Rittenhouse Square  |  (215) 790-2533
This Southern-inspired Bourbon House has a nice range of fresh foods for your palate and a nice selection of whiskeys, bourbons and scotches. When going upstairs, you'll find two fireplaces with furnished bourbon-barrel chairs, couches, TVs and a shuffleboard table.
Location:  Society Hill in Headhouse Square  |  509 S. 2nd St.  |  (215) 558-2471
This Vegan restaurant has a focus on vegetables with a bold approach to cooking. For your drinking pleasures, you'll find some specialty cocktails, draft and bottled beers and a wine list.
Location:  Washington Square West  |  1221 Locust St  |  (215) 320-7500
Hope you enjoyed our list of bars and restaurants with fireplaces in Philadelphia. If you have one that we didn't mention, please tell us in the comments below or let us know on Facebook or Twitter. Thanks.
Main Photo Courtesy of FADO.
Jeff Belonger has been in the mortgage industry for 19+ years and now wants to do something different. With his experience of blogging and social media, Jeff wants to share all of what Philadelphia has to offer, so he created MyPhillyAlive.com. At MyPhillyAlive, we want to share the excitement that the City of Philadelphia resonates. Sharing the passion within, from the people of Philadelphia. At MyPhillyAlive, we'll be talking about Philadelphia restaurants, fun bars, the city night life, the history of Philadelphia, Philly attractions & events, the arts, sports, and much more. We want people to add their experiences regarding Philadelphia, even if they are from out of town, which can be done on our Facebook fan page as well. www.facebook.com/MyPhillyAlive At the end of the day, we want to be different from the many Philadelphia sites. We want our site to be easy to navigate, while at the same time, we want you to not only find the hot spots, the best things to do in Philadelphia; but those hidden gems within the city. Thanks...
More Posts - Website - Twitter - Facebook - LinkedIn